One of Carl Icahn's iconic acts was years ago when he bought a large portion of distressed debt in a major company and landed on the creditors committee as the company filed for Chapter 11. Shortly thereafter, the bankers, who were hired by senior management, told Icahn he would have to pay retention bonuses to keep top managers from leaving. The company, they warned, would crumble if these star managers left. Nine had already threatened to march out the door if they didn't get substantial bonuses. Icahn said he was fed up with retention bonuses. Icahn argued, "Where was the line waiting to hire these 'star' managers who were responsible for bankrupting the company in the first place?" Icahn flatly refused.
After much argument, the company's lawyers and bankers took the issue to the bankruptcy judge. The judge said, "Mr. Icahn, why don't you want to pay retention bonuses?" "It's simple, your honor," Icahn replied. "It's because I don't want to retain them!" "Hmm, good point," the judge said. "You win." To make a long story short, Icahn eventually replaced these allegedly irreplaceable managers and restructured the company. The net result was Icahn saved $500 million in costs over two years and the company is in much better shape today than in years.
This is only one story of many regarding Icahn's corporate activism and successes. With Icahn's illustrious track record, analyzing this Wall Street Wizard's thought process; portfolio and current activities may provide insightful investment guidance. Additionally, Icahn recently announced he is returning outside investor's funds. Icahn stated, "Given the rapid market run-up over the past 2 years and our ongoing concerns about the economic outlook, and recent political tensions in the Middle East, I do not wish to be responsible to limited partners through another possible market crisis." This action may create buying opportunities when positions are liquidated. Please review the following analysis of the Icahn Capital Management Fund LP for possible nuggets of knowledge that may improve your portfolio's performance and provide potential buying opportunities.
Carl Celian Icahn (born February 16, 1936) is an American financier, corporate raider, and private equity investor. Icahn was raised in Far Rockaway, Queens, New York City, where he attended Far Rockaway High School. His father was a cantor (a Jewish prayer leader), his mother was a schoolteacher. He was educated at Princeton University (A.B., philosophy, 1957) and New York University School of Medicine, but left without graduating.
Icahn began his career on Wall Street in 1961. In 1968, he formed Icahn & Co., a securities firm that focused on risk arbitrage and options trading. In 1978, he began taking control of positions in individual companies. He invests with three investment vehicles: the 7 billion hedge fund, Icahn Partners, American Real Estate Partners, a public traded private equity firm, and Icahn Management LP, a $2 billion hedge fund. The third portfolio, which covers all the stocks, owned by Icahn Partners, is what we are covering today. Mr. Icahn has a personal wealth of $17 billion.
Icahn Management LP Hedge Fund Portfolio Analysis
Mr. Icahn states, "I buy beaten-down assets that nobody else wants, usually out of bankruptcy, then fix them up and sell them when they are back in favor'. In regards to his style, Icahn explains, "The consensus thinking is generally wrong. If you go with a trend, the momentum always falls apart on you. So I buy companies that are not glamorous and usually out of favor. It is even better if the whole industry is out of favor."
Portfolio Overview
The fund consists of 23 Stocks with a total value of $5.6 billion. There have been two recent buys. Please review chart below for sector breakdown.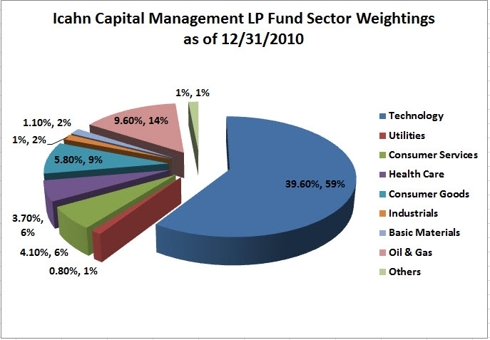 (Click to enlarge)
Top Ten Holdings

(Click to enlarge) Motorola (NYSE:MSI) /Biogen Idec (NASDAQ:BIIB) / Genzyme (GENZ) / Chesapeake Energy (NYSE:CHK) / Lion's Gate (LGF) / Amylin (AMLN) / Mentor Graphics (NASDAQ:MENT) / Hain Celestial Group (NASDAQ:HAIN) / Lawson Software (NASDAQ:LWSN) / Take Two (NASDAQ:TTWO)
Top Five Holdings Review
34.57% of Icahn's holdings are the technology sector with Motorola Solutions Inc. Another 28.58% is allocated to two pharmaceutical & biotechnology companies, Biogen Idec Inc. and Genzyme Corp. Finally, Icahn's 9.62% portfolio weighting in Chesapeake Energy and 4.13% in Lion's Gate Entertainment round out the top five. Please review the following company descriptions, abstracts and charts reflecting each stock's current standing.
Motorola Solutions Inc. (MSI)
Motorola Solutions, Inc. provides business- and mission-critical communication products and services for enterprise and government customers worldwide. Motorola, the 82-year-old consumer electronics pioneer responsible for early televisions, cell phones and even the first broadcast from the moon, split into two companies Tuesday in a reflection of changing markets. "Motorola (Mobility) can be focused on handsets and nothing but handsets in a world where so much as changed over the last five years is good thing," said Gartner analyst Michael Gartenberg. Likewise, Solutions doesn't have to worry about the once-flailing cell phone business. In a statement, Motorola Solutions spokeswoman Tama McWhinney looked forward to similar benefits. "The separation gives us increased strategic flexibility and the opportunity to focus on this part of the portfolio with clarity, purpose and management focus," McWhinney said. Trading at 1.26 times book value with 8 billion in cash & cash equivalents ($26 per share) and $906 million in LFCF, MSI looks well positioned for future growth. The shares are trading slightly higher to the original starting price of $39.11 per share at the time of the company split. Please review the illustration below for MSI's summary and key statistics.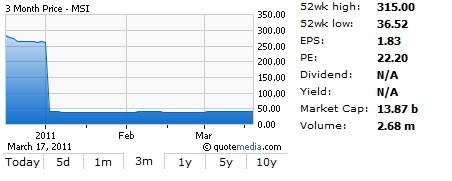 Biogen Idec Inc. (BIIB)
Biogen Idec Inc., a biotechnology company, develops, manufactures, and commercializes novel therapeutics in the areas of neurology, oncology, immunology, cardiopulmonary, and hemophilia in the United States and internationally. BIIB closed Thursday at a share price of $69.25, close to its 52 week high of $72. BIIB currently has a consensus estimate median target price of $66 by 18 brokers and a high target of $83. In February, RBC Capital Markets upgraded its rating from sector perform to outperform. Biogen has one of the most impressive product pipelines in its class. Please review the illustration below for BIIB's summary and key statistics.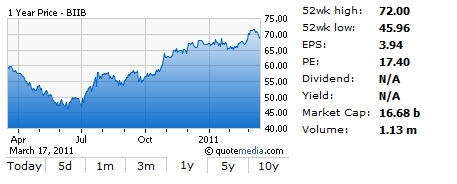 Genzyme Corp. (GENZ)
Genzyme Corporation operates as a biotechnology company worldwide. It focuses on rare genetic disease disorders, renal diseases, orthopedics, cancers, transplant and immune diseases, and diagnostic and predictive testing areas. GENZ closed Thursday at a share price of $75.76, close to its 52 week high of $76.09. GENZ currently has a consensus estimate median target price of $76 by 10 brokers and a high target of $82. In February, Morgan Joseph downgraded its rating from buy to hold. Sanofi-aventis (NYSE:SNY) and Genzyme announced February they have entered into a definitive agreement under which sanofi-aventis is to acquire Genzyme for $74.00 per share in cash, or approximately $20.1 billion. Please review the illustration below for GENZ's summary and key statistics.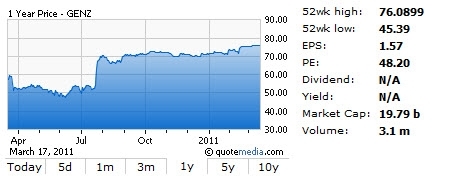 Chesapeake Energy (CHK)
Chesapeake Energy Corporation, together with its subsidiaries, produces natural gas in the United States. The company focuses on discovering, acquiring, and developing conventional and unconventional natural gas reserves onshore in the United States, primarily in its six natural gas shale plays: the Barnett Shale in the Fort Worth Basin of north-central Texas; the Haynesville and Bossier Shales in the Ark-La-Tex area of northwestern Louisiana and east Texas; the Fayetteville Shale in the Arkoma Basin of central Arkansas; the Marcellus Shale in the northern Appalachian Basin of West Virginia, Pennsylvania; and New York and the Eagle Ford Shale in south Texas. Chesapeake has been on a tear since Icahn announced his interest in mid-December. Fortunately, I was a shareholder and enjoyed a 50% run over the last three months. I sold out of my position. However, with the recent changes in the worldwide energy silhouette, I believe Chesapeake may continue it's run to $62. CHK received two upgrades in February. Canaccord Genuity upgraded Chesapeake from Hold to Buy and Argus upgraded it from sell to l hold. Please review the illustration below for GENZ's summary and key statistics.

Lion's Gate Entertainment (LGF)
Lions Gate Entertainment Corp. engages in the production and distribution of motion pictures, television programming, home entertainment, family entertainment, video-on-demand, and digitally delivered content. LGF closed today at $5.76. LGF was recently trading as high as $7.65 prior to the recent downturn. LGF currently has a consensus estimate median target price of $8 by 7 brokers and a high target of $10. In July 2010, Jefferies downgraded the stock from buy to hold. Icahn and LGF's management have been at odds regarding Icahn's push for a merger of MGM Resorts International (NYSE:MGM) & LGF. Please review illustration below for LGF's summary and key statistics.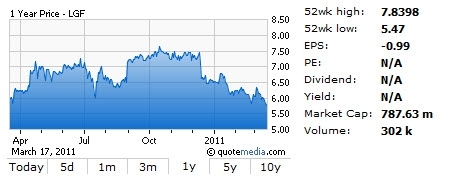 Top Ten Adds / Buys


(Click to enlarge) (CHK) / Enzon (NASDAQ:ENZN) / (AMLN) / Commercial Metals (NYSE:CMC) / (HAIN) / Navistar (NYSE:NAV) / (MSI) / (MENT) / Mattel (NASDAQ:MAT)
Top Ten Sells / Closeouts


(Click to enlarge) Cadence Design Systems (NASDAQ:CDNS) / Anadarko (NYSE:APC) / Yahoo! (NASDAQ:YHOO) / Micros Systems (NASDAQ:MCRS) / Smith & Wesson Holding Corp. (SWHC) / Ensco International (NYSE:ESV) / Wendy's (NYSE:WEN) / Blockbuster (BBI) / Cit Group (NYSE:CIT)
I am reviewing Icahn's portfolio for possible long and short trading opportunities. Icahn recently stated he was returning funds to outside investors due to a possible downturn in the market. Icahn says he does not want to be responsible for the investor's financial performance. I tend to believe this was a smoke screen story to keep from having to succumb to the new hedge fund regulations being implemented. Regardless of the reason, Icahn may have to liquidate some larger positions to accommodate the returns. This may create an artificial drop in the share price of certain fund holdings based on the amount of shares needed to be liquidated vs. the average daily trading volume. Out of the top five, I like CHK and Motorola. I have these stocks on my watch list and am paying close attention for any unusual selling volume and price dips on no news for a potential buying opportunities.
Disclosure: I have no positions in any stocks mentioned, but may initiate a long position in CHK, MSI over the next 72 hours. Information gathered from Gurufocus, Yahoo Finance, CNBC, and Icahnreport.com