Japan has been hit by a triple calamity that only a Hollywood disaster film director could imagine—a monster quake, killer tsunamis and serious nuclear disaster. From our standpoint on the ground in Tokyo, it is hard to be an objective observer given the ongoing Fukushima nuclear crisis, the daily earthquake aftershocks, the radiation levels, seeing the gas lines and empty shelves in neighborhood convenience stores and supermarkets. As we write this, the Fukushima nuclear reactor crisis is far from over. It is still touch-and-go on the Fukushima Daiichi plant No. 3 reactor.

One fact that has become increasingly clear since the Fukushima nuclear reactor explosions on March 15 is that the Tohoku disaster has caused more actual and psychological damage than the Hanshin/Kobe earthquake in 1995. By most accounts, Japan's economy will take a short-term hit of 2%~4% of GDP. Even with government fiscal aid and Bank of Japan monetary support, the country will see upwards of 0.5 percentage points less growth in 2011.
But Japan's stock and financial markets, being the amoral animals they are, have already largely discounted the worst of the disaster—including the nuclear crisis—with the 22% fall in the Topix and a similar 21% fall in the Nikkei 225 between the close on March 10, 2011 and the midday low on March 15. The Nikkei 225 could rebound to 12,000 (30%) without much trouble, while we suspect that much stronger fundamentals will be needed for a move beyond that.
The disaster has suddenly focused attention on Japan for all the wrong reasons, and some well-distributed myths and untruths about the situation need to be dispelled.
Myth 1: The Tohoku Region is Less Economically Important that Hyogo/Kobe
Many foreign economists described the stricken Tohoku region in northeast Japan as being "less important economically" than the Hyogo/Kobe region. That is simply not true. The following table shows that Tohoku's total contribution to Japan's GDP is some 50% larger than Hyogo prefecture. The Tohoku region was a major source of electric power as well as produce for Tokyo, with the combined affected area representing 23% of Japan's GDP, versus 14% for Hyogo, Osaka and Kyoto.

The region is integral to global supply chains for lithium batteries, car navigation equipment, smart phones, tablet PCs, solar panels, hard disk drives, flat panel displays and semiconductors. Toshiba (OTCPK:TOSYY) supplies 39% of the world's NAND-gate semiconductors, Elpida (OTC:ELPDF) supplies 10% of all DRAMs, Sharp (OTCPK:SHCAY) supplies 10% of all LCDs, and Murata (OTCPK:MRAAY), TDK (OTCPK:TTDKY) and Taiyo Yuden (OTCPK:TYOYY) supply over 12% of passive electronic components.

Click to enlarge: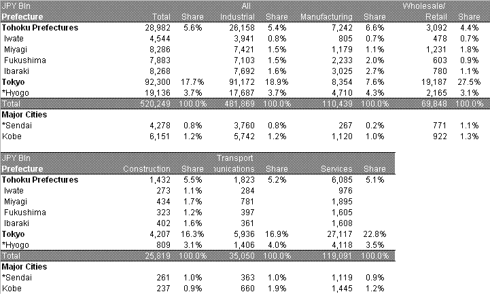 Source: Economic and Social Research Institute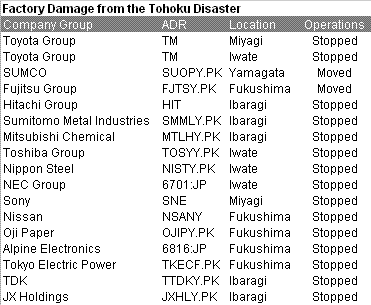 Source: Nihon Keizai Shimbun, other sources. Bloomberg quote
codes are given for Non-ADR stocks.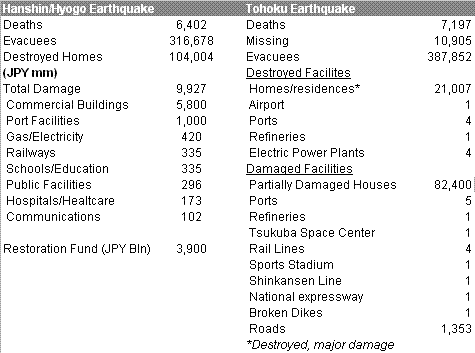 Source: National Police Agency as of the end of Saturday, March 19. It is feared that casualties could exceed 10,000.

Myth 2: Japan's Three Major Casualty Insurers will Suffer Business-Threatening Losses
The second misconception is that Japan's property and casualty insurers as well as (unlisted) life insurers would take business-threatening hits. Despite the massive destruction, insurers aren't likely to bear the heaviest burden because more costs will be borne by the government and citizens of Japan. Policy limits are well below the cost of rebuilding a dwelling, and much of the coverage is backed by a government-supported pool, called Jisai, where losses are shared between the government and the insurers. While the Hanshin-Awajii quake caused just under $100 billion in economic damage. Only about $3 billion of it was insured, and thus much of the cost was borne by domestic companies and individuals.
Goldman Sachs estimates that the exposure of these firms to the disaster is about 3% of total premiums. (Goldman estimates) MS&AD Insurance Group, Japan's top non-life insurer, had 3.1% of its total premiums of JPY1.28 trillion ($15.6 billion) exposed to earthquakes as of March 2010. Tokio Marine Holdings' exposure to earthquake-related premiums was 3.2%, or JPY35.2 billion, of its total premiums of JPY1.1 trillion. NKSJ Holdings Inc. had JPY1.28 trillion worth of premiums in total, of which 3.16%, or JPY40.5 billion is earthquake exposure. Further, these companies have claim reserves of some JPY1 trillion, or more than enough to cover potential losses.
A significant portion of these insurers' liability has been sold to global reinsurance companies as catastrophe reinsurance covering Japanese earthquakes. Stock price declines in Hannover Re (OTCPK:HVRRY), Munich Re (OTCPK:MURGY), Allianz SE (AXSEY.PK) and Swiss Reinsurance (OTC:SWCEY) indicate that investors believe these firms in particular have significant exposure.

Even Tokyo Electric Power (OTCPK:TKECF) has catastrophic insurance. Lloyd's of London insurer Chaucer Holdings Plc. has a nuclear syndicate 1176 that is one of a panel of insurers that provides coverage to TEPCO's nuclear reactors. This insurance, however, does not cover property damage or business interruption.

Myth 3: Repatriation of Funds by Japanese Financial Institutions Will Push the Yen Higher
The third myth is that Japan's insurers, strapped for cash to pay for catastrophic damages, will sell their overseas holdings of marketable securities (ostensibly in USD) and repatriate this money back to Japan. As previously explained, there is no need for Japanese insurers to sell overseas marketable securities holdings, and all three of the firms have vehemently denied they had any intention of doing so.
Currency market speculators and yen carry trade unwinding are what pushed JPY/USD to a post-war high of JPY76.52/USD in Asian trade. A portion of the "yen carry trade" unwinding was coming from individual Japanese leveraged forex traders (the infamous Mrs. Watanabes) who reportedly reduced their bets that JPY would weaken by 30% on March 17, as net JPY short positions against USD and other currencies like the Australian dollar fell to 602,864 contracts from 863,753 contracts the previous day (Click 365 margin trading).

Myth 4: Tokyo Electric Power and Nuclear Power are Toast in Japan

While TEPCO, as the owner/operator of the Fukushima Daiichi and Daini nuclear power facilities, will have many hard questions to answer and huge (as yet undetermined) losses from the disaster, the Japanese government simply cannot allow Tokyo Electric Power to fail. Indeed, while the view in Japan of nuclear power generation will never be the same again, nuclear power is a crucial component of Japan's energy independence strategy and it cannot easily be replaced.
Nuclear energy has been a national strategic priority since 1973, and the country's 54 reactors provide some 30% of the country's electricity. This was expected to increase to at least 40% by 2017. Nuclear power was to play a big part in implementing the plan to increase energy self-sufficiency to 70% by 2030, with new reactors needing to achieve a 90% capacity factor across all plants.

As a result of the disaster, metropolitan Tokyo is expected to have to bear a serious shortage of electric power for the foreseeable future. As of March 2010, TEPCO had total operating capacity of 64.49 gigawatts, of which nuclear power provided 17.31 gigawatts, or some 27% of total operating capacity. The three key nuclear power plants in the affected area — the 2.17 gigawatt Onagawa plant in Miyagi, the 4.70 gigawatt Fukushima-Daiichi and 4.40 gigawatt Fukushima-Daini plants are expected to remain closed for an extended period, meaning some 17% of TEPCO's electricity supply is offline indefinitely.
Peak demand (without rolling blackouts) has recently been running as high as 40 gigawatts, TEPCO has to balance a shortage of some 6 gigawatts, which is nevertheless better than the originally forecast 10 gigawatts immediately after the quake.
Ostensibly, electric power companies in southern Japan have significant amounts of excess capacity that could help supply the shortfall, but for some stupid reason, southern Japan's power is generated at 60 hertz compared to 50 hertz generated in Kanto and northern Japan. As a result, TEPCO only has frequency conversion capacity for some 1.0 gigawatts to use wheeled power from southern Japanese power companies.

Consequently, both TEPCO and Tohoku Electric Power will have to increase their thermal electric power generating capacity in the interim, and this implies a significant increase in LNG demand. Japan is already the largest importer of LNG, accounting for some 30% of global demand. The added demand from increased thermal electric power generation could boost world LNG demand by about 5%.
No V-Shaped Recovery This Time?

Reconstruction after the Hanshin/Kobe earthquake took about two years, while the economy in the Kobe area never fully recovered to its 1993 levels. By 2005, Kobe area GDP was still some 10% lower than 1993 levels. The two years it took to repair Kobe's port (previously one of the most active in world) resulted in a permanent loss of business for the port to other althernatives.

Given the much larger geographic scale and the added uncertainty of the nuclear crisis, recovery from the Tohoku disaster could take much longer, or more like four years instead of two.

Exogenous Shock Versus a Market Crash
The recent selloff in Japanese stocks was in reaction to an exogenous shock to Japanese stock prices, not a market crash from bubble-like conditions. The distinction between stock market crashes and exogenous shocks is the longer-term effects on stock prices.
The most appropriate exogenous shocks for comparison to what happened to Japan and investor sentiment on March 11, 2011 in recent memory are, a) the September 11, 2001 terrorist attacks of the U.S. and b) the Hanshin-Awajii earthquake in Japan in 1995.
In both cases, stock prices rebounded from the selloff fairly quickly, and then resumed their underlying trend. In the case of the S&P 500 after 9/11, the market resumed its post-IT bubble secular bear market trend that eventually took the S&P 500 below 800. By the same token, stock prices also rebounded fairly quickly from the Hanshin-Awajii quake, only to eventually resume the bear market trend that was in place before the quake occured.

Consequently, the Nikkei 225 is likely to quickly regain the 20% or so lost in the selloff. But then it should resume its underlying trend, which this time was a gradual recovery from the 2008 financial crisis.

The Biggest Beneficiaries Are Already Obvious

As can be seen from the list of Tokyo Stock Exchange first section-listed companies, domestic investors have already identified which companies could benefit most. As the list shows, prefabricated housing suppliers and construction material suppliers should see the most immediate demand.

Stocks in the construction sector were already depressed by secular cuts in public works expenditures and weak private sector demand. As a result, many stocks in the sector were trading at low, single digit EV/EBITDAs and low stock to cash ratios.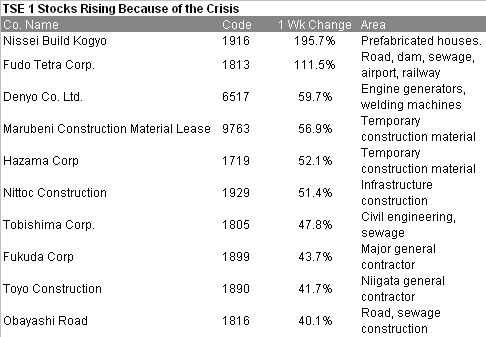 Source: Yahoo.co.jp. Code numbers are Tokyo Stock Exchange
stock codes.

Further, the short selling data tracked by the Tokyo stock exchange indicates there is still a significant amount of short interest in the following sectors: Airlines (20.6% of total trading value), shipping (20.2%), mining (17.4%), broker/dealers (16.0%), steel (14.9%), textiles/apparel (14.2%) and electronics (14.1%); a shake-out of which could produce good short-term gains.

Disclosure: I have no positions in any stocks mentioned, and no plans to initiate any positions within the next 72 hours.