The American Funds mutual fund family continues to be one of the dominant fund managers despite some recent performance issues. It claims 7 of the world's largest 15 mutual funds with those funds holding over $600 billion in assets. Because American Funds now updates holdings every month, it is now possible for investors to follow and consider the funds' top investments for their own portfolio. In addition we can filter and focus on the highest yielding positions. We are also going to track these picks over time to see if investors can benefit from tracking the largest manager. Here are the top 10 holdings that each yield over 3%, aggregated across six of their largest funds, as of 2/28/2011.
Top 10 Holdings Aggregated Across 6 Funds, Yielding > 3%
click to enlarge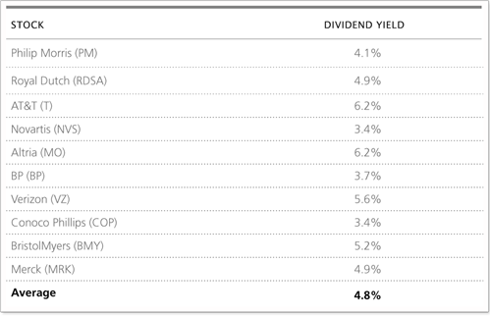 Click to enlarge
As expected many of the top 10 holdings in each fund are shared across the top 6 funds. Of the 60 top holdings as of 2/28/2010, 13 generate a yield of 3% or higher. Of the 13 holdings Philip Morris (NYSE:PM), Royal Dutch (NYSE:RDS.A) and AT&T (NYSE:T) are the three most widely held, with PM a top 10 holding in 6/6 funds, RDSB a top 10 holding in 5/6, and T a top 10 holding in 3/6. Below are the 6 funds in the American Funds family that were analyzed.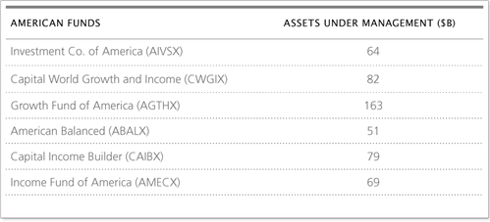 Click to enlarge
Performance and Tracking
LikeAssets is now tracking the top 10 high yield holdings across 6 of the American funds mutual funds that control over $500 billion. LikeAssets will update the top holdings, monthly, to determine if the stocks out-perform their benchmarks over time. Below is the performance since 1/31/2011.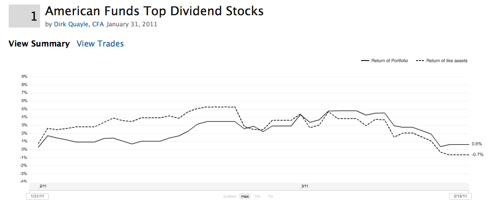 Click to enlarge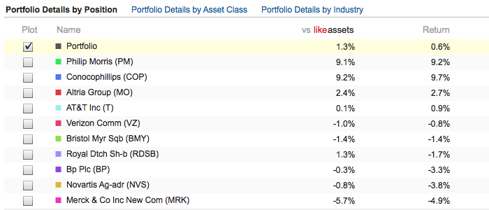 Click to enlarge
If you are interested in tracking this portfolio as it changes monthly you can bookmark this link to see updated holdings and performance of the portfolio.
Please note that the stocks mentioned in this article are not suitable for all investors and each investor should consider his or her own financial situation or consult a financial advisor before making their own allocation decisions. Any securities discussed are used as a reference and should not be considered advice. There are risks in any investment strategies and prior performance does not guarantee future success.
Disclosure: I have no positions in any stocks mentioned, and no plans to initiate any positions within the next 72 hours.