Back in October, I reviewed Caterpillar's (NYSE:CAT) investment fundmentals in detail. The conclusion found the stock as a healthy prospect, exhibiting positive metrics, in the right sector, and offering a compelling business thesis.
Shares risen 33% since then, moving from $79 in October to the $105 mark last week.
Upon request from a few SA readers, I have been asked to refresh my analysis.
Indeed, the investment thesis remains intact. Despite the run-up, for the patient investor, Caterpillar has plenty of room to run.
Please find my update below, as well as two key indicators I believe may guide CAT investors on a go-forward basis. I have also outlined some trading ideas for those who utilize options.
Caterpillar Six-Month Price Chart and Volume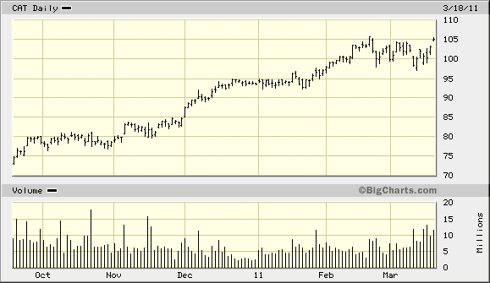 Current Balance Sheet and Cash
CAT's balance sheet can be frightening without looking into the details. The company carries a huge debt load as evidenced by the Debt-to-Equity ratio of 262%. Nonetheless, long-term debt has been reduced by $1.4 billon over the past year. Still, debt will head back up in conjunction with the Bucyrus acquisition, expected to close by the middle of this year.
In addition, Caterpillar's management has stated that the acquisition will be partly financed through equity. Current investors may anticipate an approximate 3% equity dilution based on company news releases suggesting $2 billion in new stock may be offered. A secondary may dampen stock prices in the short-term.
As a counter to the heavy debt load, Caterpillar sports a solid current ratio of 1.4, and has built a war-chest of cash and short-term investments totalling $3.6 billion.
The Return-on-Equity and Return-on-Asset ratios of 36 and 6%, respectively, are solid. I pay particularly close attention to the ROA, as CAT is so highly levered.
Cash Flow position shows excellent action as the company is in the midst of a global construction and heavy machinery refresh cycle. Last year, CAT generated $2.5 billion in Free Cash Flow (the difference between operating cash and capital expenditures). This works out to $3.91 per share FCF - easily coving the dividend of $1.76. The Caterpillar board has boosted the dividend each year since 1992. I expect another increase in 2011. Subtracting interest payable, a healthy cash balance remains.
A note of caution: Caterpillar working capital spiked in 2010. The increase is largely attributed to building inventory in expectation of strong growth in global markets. While building inventory in anticipation of growth is good, high working capital and inefficient use of cash became a CAT liability during the previous economic business cycles. Management must break these recurrences this time around.
Bottom line: Though highly leveraged, Caterpillar is generating large cash flows that permit the company to cover capitial expenditures, dividends, and interest payable with ample room to spare. To date, cash and capital appear to be used efficiently via review of basic balance sheet metrics.
Income Statement and Future Growth Prospects
The recent income statements, historical multiples and the future earnings story is what put the bounce in the step of the investment thesis. The situation has improved since last year.
Earnings, as measured by operating EPS, are on a tear.
The company has beat the street estimates for the past three quarters, and six out of the last seven. CAT recorded 2010 EPS of $4.15 a share.
This year, I expect the company to make $6.10 a share, nearly a full dollar a share more than the 2011 EPS projections made 2010 mid-year. Listening in on company earnings webcasts and reading through the 10-K confirms my continued confidence in Caterpillar management's ability to make or beat analysts' estimates.
Projecting the business cycle out to 2012, I can envision the company marking an EPS figure of $8.00.
I see little standing in the way of ongoing global expansion involving heavy machinery for construction and mining equipment. China, India and Brazil are booming. CAT sales these regions show incredible growth. While North America and Europe have lagged, I do not believe that Western economies will fall back into recession. Indeed, recent sales figures for the U.S. are quite encouraging.
Caterpillar's first quarter earnings report were very strong.
Placing a P/E multiple of 18X on projected earnings of $6.10 this year, I arrive at a 2011 price target of $110 per share. Going forward to 2012 and using a 16X multiple on $8, I envision a $128 stock.
The five-year average P/E is 18X.
Bottom line: I plan to retain all shares. I will accumulate more on weakness, using the 2012 target of $128 a share to determine my expected return (sans dividends).
A Near-Term Option Strategy
The stock has run up quickly in 2011. While not overvalued, shares may take a breather for a quarter or two. If one anticipates this, an option stategy of selling puts, calls or both ("strangles") with strike prices between $105 and $115, depending upon your risk-tolerance may be in order. This can further juice returns if you believe the stock will rest awhile before heading higher based upon continued strong earning reports. Since I am bullish on the shares, I may tend to write shorter-term far out-of-the-money calls and nearer-the-money or even in-the-money cash-covered puts while I'm waiting for earnings to catch up to the share price. It would not surprise me to see the stock hover in the $100 to $110 range for the next couple of quarters. If the stock falls back towards $100, I want to sell puts or buy more shares. Underlying this strategy, I expect a 20% uplift with an investment horizon of 12 to 18 months, so I want to stay overweighted. The dividends are gravy.
Forward Indicators
For Caterpillar investors with a long view, I offer two metrics to follow that I believe will predicate continued growth and business expansion through the cumulative global economic cycle:
Gross Margins: As the business grows, Gross Margin (Revenues less COGS) should generally trend up. This will indicate that the company is enjoying economies-of-scale and the ability to increase prices. I calculate 2009 gross margin at 23%, and 2010 at 27%. The second and third quarter of last year showed the best margin figures. I plan to watch these numbers closely, particularly on a quarterly YoY basis. If they start to roll over, then one should retest the rest of the investment thesis. Note that in 2006 and 2007 (good years), margins did not exceed 26%.
Return on Capital Employed: This calculation is important to watch for a large industrial company like CAT, whereas high capital expenditures are coupled with high debt. First, I'm looking to ensure that this figure always stays well above the company's borrowing rate. Second, I want to monitor this number if it starts to roll over. That may signal the business is starting to stall; futher analysis will determine if it's time to head for the exits.
The pre-recession ROCE was 16% in both 2006 and 2007. It fell to 11% in 2008 as the economy tanked. In 2009 the depths of the recession drove the figure down to barely over 2%. Last year, I calculated the ROCE at 10%. This may preclude more traction for CAT shares, as strong business cycle demand precludes expanded EBIT. Note we have not reached pre-recession levels despite the recent run-up in earnings and cash flow. I view this as a positive so long as the trend continues in the right direction.
Disclosure: I am long CAT.