Over the course of the last few days, Prime Minister Naoto Kan has for the first time discussed both the need to rebuild Japan "from scratch" and the national resolve required to achieve this. Clearly, the choices to be made in the formulation of a reconstruction plan will have great economic implications. In particular, the choices to be made by Japan in terms of the reconstruction of its power generation capacity will not be the least of these.

In the immediate aftermath of the nuclear disaster in Japan, I argued that the solar industry would likely have the opportunity to be part of the solution and that this would benefit companies such as SunPower (SPWRA) which have strong Japanese customer relationships in place. There are obviously likely to be two main sources of this increased demand for solar product going forward:
First, an increased desire for residential power security. This will likely produce a burst of demand for both energy efficiency products for the home and home power generation products. Demand for solar installations will likely to a significant part of this.
Second, as Japan rebuilds its utility-scale generation capacity, a number of factors suggest that solar will again be a beneficiary.
I discussed the likely increase in demand for residential solar installations in my previous article here.

In this second article on the issue, I would now like to offer three simple charts which highlight why solar is likely to also benefit from the rebuilding of Japan's utility-scale power generation capacity.

First, the scale of the problem and resultant opportunity is immense. Of course, solar by itself cannot possibly offer an all-encompassing solution. That is of course self-evident but also irrelevant to the investment opportunity. With a necessary reconstruction program of the size outlined below, even if solar only has the opportunity to provide a small percentage of the necessary new capacity it will still represent an extremely significant contribution to the total level of global demand facing the solar industry.

Japan is the third largest producer and consumer of electricity in the world - with 280 GW of total installed capacity, which allowed it to produce 1,015 billion kilowatt hours of electricity in 2008, according to the EIA's latest data. The chart below shows the breakdown of that level of electricity generation by source in the following year.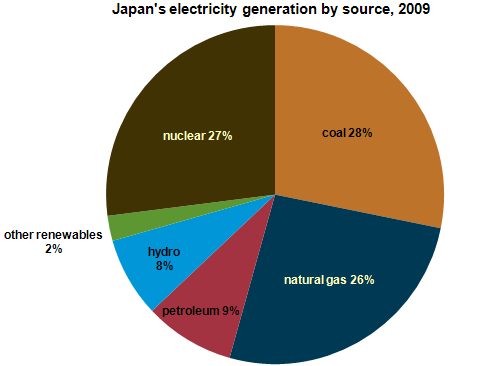 The most obvious issue is Japan's reliance on nuclear power. Indeed, Japan is the third largest consumer of nuclear power in the world in outright terms.

The second most obvious issue is that in the short-term Japan is likely to import more petroleum and liquefied natural gas (LNG) in order to fill the gap in electricity generation. The country has a number of older oil-fired plants working well below capacity which could help fill the gap in the short-run. Secondly, most of the country's LNG import terminals were unaffected by the tsunami, allowing the country to easily step up its import of natural gas.

However, in terms of the scale of the problem going forward, consider the following:
The Fukushima Daiichi nuclear rectors alone represented 4.7GW of capacity. This will have to be replaced.
Secondly, prior to the Fukushima disaster Japan had planned to significantly add to the country's nuclear capacity - taking nuclear to 40% of total electricity generation capacity by 2017 and 50% by 2030. Two new nuclear reactors are already under construction, with 13 at the planning stage - totaling just over 20GW between them.
Lastly, if a review of energy policy leads to a decision to decommission nuclear over time, this would lead to a need to replace the 54 nuclear reactors currently in place with an installed generating capacity of 49 GW (including the 4.7GW at Fukushima).
These numbers are clearly immense. For comparison, the latest data show total non-hydroelectric renewable capacity in Japan at only 5.9 GW.

Moreover, for Japan nuclear was seen to have a significant role in reducing greenhouse gas emissions going forward. A reversal of this commitment via a necessary increase in the use of fossil fuels is likely to be an issue.

However, it is likely to be particularly problematic in light of the chart below. Japan lacks any significant hydrocarbon resources and is as a result only 16% energy self-sufficient. It is the third largest oil consumer and net-importer of crude in the world and is the world's largest importer of both liquefied natural gas (LNG) and coal. In that context the chart below must be very worrying for policy-makers: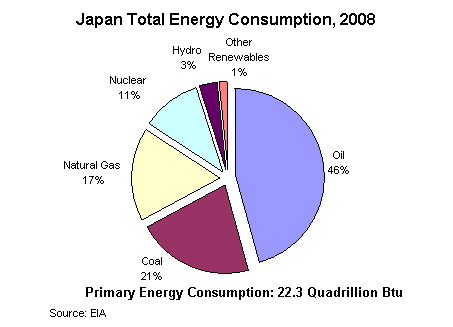 The chart shows total energy consumption for the whole economy, broken down by fuel. The problem is clear - take away nuclear and you are left with sources of energy which are by and large all imported. Japan's already very low 16% self-sufficiency number would collapse.

To some extent in the current circumstances this is unavoidable. However, it will be a major political issue - just as the issue of a general increase in the use of fossil fuels will be - and the result is likely to be a major push on renewables such as solar.

Moreover, this likely increase in solar demand looks particularly compelling when set in the context of global demand for the industry as a whole. The chart below from industry research group Solarbuzz provides a rough overview of total new installations in each of the main countries for solar demand in 2010. Actual final installations for Italy have been reported as being as high as almost 2GW. However, the chart does give a good sense of the broad country metrics facing the industry.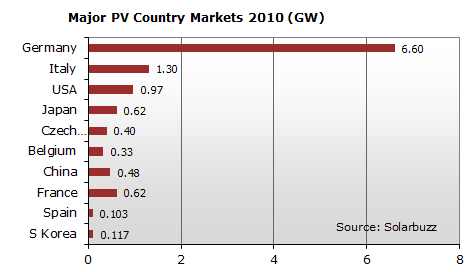 Interestingly, the chart clearly illustrates that Japan could very easily become a major new source of demand for solar even if only a small percentage of Japan's need for new installed capacity were to be allocated to solar product.

Moreover, it is also illuminating to consider that the global solar market has recently spent a great deal of time worrying about the demand consequences of a reduction in Italian government support for solar. Very clearly, however, Japan could easily make up for any demand shortfall from Italy.

Finally, my favored play is SunPower, a company whose high-efficiency though higher cost solution works well in the Japanese market and who also has pre-existing agreements with Toshiba's residential solar program. However, the main global players are likely to benefit also. As I also argued recently here, a number of these companies also face considerable short interest and something of a short squeeze is possible as the opportunity in Japanese solar becomes clear. As a reminder, I reproduce below the table from my earlier article:
| | | | |
| --- | --- | --- | --- |
| | | Market Cap ($bn) | Short Interest as a Percent of Shares Outstanding |
| SunPower | (SPWRA) | 1.44 | 27.0% |
| First Solar | (NASDAQ:FSLR) | 13.32 | 17.0% |
| JA Solar | (NASDAQ:JASO) | 1.12 | 15.0% |
| LDK Solar | (NYSE:LDK) | 1.73 | 10.0% |
| Trina Solar | (NYSE:TSL) | 1.95 | 8.0% |
| Suntech Power | (NYSE:STP) | 1.58 | 7.3% |
| Yingli Green Energy | (NYSE:YGE) | 1.82 | 6.5% |
| Hanwha SolarOne | (HSOL) | 0.57 | 5.5% |
| Canadian Solar | (NASDAQ:CSIQ) | 0.47 | 5.1% |
| MEMC Electronic Materials | (WFR) | 2.87 | 3.9% |
| Renesola | (NYSE:SOL) | 0.8 | 2.3% |
| | | | |
| Inverter Player | | | |
| Power-One | (NASDAQ:PWER) | 0.89 | 33.2% |
The debate over Japan's energy future is only just beginning. However, both Japan's heavy reliance on nuclear and its lack of domestic sources of hydrocarbons suggest that the country will look toward renewables - and solar is set to be a main beneficiary.

Disclosure: I am long SPWRA.