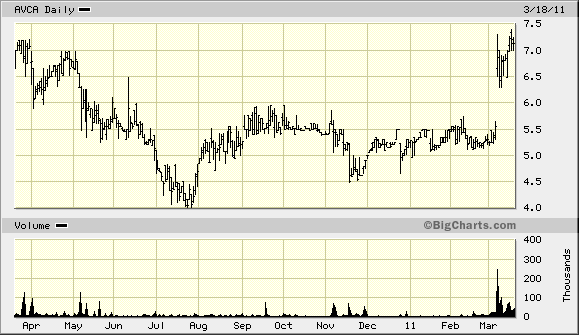 Microcap nursing home and skilled care provider Advocat Inc. (AVCA) gapped up on strong fourth quarter results, and appears ready to challenge 2-year highs. What is even more impressive than the gap itself is that the entire gap held even during a series of weak days for the overall market in general and microcaps in particular.
Key highlights from the earnings report:
Revenue increased 8.5%, to $75.5 million, compared to $69.5 million.
Occupancy increased to 78.0% compared to 77.1%.
Medicare average daily census increased 3.2% to 521, compared to 505 (important because Medicare/private pay substantially more than Medicaid)
Medicare rates increased 14.5%
Medicaid rates increased 2.2%
Net income from continuing operations was $2.0 million compared to $44,000, or $0.34 per diluted common share compared to a loss of $0.01 per diluted common share, after deducting preferred stock dividends.
Funds provided by operations were $5.2 million versus $3.0 million or $0.90 compared to $0.51 per diluted common share.
Disclosure: No position at present but will probably buy next week.