It feels like a perfect storm. A magnitude-9 earthquake and a tsunami devastate much of Japan. Thousands of people are killed or missing. Radiation poisons the air and the food supply. A core meltdown is still possible. The global supply chain for everything from technology products to the auto industry is disrupted.
From Morocco on the shores of the Atlantic to the mountains of Iran, country after country struggles with regime change and civil war.
The problems in Europe are different-- but no less dramatic. The financial crisis is alive and well, particularly in the countries bordering the Mediterranean Sea. Portugal, Spain, Italy and Greece are on the verge of financial collapse.
Where does this leave us? The emerging markets have their own set of problems and, for the time being at least, not the best place to be invested. This leaves the U.S. market-- one that is hardly problem free. Unemployment remains high and will not decline significantly any time soon. Though the economy is growing and corporate profits appear to be strong, the lack of a coherent economic policy is troubling. Our economic policies, such as they are, are reactive rather than pro-active. Our political leaders lack vision and provide no leadership. This comes as no surprise since politicians think in terms of election cycles. At the corporate level, focus is on quarterly results.
In turbulent times, people turn inward. The argument for large cap consumer staple companies is that they are familiar names that offer the necessities of daily life. This week, Barron's Magazine presents a list of ten companies that fit this argument. The underlying thesis is that these ten companies offer cash flow, dividends and predictable growth. This list includes: Avon Products (NYSE:AVP), Campbell Soup (NYSE:CPB), Clorox (NYSE:CLX), Coca Cola Enterprises (NYSE:CCE), Colgate-Palmolive (NYSE:CL), General Mills (NYSE:GIS), Kellogg (NYSE:K), Molson Coors Brewing (NYSE:TAP), PepsiCo (NYSE:PEP), and Proctor & Gamble (NYSE:PG). Are these companies really good investments for today?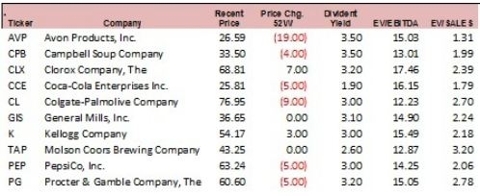 The first thing we notice from the above chart is that these companies underperformed the S&P 500 significantly during the past twelve months. Is this lag indicative of a turning point? I do not think so. I think the poor performance reflects high unemployment and consumer uncertainty. The consumer is being more selective in its discretionary spending and seeking alternate, cheaper products. The market seems to reflect this understanding. The high dividend yields provide a measure of support to these stock prices but they also reflect the lack of price appreciation.
Everyone has their own favorite metric for measuring value. We prefer to use Enterprise Value to Earnings Before Interest, Taxes, Depreciation and Amortization (EV/EBITDA) and Enterprise Value to Sales (EV/Sales). On the face of it, if we do not look at industry specifics, these companies appear to be overvalued on the basis of EV/EBITDA. CCE, TAP and PEP are categorized as being in SIC 2086 or 2082. The average EV/EBITDA ratio, as of January 2011, for 34 companies in the beverage industry is 11.13X. Similarly, the January 2011 average EV/EBITDA ratio for food processing companies is 8.3X. Finally, the average for companies in the household products sector is 8.74X. By these measures, the ten companies are overvalued. (Note: We fully realize that these names do not fit neatly into a sector or industry box – some are more diversified than others.)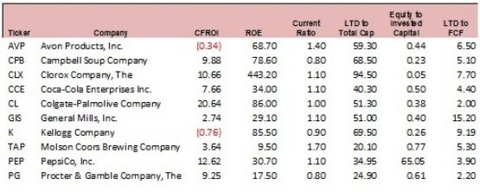 Looking at several balance sheet metrics, we see a mixed picture. In most cases we see high levels of Long Term Debt to Total Capital and the concomitant low levels of Equity to Capital. Similarly, Current Ratio levels tend to be less than the industry medians. The relatively high Return on Equity is a product of the capital structure and reflects debt loads. Two of the companies do not have positive free cash flow. Of the ten companies listed, only two, CL and PG, have Long Term Debt to Free Cash Flow ratios that we are comfortable with. Colgate has an impressive Cash Flow Return on Investment.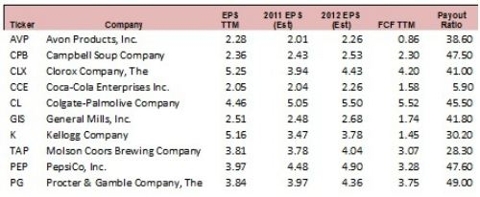 Each of these companies reports solid earnings over that past twelve month period. Consensus analyst estimates for both the current year and next year are less impressive. We believe the estimates reflect expectations for continued weakness from stressed consumers. We would also note that CCE has the ability and the wherewithal to increase its dividend. As a final observation, these are all global companies. If they are benefiting from having a global footprint, it is hard to see. Then again, global companies have the opportunity to be slammed in many places.
We are not impressed by any of these companies. We think they are all overpriced and see no catalyst for change. The assumption that investors can find safety by identifying sectors or themes is a dangerous one. There is a saying that, "a rising tide raises all ships." Not this year. We think this is the year for stock pickers. It is always necessary to separate the wheat from the chaff.

Disclosure: I have no positions in any stocks mentioned, and no plans to initiate any positions within the next 72 hours.