Investment Thesis
Hollywood Media Corporation (NASDAQ:HOLL) owns and operates a number of business units related to the entertainment industry. Because the company has struggled to achieve profitability over the years, the management decided to call it quits by liquidating it and returning money to shareholders. The company had three main divisions: the Broadway Ticketing Division, the Ad Sales Division, and the Intellectual Properties Division. Recently, it sold the Broadway Ticketing Division and used the proceeds from the sale to buy eight million shares, which reduced the number of outstanding shares from about 31 million shares to 23 million shares. The company also owns a 26.2 percent minority interest in MovieTickets.com.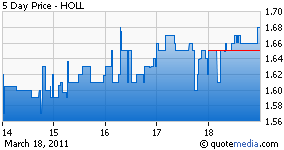 Before the Broadway Ticketing Division was sold, the company's stock was trading around $1.20 per share which meant that the market capitalization for the entire company was nearly $40 million. When the transaction finally closed, it lifted some uncertainty, and the stock price moved higher to the neighborhood of $1.60 per share. Now that the company had received $20 million, it was time to return it to shareholders. The management previously stated that this was going to be accomplished through a special dividend or a tender. They chose the latter and proposed to buy eight million shares for $2.05 per share. Following the release of this information, the stock price jumped to about $1.95 per share. There were some investors who got out, and others who bought at $1.95 per share with the hope of selling it to the company for $2.05 per share. At the end of the day, there were 24 million shares submitted by investors for sale to the company but the company was only willing to buy eight million. This means that the company turned down 16 million shares.
What happened next? Investors started selling. Those who purchased at $1.95 per share with the hope of a quick profit headed for the doors. Others realized that two thirds of the shares had been turned down and wanted out before the selling started. Consequently, the stock price went from $1.95 per to $1.60 per share within days.
The amazing thing is that the value of the company per share actually went up because the tender reduced the number of shares by 26 percent, yet the stock price was punished.
What is Remaining at Hollywood Media and How Much is it Worth?
After the tender, the company still has about $13 million in cash, a five-year $8.5 million promissory note at 12 percent per year, earnout payments, and a 26.2 percent stake in MovieTickets.com. On the liability side, it has about $8 million in obligations. Let us analyze what these parts are worth:
Cash
On December 31, Hollywood Media had $29,406,063 in cash on the balance sheet. After purchasing eight million shares for $2.05 per share, cash decreased to $13,006,063. Because cash is cash, we are valuing cash at its face value of $13 million or $0.56 per share. Note that the transaction costs are not accounted here as they are accrued in liabilities.
$8.5 Million Promissory Note at 12 Percent
This note was received as part of the compensation for the sale of the Broadway Ticketing Division. According to the terms, Hollywood Media receives quarterly payments, and at the end of Year 5, it will receive a lump sum of $8.5 million. The payment schedule is shown in the following chart:

Note: The payments are quarterly but for simplicity I treated them as if they were received once per year.
Over a five-year period, the company will receive a total of $9.5 million. However, this payment stream is not worth $9.5 million today because of the time value of money. Because the note is secured by the business (Broadway Ticketing Business) that was sold, the likelihood of nonpayment is low, and therefore, to calculate the value we will use a discount rate of 12 percent as shown in the following chart:

The total value of the promissory note is equal to the all the cash flows discounted to the present value. Because we are using a discount rate of 12 percent, which is equal to the interest rate on the promissory note, it is not surprising that we get a value of $8.5 million ($920,714 + $813,138 + $726,016 + $648,228 + $5,401,904) or $0.37 per share.
$14 Million in Earnout Payments
Hollywood Media also received the $14 million earnout as part of the compensation for the sale of the Broadway Ticketing Division. According to the agreement, the company will receive the first $7 million at the end of Year 3 and the second $7 million at the end of Year 6. These payments are contingent upon the Broadway Ticketing Division reaching certain revenue targets under the new ownership. The payment schedule should look like this:

Similar to the cash flows from the promissory note, these cash flows need to be discounted to the present. However, because these payments are not as secure as the payments on the promissory note, we will use a discount rate of 20 percent. The first $7 million earnout payment is more secure because it is based on lower revenue targets than the second $7 million earnout payment. To be conservative, I am assigning no value to the second $7 million earnout payment.

Based on the previously laid out assumptions, the value of the $14 million earnout payments is $4,050,926 or $0.17 per share.
Earnout Payments from Hollywood.com
Hollywood Media also has earnout payments from the sale of Hollywood.com in the past. The original amount was $9 million, but based on my conversation with the company's CEO, $7.2 million in earnout payments are still owed to the company. Because these payments are dependent on the performance of the sold business (Hollywood.com), they vary from year to year. However, the payments are about $600,000 per year and to amount to $7.2 million, they will continue for another twelve years.

The value of the earnout is calculated by adding all the present values of the individual cash flows, which equates to $2,663,530, or $0.11 per share. The present value calculation was based on a discount rate of 20 percent.
MovieTickets.com
MovieTickets.com, which is a leading website for online ticket sales, was formed in 2000 as a joint venture between AMC Entertainment, Hollywood Media, National Amusements, Cineplex Entertainment, Marcus Theatres, Viacom and America Online. Hollywood Media owns 26.2 percent of MovieTickets.com. Hollywood Media's partial ownership of MovieTickets.com is its main source of value. The following chart shows a portion of MovieTickets.com's income statement from 2005 to 2009.

As you can see, MovieTickets.com more than doubled its revenues from 2005 to 2009. Also, the net income was negative $2 million in 2005 and positive $4.8 million in 2009. It grew revenues every single year, including during the financial crisis in 2008 and 2009.
The future of MovieTickets.com looks extremely bright as the company has made international expansion a priority. When the company was formed, it was only operating in the United States. Then, at the end of 2000, it entered Canada and, at the end of 2003, it entered the United Kingdom. However, it recently really stepped up its efforts by expanding into other territories. At the end of 2009, it signed on Empire Theatres, Canada's second largest film exhibition company. Around the same time, it expanded to Argentina, Aruba, Bermuda, and Curacao. At the end of 2010, it entered Chile. Currently, it is in the process of expanding to Spain.
In addition to expanding to other countries, MovieTickets.com is also growing in the United States as more and more people are buying movie tickets on their computers or phones. At the end of 2010, MovieTickets.com started offering apps on Blackberries and iPhones to allow people to purchase tickets, browse movies and showtimes, and find theatres.
Because MovieTickets.com has not released its financials for 2010 yet, the previously presented income statement does not reflect the recent growth initiatives. Because of the new growth, some analysts are expecting net income to be in the neighborhood of $8 million in 2010.
This year and the coming years are looking even better. Not only will the expansion into other countries and the penetration of existing countries increase revenues and profits, but there are opportunities for MovieTickets.com to take away some contracts from Fandango, its major competitor.
In 2005, AMC Entertainment, which also owns 26 percent of MovieTickets.com, merged with Loews Cineplex, a major theater operator. Before the merger, Fandango was servicing Loews theaters, and one would think that because AMC Entertainment owns part of MovieTickets.com, it would want MovieTickets.com to service the newly acquired theaters. The problem was that Fandango had a contract with Loews, and if broken, Fandango and AMC would have ended up in court. This contract ends April 2011. I believe that there is a big possibility that AMC will transfer Loews theaters to MovieTickets.com, and this will have a significant impact on the revenues and profits of MovieTickets.com. In 2009, MovieTickets.com sold 15 million tickets. During the same year, Fandango sold over 24 million tickets, but four million were for AMC's Loews. If you just transfer the four million tickets from Fandango to MovieTickets.com, then you get 19 million tickets sold by MovieTickets.com, which represents a 27 percent increase from 15 million tickets sold. This increase is exclusive of any international and domestic expansion that MovieTickets.com is experiencing. Combining the two together, you can see MovieTickets.com is positioned nicely for future growth. Some analysts are expecting the net income to grow to between $12 million and $20 million by 2012.
Considering that MovieTickets.com is only in the United States, United Kingdom, Canada, Chile, Ireland, Argentina, Spain, Aruba, Bermuda, and Curacao, there are plenty of other international opportunities left. Therefore, MovieTickets.com is considered a growth company which deserves a high multiple over earnings when valuing it. Assuming a net income of $12 million and $20 million by 2012, and applying a multiple of 15, we get a value between $180 and $300 million. To remain conservative, we will use the lower range and value MovieTickets.com at $200 million. Because Hollywood Media owns only 26.2 percent, its portion is $52.4 million. But MovieTickets.com also had $5,128,137 in cash in December 31, 2009. Hollywood Media's portion of this cash is 26.2 percent of this amount, which equates to $1,343,572. Consequently, Hollywood Media's stake in MovieTickets.com is worth $53,743,572. However, there is one more element that has to be taken into account – Hollywood Media's CEO gets 10 percent of any proceeds coming from MovieTickets.com. Ten percent of $53,743,572 is $5,374,357, which means that to us, MovieTickets.com is worth $48,369,215, or $2.09 per share.
Sum of the Parts
Now that we have analyzed the components individually, let us consider what Hollywood Media is worth as a whole.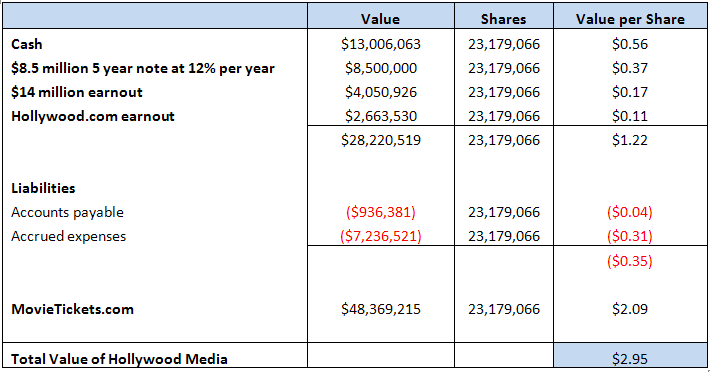 Considering that Hollywood Media's stock is worth $2.95 per share and is currently selling for $1.60 per share, some upside remains.
Catalyst
The major catalyst that is likely to move the stock price closer to its value will be the sale of MovieTickets.com. Why do I think the sale will actually happen? First, the company is liquidating and returning cash to shareholders. Second, the CEO will get paid 10 percent of the proceeds from the sale. Considering he does not get paid a salary anymore, this should be a good incentive for him to act.
Conclusion
The company recently reduced the number of shares by 26 percent, which increased the value of the company for the remaining shareholders. Despite this, many investors chose to sell something that is worth about $3.00 per share for only $1.60 per share. While I have no idea if the stock price will go any lower in the near future, I am not going to be dumb enough to follow the sellers. If they keep selling, I will keep buying whenever I have some extra cash.
Disclosure: I, or persons whose accounts I manage, own shares of Hollywood Media Corporation (HOLL). This report is not a solicitation to buy or sell securities. Neither Mariusz Skonieczny nor Classic Value Investors, LLC, is responsible for any losses resulting from purchasing or disposing shares of Hollywood Media Corporation (HOLL). You are advised to consult your financial advisor or conduct the due diligence yourself.