I think Mr. Market is making a large error in his valuation of a Canadian E&P company called Petrobank Energy.
I view Petrobank as having a valuation range. That range goes from the most pessimistic scenario for all of its pieces to the most optimistic scenario for all of its pieces. The bottom of that range is well above the current share price, and the top of the range is a multi-bagger to the upside.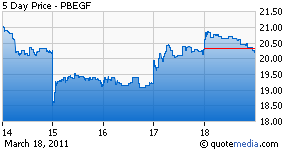 You will need to do more work to get more comfortable with these valuations, I hope I've provided enough to at least get you interested.

The valuation work on Petrobank is shockingly simple to do:
Petrobank owns shares of a publicly traded subsidiary called Petrobakken that have a market value of roughly $2 billion.

Petrobank also has oil assets inside the parent company in the form of heavy oil and oil sands that have been appraised by independent reserve engineers as having a net present value of $3 billion using conventional SAGD technology.

Petrobank has a subsidiary technology company that holds the rights and patents to a heavy oil and oil sands technology called THAI.

I have no idea what this technology is worth.

It could be very little or it could be a whole lot.
The math is easy, $2 billion of Petrobakken (the subsidiary) shares plus $3 billion of net present value in the parent assets equals $5 billion.
The current market capitalization and enterprise value (Petrobank has a net cash position) is roughly $2 billion. Yes, that is more than a double to the upside.
That is pretty interesting. It gets even more so. Consider the following:
I think shares owned by Petrobank in Petrobakken (subsidiary) could be undervalued by as much as 50%, most analysts that cover the company agree

The THAI technology could prove to be worth billions on its own, and has just achieved a significant milestone as the first "THAI reserves" have been booked

If THAI works as anticipated then Petrobank can recover twice as much of the oil in place at their heavy oil property than the reserve engineers have assumed (that $3 billion PV figure is too low)

Petrobakken (the subsidiary) is experimenting with an enhanced oil recovery (EOR) technique that could result in a doubling of their recoverable reserves as well
I'm saying that the company is likely 50% undervalued and could double their existing reserves with technological advances and could have a technology worth billions.
You have to admit that it sounds interesting. But the most important thing that I want you to see is that with the value that exists in shares Petorbank owns of Petrobakken your ability to get the parent company oil assets and technology for free is a pretty low risk proposition. The value of of the Petrobakken shares supports your downside, the parent company assets provide the upside.
In the conference call last week, Petrobank CEO John Wright said that he couldn't think of a better time to be getting exposure to Petrobank's vast resource base. I happen to agree with him as I think both Petrobank the parent and Petrobakken are headed for big years in 2011.
Disclosure: I am long OTCPK:PBEGF.