As mentioned in a
market strategy article
, we are open to looking at adding to our positions in energy (NYSEARCA:
XLE
), materials, and industrial stocks (NYSEARCA:
XLI
) if we see this morning's improved tone carry into the close. According to
Bloomberg
the situation in Japan is trending in the right direction:
Japanese Prime Minister Naoto Kan said he can see "light at the end of the tunnel" as workers at the troubled Fukushima Dai-Ichi nuclear plant reconnected power to two of the failed reactors.

In a flurry of announcements today, Kan said progress was being made in restoring power to reactors No. 1 and No. 2, while Tokyo Electric Power Co. said it had connected No. 3 and No 4. Minutes later, state broadcaster NHK said engineers were evacuated as gray smoke was seen billowing from reactor 3.
Japan, along with AT&T's (NYSE:T) deal being the biggest worldwide acquisition in almost a year, may give the fundamental backdrop for taking some more cash off the side lines. We added to our positions in energy on March 17, including natural gas (NYSEARCA:FCG) and oil equipment producers (NYSEARCA:IEZ).
From a technical perspective the recent "extreme oversold" reading on the S&P 500 also convinced us to work on Sunday preparing more buy orders for energy, industrials, and commodities (NYSEARCA:DBC). Please see the market strategy article mentioned above (with link) for details supporting expanding our exposure to energy.
As we mentioned on March 17, an "oversold" CCI reading of -236, which is rare, recently occurred on the daily chart of the S&P 500 Index. This weekend we went back and found all the cases, during a bull market, where CCI hit -236 between 1982 and 2011. It only occurred 40 times.
From a historical risk-reward perspective, it may offer a very good entry point for cash. Risk-reward ratios historically fell between 5.39 and 30.05 in favor of bullish outcomes when you look at the market's performance three weeks to twelve weeks after a CCI reading of -236 or lower was registered on the daily chart of the S&P 500.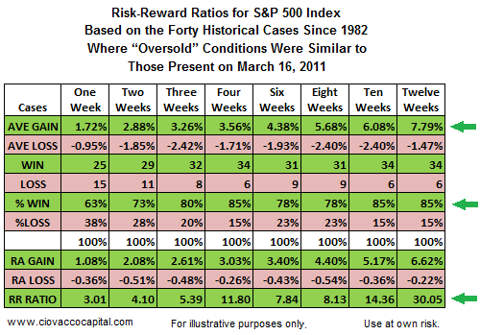 Before we invest more cash, we would like the market to check off a few more of the "things we would like to see" as shown in the table from March 17 (see "Patience is a Virtue" table).