The stock of buy-recommended Cenovus Energy (NYSE:CVE) has appreciated some 30% along the way to perhaps 400% by 2020, on the basis of its concentrated representation in the high growth potential of Canada's deep oil sands. A positive trend in oil price combined with successful operations for the past two quarters lends credibility to the ambitious plans management presented to investors last year .
Production at Foster Creek and Christina Lake in a joint venture with ConocoPhillips (NYSE:COP) is expected to multiply from current levels and to be magnified in emerging areas, possibly with international partners. Most of the expected five-fold growth in deep oil sands for Cenovus is firmly indicated. Temporary dislocations in transporting rising industry oil volumes from Alberta and North Dakota are depressing crude oil price in interior markets, compared to rising global crude oil price.
Cenovus recoups about two-thirds of the opportunity loss through higher margins in U.S. refining operations in its joint venture with COP (see chart Integration Strategy below). As a result, crude oil production supplied less cash flow and refining more cash flow in fourth quarter operations disclosed on February 18. The energy growth prospects in Cenovus are available at a McDep Ratio of 0.83 that is well within buy range and stock price is in an uptrend. Crude oil price is also in an uptrend, with the current quote of $100 a barrel for the next six years above the rising 40-week average of $89.
Click to enlarge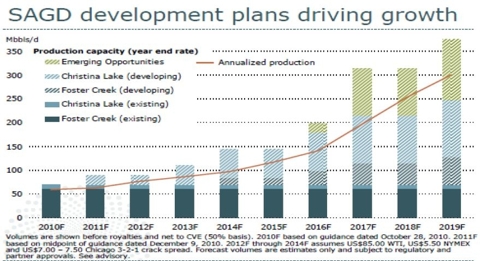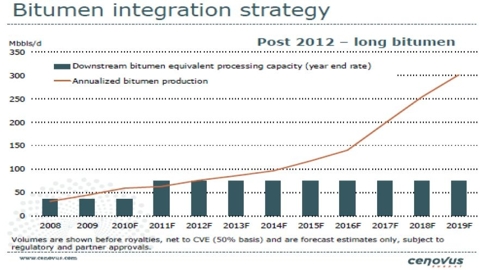 Originally published on March 1, 2011