Warren Buffett said, "If you aren't willing to own a stock for 10 years, don't even think about owning it for 10 minutes." However, after suffering through a Lost Decade of negative returns from the stock market, many investors appear weary of holding stocks at all.
During the past decade, two brutal bear markets clawed investors. At the beginning of the decade, a bloody tech-wreck followed the collapse of the dot-com bubble. Over 10 years later, the technology-laden Nasdaq index is still trading more than 40% below its peak of 5,000 on March 10, 2000.
Two years ago, the global economy endured the calamitous collapse of a massive credit bubble, resulting in the Great Global Recession, high unemployment and a slow, uneven recovery.
On the other hand, we embrace Buffett's quaint advice of buying and holding for the long term with nearly a third of the stocks in our HI portfolio having been held for 10 years or longer. In reviewing the performance of these old-timers in our portfolio, we see there has been no Lost Decade for these 13 stalwart HI-quality companies.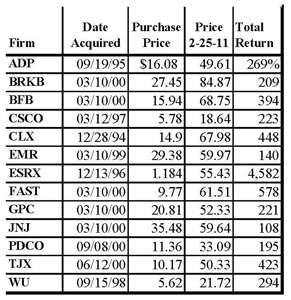 All of these terrific titans generated triple-digit total returns at the same time the overall stock market made little progress. Express Scripts (NASDAQ:ESRX) led the way with the stock up over 45-fold over the last 14 years. Fastenal (NASDAQ:FAST) fastened a six-fold gain to the HI portfolio over the Lost Decade while TJX rang up a nearly five-fold gain.
Both Brown-Forman (NYSE:BF.A) and Clorox (NYSE:CLX) have more than quadrupled, while Automatic Data Processing Inc. (NASDAQ:ADP), Berkshire Hathaway (NYSE:BRK.A), Cisco Systems (NASDAQ:CSCO) and Western Union (NYSE:WU) have more than tripled in price since purchase. Not to be left out, Emerson (NYSE:EMR), Genuine Parts (NYSE:GPC), Johnson & Johnson (NYSE:JNJ) and Patterson (NASDAQ:PDCO) provided 100+% total returns during the past 10 tumultuous years.
As Warren Buffett wisely says, "Your goal as an investor should simply be to purchase, at a rational price, a part in- terest in an easily understandable business whose earnings are virtually cer- tain to be materially higher five, ten and twenty years from now. Put together a portfolio of companies whose aggregate earnings march upward over the years, and so also will the portfolio's market value." Yes, even during a Lost Decade!
These impressive results demonstrate the benefits of investing in HI-quality businesses when they are reasonably valued and holding them for the long term. These well-managed businesses steadily grew their sales and earnings during a challenging decade while generating superb free cash flows and high returns on shareholders' equity.
They maintained strong financial positions which allowed them to weather the turmoil of the last 10 years. As cash-compounding machines, these companies rewarded patient investors with steadily growing dividends, significant share repurchases and generous capital appreciation. We can't wait to see what they do for us over the next decade!
Disclosure: Hendershot Investments holds a long position in each stock presented. The content in this article should not be taken as investment advice or construed as a recommendation to buy or sell any security. Ideas expressed may not be suitable for every account, depending on an individual's investment objective, risk-tolerance and financial situation. Information presented here was obtained from sources believed to be reliable but accuracy and completeness and opinions based on this information are not guaranteed. It should not be assumed that investments discussed will be profitable or will equal the performance of securities listed here or recommended in the past. All data, information and opinions expressed are subject to change without notice. Further information on companies mentioned is available upon request.