PIMCO's Enhanced Short Maturity Fund (NYSEARCA:MINT) became the very first actively-managed ETF to join the billion-dollar club last week, as its assets under management reached $1.18 billion, as of March 18, 2011. This is quite a significant achievement, as many had questioned not only the relevance of the fund when it first launched in Nov. 2009, but also that of the entire active ETF space. The billion-dollar club had only 145 ETFs at the end of Feb. 2011, which is about 12% of the universe of more than 1,100 ETFs in the U.S.
MINT has been the largest active ETF in the U.S. for several months now, but that position has changed several times as its asset base fluctuated strongly month-to-month. MINT's core investment mandate means that it is essentially a money-market alternative for investors who are looking to stash away their excess cash and who do not want to subject their money to the miniscule return offered by treasuries and money-market funds. With an effective holdings maturity of just 0.94 years, the liquidity in the portfolio is likely very high.
By virtue of its role as a cash alternative, MINT's asset base moves inversely with market performance. When the market tanks and people are taking risk off the table, MINT grows, while in strong markets investors tend to move their money out of MINT into riskier assets. This tendency shows up in the chart below, with the fund experiencing large bursts of asset growth when equity markets are panicky, such as in June 2010, Nov. 2010 and most recently in March 2011.
[Click all to enlarge]
There is little doubt that the PIMCO brand has had a lot to do with the traction that MINT has been able to get amongst investors. Very few firms can challenge PIMCO's prowess when it comes to active management in the fixed-income market. Having a reputable name behind the fund is especially important when it comes to active ETFs, because they are a relatively new product and, in the absence of a lengthy track record, investors have little else to rely on but a strong reputation.
It also helps that MINT has been able to outperform other passive ETFs that operate in the money market arena. MINT charges investors 0.35% in expenses, compared to 0.13% charged by the SPDR Barclays 1-3 Month T-Bill ETF (NYSEARCA:BIL) and 0.15% charged by its largest ETF competitor, the iShares Barclays Short Treasury Bond Fund (NYSEARCA:SHV). For that expense premium, MINT has been able to deliver the outperformance that investors would expect of an actively-managed fund, as seen in the chart below. MINT has a 30-day SEC yield of 0.83%, compared to a yield of 0.01% for BIL and 0.07% for SHV.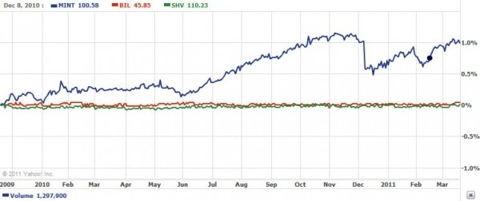 MINT now constitutes about 40% of all assets held by PIMCO ETFs, pointing to the importance of the fund in PIMCO's product line-up. Having proven itself through its outperformance, the fund can likely look forward to strong growth from here on, as more investors recognize the benefits of putting their spare cash into MINT, instead of keeping it under their pillows.
Disclosure: No positions in above-mentioned names.
Disclaimer: Views and opinions expressed on EtfsHub are those of the author alone and do not in any way represent the official views, positions or opinions of the employers – both past or present – of the author in question, or any other institutions and corporations associated with the author. Etfshub is not an investment advisor, neither the information nor any opinions contained or expressed above and elsewhere on EtfsHub constitutes or should be construed as a solicitation or offer by EtfsHub to buy or sell any securities or other financial instruments or to provide any investment advice or recommendations. None of the material above and elsewhere on EtfsHub is intended to endorse or promote any company or its products. EtfsHub shall not be liable for any claims or losses of any nature, arising indirectly or directly from use of the information on or accessed through the site. Please see full disclaimers here.