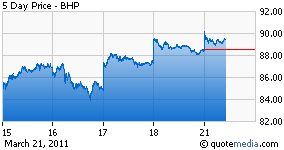 BHP Billiton (NYSE:BHP) is the world's largest diversified natural resources company. The company's strategy is to invest in tier one assets that are large, low-cost and long-life to provide a balanced portfolio of export-oriented commodities, including steel-making products, such as iron ore, metallurgical coal and manganese; non-ferrous products, such as copper, aluminum, nickel, diamonds and potash; and energy products, such as petroleum, energy coal and uranium. The company's stock trades on the Australian and London stock exchanges with ADR's trading on the NYSE in the U.S.
Diversified Market Leader
BHP Billiton was formed from a merger between two highly complementary companies—BHP, a leading global natural resources company with a diversified commodity suite that includes minerals, oils, and gas, and Billiton, one of the world's premier mining companies with a portfolio of best-in-class mining and metals operations.
With a history that dates back to 1885, BHP Billiton today is one of the world's premier suppliers of iron ore, the third largest copper and nickel producer, and the sixth largest producer of primary aluminum. In addition, the company is one of the world's largest producers of export thermal coal, servicing the major power markets of Europe, Asia and the U.S, and is also the largest global supplier of seaborne traded hard coking coal. BHP Billiton has a significant global oil and gas business with producing operations in Australia, the U.K., the Gulf of Mexico, Trinidad and Tobago, Pakistan and Algeria.
The company also is a leading producer of lead and zinc while BHP Billiton Manganese operations produce a combination of ores, alloys and metals. In addition, the company's annual diamond production represents nearly three percent of current world rough diamond supply by weight and six percent by value.
BHP Billiton is a low-cost producer with unique assets that are critical to the growth of the world's developing economies. Management focuses on optimizing opportunity while reducing risk to deliver predictable business performance from a diversified portfolio of commodities spread across diversified markets and geographies.
Robust Cash Flows
As a result of record production volumes and record prices in many of their key commodities over the past several years, BHP Billiton has generated very strong cash flows. These robust cash flows have enabled the company to internally fund existing operations; make acquisitions, such as the recently announced $4.75 billion offer to buy Chesapeake shale gas assets; and return capital to shareholders through dividends and share repurchases.
Free cash flow increased 153% during the first half of fiscal 2011 to $15.4 billion leading management to increase the dividend 10% and expand its share repurchase program to $10 billion to be completed in calendar 2011. BHP Billiton has a strong track record of returning excess cash to shareholders. Once management completes the $10 billion share buyback program, the company will have repurchased 15% of shares outstanding since 2004 while increasing their dividend more than five-fold over the same period. BHP maintains a strong liquidity position with $16 billion in cash on hand and a solid A credit rating.
Given the company's financial strength, management plans to invest $80 billion in capital expenditures over the next five years to support significant future organic growth opportunities.
Profitable Operations
For the first half of fiscal 2011, the company reported revenue increased 39% to $34.2 billion with operating profit drilling up a 59% gain to $14.5 billion as an improving global economy and broader supply constraints supported the company's core commodities. BHP Billiton delivered production records across three com m odities and five businesses during the first half of fiscal 2011.
BHP Billiton generates consistently high margins and returns with an operating margin of 42% in the first half and an underlying return on capital of 48%, excluding capital investments associated with investments not yet in production. BHP Billiton is a HI-quality market leader with an uniquely diversified business model, robust cash flows and profitable operations which long- term investors should dig. Buy.
Disclosure: Hendershot Investments holds a long position in each stock presented. The content in this article should not be taken as investment advice or construed as a recommendation to buy or sell any security. Ideas expressed may not be suitable for every account, depending on an individual's investment objective, risk-tolerance and financial situation. Information presented here was obtained from sources believed to be reliable but accuracy and completeness and opinions based on this information are not guaranteed. It should not be assumed that investments discussed will be profitable or will equal the performance of securities listed here or recommended in the past. All data, information and opinions expressed are subject to change without notice. Further information on companies mentioned is available upon request.