Immersion Corporation's (NASDAQ:IMMR) recently released 10K gives some interesting insight into the company's turnaround in 2010 and sheds some light into the drivers that should sustain growth in 2011.
Let's first have a look at Mobile Communications and Consumer Electronics, the fastest growing segment for Immersion and also the one that allowed the company's haptics technology to reach a large number of end-users given the quality of handset partners such as Nokia (NYSE:NOK), Samsung (OTC:SSNLF) and LG (OTC:LGERF), with smaller producers like Pantech Co and KFT Technologies playing a more regional role in the Far East.
Here is a quick look at the recent revenue growth in the mobility segment. These numbers include both royalties and development contracts.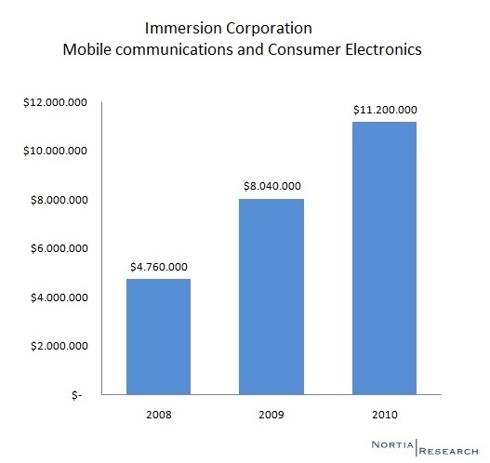 Click to enlarge
(Click charts to enlarge)
The strong increase in mobile phones incorporating Immersion's technology sold in 2010 (over 100 million) compared with 2009 (about 75 million) was the main reason for the strong (40%) increase in revenues (51% on a royalty base only), as other consumer electronics still represent a minimal percentage of revenues in this segment.
The launch of several new smartphones and tablets at the end of 2010, incorporating the company's haptics should bode well for 2011, as Immersion also looks to build a new revenue stream from its MOTIV platform for Android (NASDAQ:GOOG).
Gaming is the other segment that performed very well in 2010, although its numbers need a more sophisticated analysis.
Here is a quick look at the last 3 years: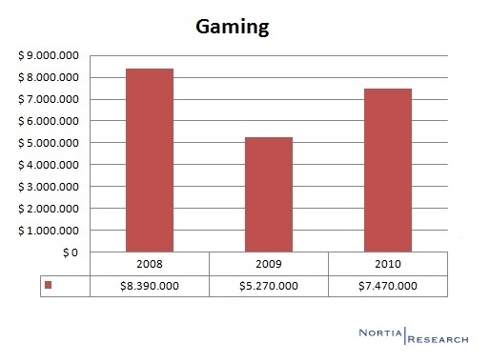 Click to enlarge
Let's try to break down the numbers. First of all, we should point out that Immersion is still recognizing about $ 750,000 per quarter from the 2007 Sony (NYSE:SNE) settlement. In 2008, revenues included about $1.1 million from the ISSLC litigation (a one time event). The true-up payments received in Q2 2010 could probably be attributed to the previous year, so that we could speculate that "core" revenues in gaming (excluding Sony and one time events) went from a peak of $ 4.3 million in 2008 to about $ 3.3/3.5 million in 2009 and 2010.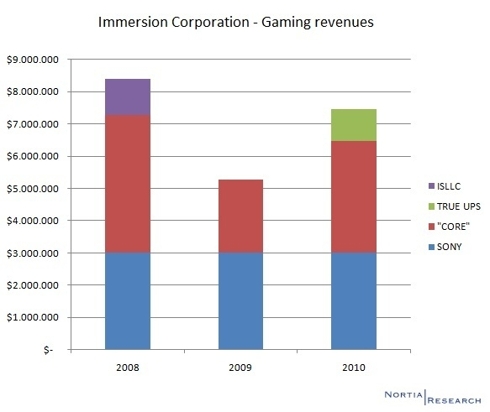 Click to enlarge
The reconciliation of certain customer reports in the gaming sector in Q2 2010 represented a good part (19%) of Immersion's 40% growth in the segment, and there is no doubt that this data must be taken into consideration when modeling 2011 revenues. During the last conference call Q&A, management made this comment, that makes a lot of sense having examined revenues more in detail:
Aaron Husock – Lanexa Global

What about gaming?

Shum Mukherjee - CFO

Gaming, again, will grow, you know, will be flat to about 5 to 10% growth.
Flat to some growth on a number "inflated" by $ 1,000,000 true-ups would actually represent a good result for 2011. Maybe Immersion is also expecting to benefit from the recent 3M (NYSE:MMM) launch of new products in the casino gaming vertical that contributed very little to revenues so far.
The annual report also reveals that Immersion is still selling one medical product, The Virtual IV line. In a passage of the 10K, we can read (pg.10):
As a result of this sale of the majority of the medical products business to CAE (NYSE:CAE) in March 2010, we currently have a single remaining medical simulation product line, the Virtual IV system, which simulates needle-based procedures such as intravenous catheterization and phlebotomy, and is a jointly developed product with our partner Laerdal Medical A/S.
Revenues decreased from $3.9 million in 2009 to $ 2.3 million in 2010, as it may be logical for a company that sold most of its assets (and sales force) in the medical segment. It is difficult to speculate if this level may represent a floor for 2011 or if the company will look to disinvest this product line, too. The partnership with Laerdal Medical A/S was originally meant to leverage Laerdal presence worldwide, while Immersion was promoting the product in the US market.
A bit of "reverse engineering" on the numbers included in the annual report also allows us to speculate a little bit about the importance of each segment – or at least the most important ones; mobility, gaming, automotive, semiconductor and medical – when it comes to Immersion's royalty stream, which is supposed to become the largest majority of its revenues going forward (already about 75% in 2010).
Here is a little chart, showing our breakdown per segment in 2010: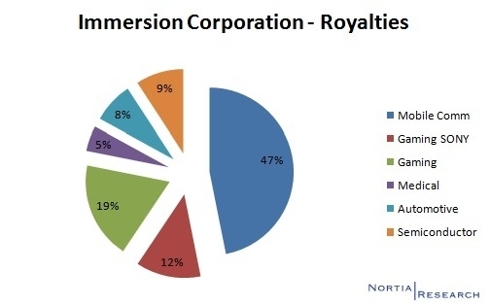 Click to enlarge
Our speculation seems in line with recent comments at the conference call:
Shum Mukherjee

The mix of business is not going to change that much. Mobility appears to be our largest segment, followed by gaming and then you'll have a combination of medical, auto and chip.
Medical should benefit in 2011 from a full year of royalties from CAE, while we still believe that automotive will probably start developing its potential in 2012 and beyond. Here is another comment made during the last conference call as to 2011 guidance that gives some additional color on the company's forecast for 2011:
Shum Mukherjee

There is slightly slower growth in the chip business, which as you know started from nothing last year and had a big ramp up this year.
To complete our update, we'd like to quote a few parts of a recent market analysis on haptics and update on Dialectic Capital Management.
As you may remember, Immersion's Board of Directors recently nominated John Fichthorn for election to the Immersion BoD at the company's 2011 annual meeting. Mr. Fichthorn is co-founder of Dialectic Capital Management, which has just filed an increase in ownership of the company to 8.2%, basically acquiring the shares from Ramius, another activist fund that is decreasing its share below the 5% mark (to 1.3% as of March 17), and probably exiting its investment in the company (with a decent profit).
Evaluating Immersion's potential is a bet about the increasing adoption of haptics in touchscreens. An interesting research has just been published by ARCChart: "Next Generation Haptics: Market Analysis and Forecasts".
Next generation haptics (or HD haptics) will be key to Immersion's success, as it should differentiate the company's offering from other, simpler "confirmation effects," that may not need its sophisticated technology and should also allow Immersion to generate higher per-unit royalties from markets like mobile phones or small screens.
Here is a quote from ARCChart's research (emphasis added):
In this study, ARCchart investigates the growing use of haptics on mobile phones, examining solutions in the market today and the host of next generation technologies which will compete for market share over the coming years.

While the level of haptics support amongst mobile devices is currently low, ARCchart forecasts that the technology will be supported by 36% of handsets shipped by 2015.

Today, handsets use the inertia-based vibration motor as the actuation element, but HD haptics will leverage advanced components such as piezo electric materials, electroactive polymers or capacitive electrosensory techniques. Architectures using these various technologies have been developed and patented by both specialist technology firms and by OEMs, each with benefits and drawbacks. So far, Immersion Technology has led this development of haptics intellectual property. However, companies such as Artificial Muscle, Pacinian and Senseg have been pioneering a variety of next generation actuation methods and Maxim recently introduced the first piezo haptics controller.

OEMs like Nokia and Apple (NASDAQ:AAPL) are currently conducting evaluations and we expect the first HD solutions to appear in commercial handsets in 2011, however, mass adoption will take a number of years as technical barriers are overcome – haptics' drain on battery power and implementation issues present significant challenges that need to be addressed.
More specifically, here is a brief quote from the segment dedicated to Immersion Corporation:
In addition to traditional reference designs leveraging actuators and amplifiers currently on the market, Immersion is working on reference designs that will incorporate piezo and EPAM technology. This technology was launched in February of 2010 and the company is testing ICs and actuators to certify the technology with Immersion designs. Immersion expects to have phones with piezo and EAPM high definition haptics on the market in the second half of 2011.



EPAM (electroactive polymer artificial muscle technology) is being developed by Artificial Muscle, a company owned by Bayer MaterialScience AG, which recently signed a licensing agreement with Immersion Corporation.
An increase in royalty rates attributable to HD haptics being implemented by Immersion's handset partners would obviously have a multiplying effect to the company's fastest growing revenue segment. While we believe HD haptics may only start impacting revenues in 2012, there is no doubt that we'll have to carefully watch any future high end range smartphone launch looking for confirmation of the adoption of this new technology.


Disclosure: I am long IMMR.