This morning I made a list of companies that have had double-digit growth in both sales and earnings and are projected to have that double-digit growth continue. I then ran them against the Barchart technical indicators and Whole Foods Markets (WFMI) came up on top of the list.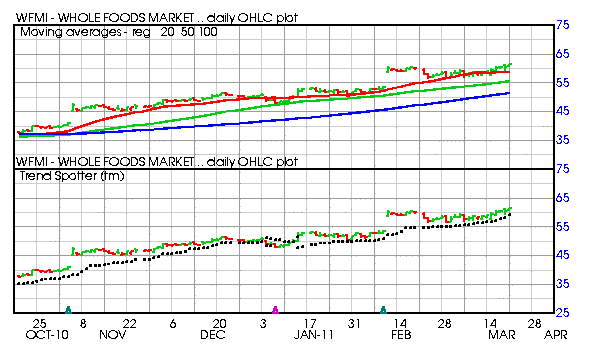 Whole Foods Market is the largest purveyor of natural foods in the world. The company owns and operates the country's largest chain of natural food supermarkets. The company is like an old-fashioned neighborhood grocery store, an organic farmer's market, a European bakery, a New York deli, and a modern supermarket all rolled into one. The company also offers a variety of non-perishable natural products on its Web site at wholefoods.com.
If you visit one of the stores, don't expect to find one of those hippy granola bar shops of the 70s or a Pumping Iron protein drink joint. The company offers a lot of high end organic fresh food and even organic wine and beer. If you're going to drink, why not drink without guilt?
This isn't a small chain but has over 290 locations and is expected to gross over $10 billion in sales this year. Growth as measured in same store sales has been 8.7%. Recently during the recession some shoppers traded down but now as the economy loosens they are returning in droves.
Technical Factors:
100% Barchart technical buy signals
Trend Spotter (tm) buy signal
Four new highs and up 2.39% in the last month
Relative Strength Index is 68.43% and rising
Trades around 14.40 with a 50-day moving average of 55.68
Fundamental Factors:
Wall Street brokerage analysts have issued 9 buy and 15 hold reports recently
Sales are projected to increase by 12.30% this year and 11.80% next year
Earnings are projected to increase by 26.40% this year, 14.40% next year and 16.74% for the next 5 years
Investor Sentiment:
This stock has extremely high and positive general investor sentiment
CAPS members on Motley Fool voted 3,752 to 573 that the stock will beat the market
The more experienced All Stars agree with a 1,253 to 106 vote
Fool notes that the last eight Wall Street columnist reports have been positive including a recent 2/10 recommendation by Zacks
In the U.S. shoppers are now looking at quality as well as price. I've bought some of their products and will return. Put this one on your watch lists.
Disclosure: I have no positions in any stocks mentioned, and no plans to initiate any positions within the next 72 hours.