Who would have ever thought that emerging markets would be beneficiaries of the flight to safety trade? But in a world where every developed nation is seemingly in a race to see who can rack up larger deficits, relatively frugal emerging markets have outperformed in the period since global equities made their most recent peak in mid-February.
The chart below shows the relative strength of the MSCI Emerging Markets Index compared to the MSCI Developed Market Index. When the line is rising, emerging markets are outperforming developed markets, and vice versa when the line is falling. As shown in the chart, emerging markets peaked on a relative basis back in early October, which was a month after the start of the huge run higher we saw in U.S. stocks from early September through February.
After months of underperformance, however, emerging market equities once again started to outperform just as global equities were peaking last month. For investors who have grown accustomed to market corrections beginning in emerging markets and spreading to the rest of the world, these developments are certainly out of the ordinary.
[Click all to enlarge]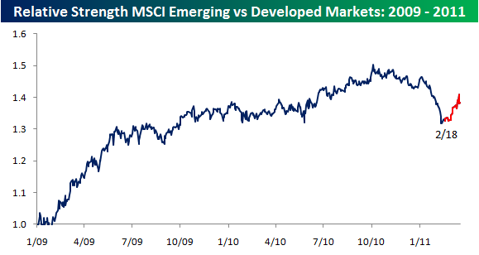 To further illustrate the shift in leadership, the chart below was included in last weekend's Week in Review newsletter for Bespoke Premium clients. In it we highlight the performance of G-7 countries and the four BRIC countries (Brazil, Russia, India, and China) since February 18. Of the 11 countries shown, the four best performing have been the BRICs. In other words, not one of the seven so-called economic superpowers is performing better than any of the BRICs.