Shares of Citigroup (NYSE:C) are trading down 2% today after the company announced it would do a 1-10 reverse stock split and would then pay a one cent quarterly dividend. Many analysts are criticizing the bank's move claiming reverse stock splits rarely, if ever, work. While the historical record for companies that have done reverse splits may not be positive, not all stocks perform poorly following a reverse stock split.
Take the experience of AIG. In June 2009, AIG announced a 1-20 reverse stock split. While the stock saw a considerable decline in the days following that announcement (down 38% in three days), it quickly recovered and has actually outperformed the S&P 500 (+50.4% vs. 40.6%) since the company made the announcement on June 26th. Additionally, since the effective date on 7/1/09, AIG is up more than 140%. In this case at least, a reverse stock split was not bad for the stock.
One of the reasons for the bad reputation that reverse stock splits get may be due to the usual reason why a company will do one. Normally, reverse stock splits are done by companies teetering on the edge of bankruptcy whose stock price is trading below the minimum threshold for listing. Since the company can't get the stock price up based on fundamentals, they do the reverse split. Say what you want about Citi, but the company currently isn't under any financial stress that threatens the stock listing. Only time will tell how Citi will fare in the months and years ahead, but in this case at least, we don't view the reverse split as a sign of a final act of desperation by the company to boost its stock price.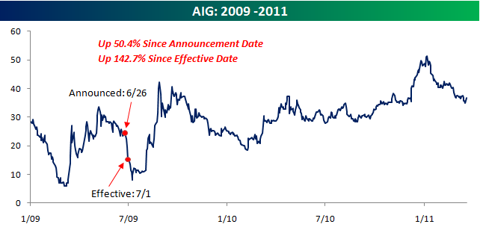 Click to enlarge