I've enjoyed the nice homey Norman Rockwell-like commercials about the 2 little Smucker boys walking through the orchard preparing themselves to one day take over Grandpa's jam operations. Well to my surprise the Co-CEOs are the little Smucker boys all grown up - with Little Timmy as Chairman and Richard as President. Grampa's jam operations is J.M. Smucker (NYSE:SJM) now a 5 billion dollar operation.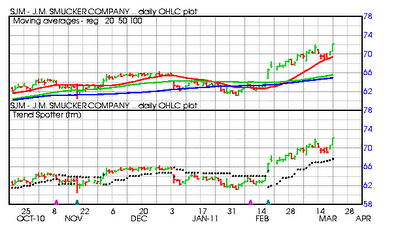 (Click to enlarge)
The J.M. Smucker Company, with headquarters in Orrville, Ohio, is the leading marketer of jams, jellies, preserves, and other fruit spreads in the U.S. It also is the leader in dessert toppings, natural peanut butter, and health and natural foods juice products, and markets a wide variety of other specialty products throughout the U.S. and in many foreign countries. In the fruit spreads category, it also holds the leadership position in Australia and Canada.
The product line-up sounds like my pantry. Besides Smucker's jams and jellies, there's Jif, Crisco, Folger's, Pillsbury, Eagle Brand, Hungry Jack and of course Martha White. Does that sound like your pantry too?
Besides taste, there's other reasons to buy this company.
Technical Factors:
100% Barchart technical buy signal
Trend Spotter buy signal
10 new highs and up 7.23% in the last month
Relative Strength Index 70.32% and climbing
Trades around 72.24 with a 50 day moving average of 65.50
Fundamental Factors:
Wall Street brokerages analysts have published 6 buy and 7 hold reports for their clients
Sales are expected to increase by 4.20% this year and 5.20% next year
Earnings are estimated to increase by 9.70% this year, 6.70% next years and continue by 6.50% for the next 5 years
Investor Sentiment:
Good press has made this a popular company
CAPS members of Motley Fool vote 427 to 21 that the stock will beat the market
The All Stars agree with a vote of 150 to 5
Fool notes the last 10 articles by Wall Street columnists have all been positive
A look in both my pantry and yours tells me that this is a company that will be around for a long, long time. The question is, just how much money can it make? If it's good enough for your pantry it should be good enough for your portfolio.
Disclosure: I have no positions in any stocks mentioned, and no plans to initiate any positions within the next 72 hours.