Best Buy (NYSE:BBY) – The company could be setting up for some nice movement out of earnings. The company's last quarter was a disaster as expectations were raised after a great November of sales, but the company could not meet expectations. Continued competition from Amazon (NASDAQ:AMZN), Wal-Mart (NYSE:WMT) and others continues to plague the company. Yet, the stock has now dropped 10% since that last earnings report. The company is expected to slightly improve earnings YoY, and the stock is not showing much strength moving into earnings. All that sets up for what could be a nice surprise and positive movement. Strong hardware sales have continued throughout the new year, and retail continues to be strong. The company reports Thursday, and it may be a solid earnings play.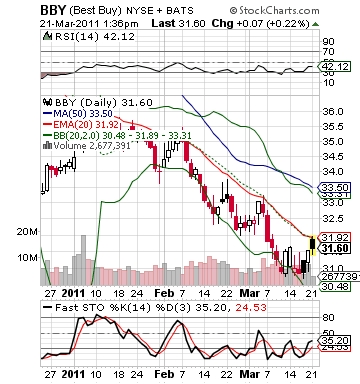 Carnival (NYSE:CCL) – The company looks like it may be ready to break out after earnings. The cruise line operator reported in early March that it was going to miss earnings expectations with an EPS of 0.19 and cut guidance. Since that report, the stock dropped 20% before hitting its 200-day MA and popping off of it. The company is now showing good strength moving into earnings despite everyone knowing what will be said. The company and tourism still look strong, and so these discounted levels seem temporary. The stock looks good to breakout after its report tomorrow morning.
Oracle (NASDAQ:ORCL) – The king of earnings this week will be Oracle. The company, reporting on Thursday, looks very well positioned. The company is looking to improve sales by 33% and earnings by just under 30% from 0.38 to 0.49. The company is growing with increasing attention paid to cloud computing. The company also looks ready to compete with Salesforce.com (NYSE:CRM) with its product line based around cloud networks. Not only do we expect a positive report, but guidance should be strong as well. The company saw weakness on its Japanese connection, but it should have a minimal impact.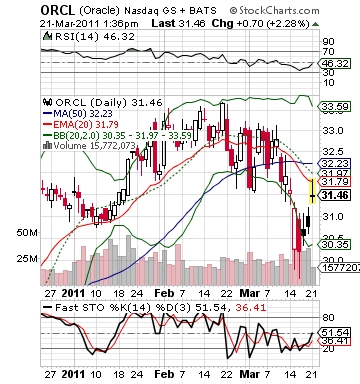 Research in Motion (RIMM) – Perhaps what may be the disappointment of the week could be Research in Motion. The company's Blackberry lineup is seeing heavy and increasing competition from Android phones and the continued success of Apple's (NASDAQ:AAPL) iPhone. The company is still expected to see improved earnings YoY, but we are worried about the company's enterprise business that has been its core in the past. More and more companies are looking at the Apple line with legitimacy as well as Android. Market share is dropping in RIMM, and we might see some weakness. The thing that is working in RIMM's favor is that tech is very cheap in its valuations, and the stock is quite cheap. At these levels, it still looks like a solid buy moving into earnings, but be wary of what could be weakness in its report. The company reports on Thursday.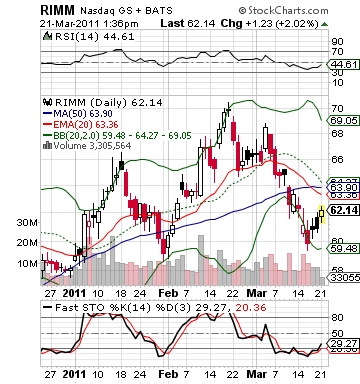 Disclosure: I am long ORCL, RIMM.