The disaster in Japan has hurt the technology sector. I must admit to feeling a bit guilty focusing on shares and price points while Japan is in such distress. Still, the stock market carries on and financial reporting must continue. Still, my heart goes out to you, Japan.
Despite a small pop in Sony (NYSE:SNE), prices are down almost 13% over the past month as the company deals with suspended operations at many sites. Texas Instruments (NYSE:TXN) is down 6.5% for the past month of trading as they won't be running full steam until summer or early fall. This downward pressure in the tech sector doesn't help stocks pushed down such as Amazon.com (NASDAQ:AMZN) which fell over 10% in the last month.
Since March 1, neither Research in Motion (RIMM), Google (NASDAQ:GOOG), Apple (NASDAQ:AAPL), IBM (NYSE:IBM) or HP (NYSE:HPQ) have been able to outperform the broad market as tracked by the S&P 500, although they are trying to make a comeback. (I use the S&P500 since the Nasdaq more reflects the tech sector, which I am trying to contrast with the market average and not itself.)
Contrarian Sector Buying
As the technology sector gets compressed, there are a few stocks that may not be as impacted. I have two small cap stocks that I think will continue to outperform, and even more so once the tech sector gets back on track. They are involved in the software, programming and IT Industry group with market caps right around 1 billion.
The two stocks are EBIX (NASDAQ:EBIX) and iGATE (NASDAQ:IGTE).
iGATE Corporation
IGTE is the first small cap stock we will look at. First of all, while this stock is up 75% for the trailing year, prices are down almost 17% over the past three months. This doesn't bode terribly well for it at the moment, and share prices have been turbulent over the years, but we are going contrarian on this one.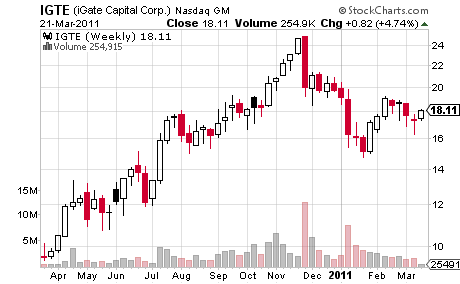 This stock does have a tiny dividend of 0.90% yield. This is in line with the tight-fisted tech sector when it comes to paying dividends. Cisco (NASDAQ:CSCO) announced its first quarterly cash dividend of 6 cents per share. They are shooting for a not too lofty target of 1%-2% yield with the current implied yield resting below 1.5%. (If you like dividend stocks you may want to see my take on Coke and McDonald's.)
The sub-20 PE ratio is equal to the expected long-term growth rate giving this a PEG ratio of 1. I like that they have improved net profit margins from 2.5% in 2005 up to 18.5% today. Return on equity has likewise jumped from 6.1% to roughly 23% over the same time.
They

have

no

short

or

long

term

debt

on

the

annual

books

,

and

book

value

is

up

to

$

4.40

per

share

.

The

last

eight

quarters

have

seen

sales

climb

relentlessly

from

44.8

million

in

March

2009

to

91

million

for

the

end

of

2010

which

was

seven

quarters

later

.

This

gives

a

compounded

quarterly

growth

rate

of

8.83

%.

If

they

could

maintain

this

rate

,

this

implies

402

million

of

annual

sales

when

looking

ahead

four

quarters

.
If they keep improving margins, they could be worthy of the current higher price to sales valuation than historical average ... or it could go higher yet. The 12 month price target using this method is $24.79 with upside room if margins improve. I realize that this is higher than current analyst estimates, but I also realize that the last four earnings announcements had positive surprises in the ballpark of 20%. Keep in mind, all of these numbers are about to change dramatically as they buy up Patni (NYSE:PTI-OLD), but it gives you an idea of how the core model works.
Keep in mind, there will be the unknown factor of the stake in the much larger Patni Computer Systems. Will this help or harm the bottom line for iGATE? I'm bullish on this one overall. The margins and growth for Patni look good as well. Time for the analysts to give this an upgrade. (Do you like stocks with hidden growth that may get passed over by investors? Check out these 17 stocks.)
EBIX
This small cap software provider for the insurance industry has continued to be a strong player. They finished the merger with ADAM in February and continue to aggressively seek growth. This will help sales which have been growing at an annual 35% – 45% depending if you look at 1, 3, 5, or 7 year averages. Net profit margins have continued to climb since 2005 from 17.8% to 44.6%. Smart businesses know how to squeeze more out of every dollar, and they can do well when taking over new companies to trim the fat with.
This stock is an incredibly strong performer when looking at the past year of prices, three months, or almost any other time frame. It could only be considered contrarian due to the tech sector, but other than that it is a very strong pick with high momentum that I feel has a more upside still. With a 25% of the float short, this could really rocket on a breakout soon.
Tech Sector Small-Cap Picks
One is in retreat mode while the other is continuing onto new heights. Both are in the beaten up tech sector. Both stocks are aggressive about growing and I recommend them as good holdings over the next year.
Disclosure: I have no positions in any stocks mentioned, and no plans to initiate any positions within the next 72 hours.