I have held Verizon's (VZ) stock for almost a year now and have been using their network for five to six years. I have been extremely pleased with the performance of both over these allotted time periods. I can also say that I have never experienced a problem with dropped calls, or really any issues pertaining to not having enough bars. Granted, I am from New Jersey and probably feel some effects of the 'Northeast Bias' but regardless, Verizon's network is incredibly strong. Two weeks ago I bought an iPhone (AAPL) and I can now also say that the 3G network performs amazingly fast.
Until a few days ago, Verizon Wireless was the nation's number one cellphone service provider (Verizon owns 55%, Vodafone (VOD) has the other 45%). While AT&T's (T) recent purchase of T-Mobile (OTC:DTEGY) slingshots them into first, as a Verizon shareholder and user I do not feel concerned. The fact that several people (see here) think that Apple should prosper actually makes me feel very positive. The reason for this is that Verizon is a tremendously sound company with an attractive dividend yield of 5.4%, second on the Dow only to AT&T.
click to enlarge images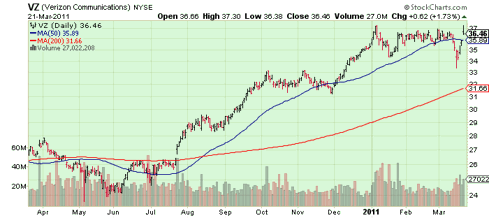 Verizon reports first quarter earnings exactly a month from now and will be coming off a killer quarter that saw reported EPS at $0.93; adjusted for non-operational items, it drops to $0.54. This justifies the price jump since December and the relative stability since the start of 2011. This quarter saw substantial growth in the wireless data and FiOS elements, which represent two-thirds of their revenue and respectable growth in wireless services and strategic enterprise.
Smartphones
It is no secret that smartphones are the way of the future; this can be evidenced by Apple and Google (GOOG) being so heavily invested. I hate to reference this (given my feelings about the show and its now 'current-events sensitive' name), but Cramer refers to this as the Mobile Internet Tsunami. At this point, the majority of people I know have a smartphone with a data plan. And then I look around the subway and see a lot of people - who you'd think couldn't afford a smartphone - playing Angry Birds or fiddling away with their trackballs. With contract re-subs and healthy competition, these phones are cheap. The data plans are reasonably priced as well, at $30 a month.
Despite this, Verizon's smartphone penetration is only 26%. In the 4th quarter, 49% of their total phone sales were smartphones. One can only assume that with time this penetration will increase as people continue to trade up, prices continue to fall, service coverage continues to improve and smartphone "vogueness" spreads across the nation.
Wireline
With that being said, the wireline aspect of the business is not nearly as prosperous, or prospective for that matter. Verizon offers these services in the Tri-State plus New Jersey and Pennsylvania, and parts of Texas and Southern California; basically the areas where they would have a large potential customer base. I have no idea why they have been boxed-out of Connecticut (timely basketball reference, eh?).
Revenue in this aspect dropped just under 3% from 2009 to 2010. This is reflective of the industry as a whole as more and more people switch to strictly wireless. Wireline now only makes up 40% of Verizon's revenue. However, there are positives here. FiOS continues to perform with roughly 30% penetration (where offered) in both television and internet services. This means that there is still room to grow as people feel the necessity to leave their current providers. (I know that the show Lost isn't on TV anymore, but if I ever came that close to missing something like that again I would certainly consider dropping Cablevision; not being able to see the Oscar's didn't really mean anything to me.)
The Stock
The one-year graph above shows Verizon's jump from $26 to $36. This has been well deserved and the price has mellowed for a few months between earnings releases and lack of much news. Unfortunately, the masses do not expect anything spectacular from Verizon's earnings and the naysayers could rattle off a plethora of reasons to avoid Verizon, the biggest being their pile of debt.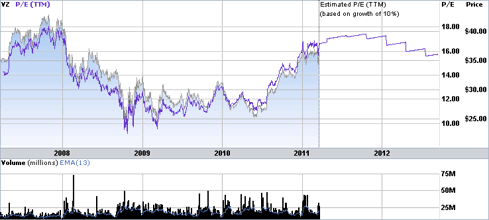 Above is a four year P/E graph on top of price. As you can see, there has been some recent bullishness; P/E is higher than price, as opposed to during the recession where it was significantly lower. In August, I recommended Verizon because of their divided yield and because of volatility in the market, which can't shake a stick at the current volatility. I stick to this conviction, though there may be a better entry point after the aforementioned earnings are released. Verizon currently yields 5.4%, a lot for a stock with a market cap of over $100 billion. Yes, their payout ratio is incredibly high but they have been paying a dividend since their inception in 2000 and it has been going up. I am interested to see if they can raise it two quarters from now.
Investors have until April 6 to purchase Verizon and capitalize on their next dividend. I would suggest picking up some shares now to take the yield, and then playing the earnings accordingly, by either buying more on a dip or getting out with profits on a rise.