What a wild month it's been. From the "surprise" of the first day of the trading month actually being down, to continued unrest in the Middle East, Japan, the Tsunami and nuclear reactor fears, and yes, even to recent bombings in Libya by Allied forces; equity investors have once again been reminded of what the good ol' days of high volatility are like.

I've noted in previous articles that stocks likely would enter into a correction phase because of sector rotation and renewed interest in bonds, specifically Treasuries. Sectors which tend to do well in corrections, specifically Consumer Staples (NYSEARCA:XLP), Healthcare (NYSEARCA:XLV), Telecom (NYSEARCA:IYZ), and Utilities (NYSEARCA:XLU), all showed strength in recent weeks, outperforming the broader market by being up more and down less than other areas of the S&P 500.
I've also noted in prior articles that I favor emerging markets this year over the U.S., despite a plethora of analysts and managers saying that 2011 would be the year of America. I don't dispute the idea that U.S. stocks could be up by the end of the year, but rather argue that emerging market stocks may well perform better and close out the year stronger.

Fund flows have clearly shown a large amount of money coming out of popular emerging market ETFs such as VWO and EEM in recent months, in favor of U.S. equities. Taking a look at the price ratio below, we can clearly see that emerging markets have outperformed the U.S. As a reminder, a rising price ratio means the numerator/VWO is outperforming (up more/down less) the denominator/IVV.
Click to enlarge: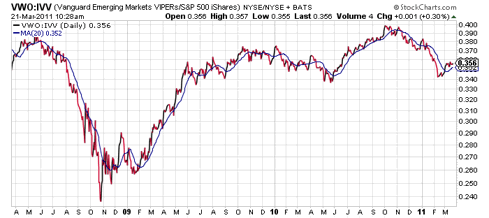 Click to enlarge
Notice that the ratio bottomed out in February, and has actually performed relatively well despite recent volatility. This shouldn't come as a major surprise, particularly because Emerging Markets have vastly lagged the U.S. since October. The ratio does seem to be pointing up. This means that if you favor investing in stocks, emerging markets may give you the best performance in the near-term.
However, given the possibility that we are in a more prolonged correction than just a few weeks (some pundits are claiming the correction is over), it's worth considering whether you're better off in the near-term in emerging market stocks, or sovereign debt. Take a look below at the price ratio of the Emerging Market Bond ETF (NYSEARCA:EMB) relative to Emerging Market Stocks (NYSEARCA:VWO).
Click to enlarge: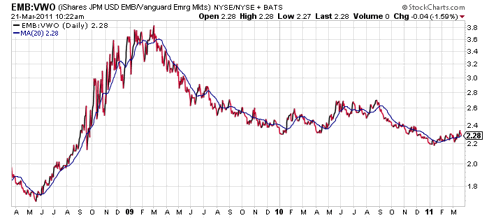 Click to enlarge
Looking at it from a 3-year time frame, it appears as though emerging market debt is quietly outperforming its stock counterparts (mainly due to lowered volatility). With a yield over 5%, and continued concerns over the performance of Treasuries, emerging market debt may in some ways actually be a good alternative to the "risk-off" trade in the event that equities continue to be volatile.

Disclosure: I have no positions in any stocks mentioned, and no plans to initiate any positions within the next 72 hours.

Additional disclosure: I have no positions in any stocks mentioned, and no plans to initiate any positions within the next 72 hours. Pension Partners, LLC, and/or its clients may hold positions in securities mentioned in this article at time of writing.