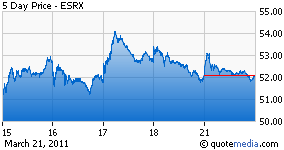 Express Scripts (NASDAQ:ESRX), one of the largest pharmacy benefit managers in North America, is leading the way toward creating better health and value for patients through Consumerology, the advanced application of the behavioral sciences to healthcare in order to realize greater healthcare outcomes and lower costs. Express Scripts provides integrated pharmacy benefit management services including network-pharmacy claims processing, home delivery services, specialty benefit management, benefit-design consultation, drug authorization review, formulary management and medical and drug data analysis services.
Healthy Growth
Founded in 1986, Express Scripts has grown to become one of the largest pharmacy benefit managers in North America. National health expenditures as a percentage of Gross Domestic Product are expected to increase from 17.5% in 2010 to an estimated 19.6% in 2019. In response to cost pressures being exerted on health benefit providers, Express Scripts develops innovative strategies designed to keep medications affordable.
Over the past five years, Express Scripts' growth has been healthy with sales compounding at a 20% annual rate and net income and EPS growing even faster at a 26% and 28% annual clip, respectively. These strong financial results reflect acquisitions along with the company's business model which is designed so that Express Scripts only makes money if their clients save money on pharmacy costs. During a tough economy, Express Scripts' clients are motivated more than ever to reduce their pharmacy spend. Management believes there is significant room for further cost saving through the increased use of generic drugs, home delivery and specialty pharmacy.
2010 Financial Results
Express Scripts reported a healthy 38% increase in fourth quarter revenues to $11.3 billion, boosted by
Excellent Cash Flow
Express Scripts generated nearly $2 billion in free cash flow during the year, up 23% from 2009. The company returned $1.3 billion to investors in the form of share repurchases at an average cost of $47.44 per share while also repaying $1.3 billion of long-term debt. On an adjusted basis, management expects 2011 EPS to grow 26%-30% to a range of $3.15-$3.25. The company also expects to generate $2.2-$2.4 billion in free cash flow during 2011 with plans to use a majority of the cash for share repurchases, which will be lumpy throughout the year based on repurchase windows, the timing of internal investment needs and acquisition opportunities. Over the past 14 years, Express Scripts has been a profitable prescription with the stock rising more than 45- fold. We plan to add to our position as the company boasts an expected 8% free cash flow yield and should continue to generate healthy growth, high profitability and strong cash flows. Buy.
Disclosure: Hendershot Investments holds a long position in each stock presented. The content in this article should not be taken as investment advice or construed as a recommendation to buy or sell any security. Ideas expressed may not be suitable for every account, depending on an individual's investment objective, risk-tolerance and financial situation. Information presented here was obtained from sources believed to be reliable but accuracy and completeness and opinions based on this information are not guaranteed. It should not be assumed that investments discussed will be profitable or will equal the performance of securities listed here or recommended in the past. All data, information and opinions expressed are subject to change without notice. Further information on companies mentioned is available upon request.