"Attack when they are unprepared, make your move when they do not expect it."
- Sun Tzu, The Art of War
Deer Consumer Products, Inc. (OTC:DEER), a $310 million market cap Chinese consumer product company, had its shares dumped after a SeekingAlpha.com article was published alleging management fraud.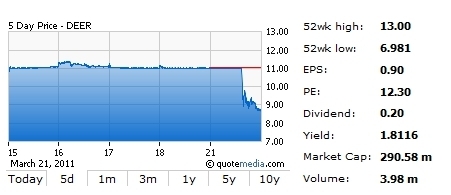 Specifically, the article focused on alleged fraudulent land purchases made by the company. DEER traded down over 20% after the article hit the wire.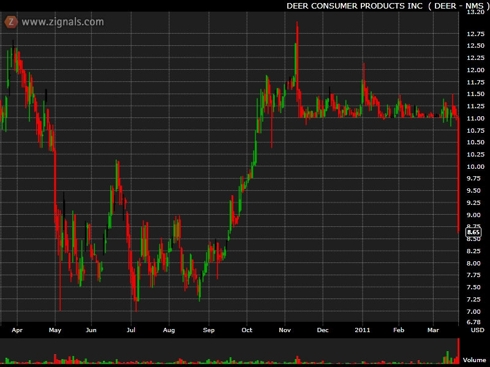 (Click to enlarge)
The land purchase questions appear to have wiped out in equal or greater amount than the cost of the land in question. This is not what I would call the strongest "hit piece" on a company.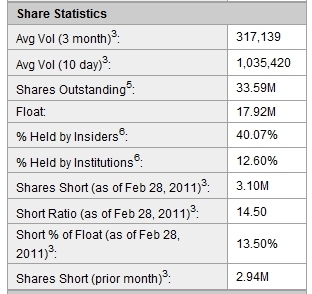 China is full of fraud and corruption at just about every level, much greater than a level to which most Americans are accustomed. If there is something improper about the transaction, it may not be fraud against the shareholders; it simply could be a way to account for bribes and/or favors to get things done there. It is hard to say, based on the limited amount of information. It is pretty clear that there are a lot of dishonest Chinese companies, but it should be equally noted that there are a lot of honest and hard-working Chinese people in management as well. Recently, DEER's CEO bought 150k shares on the open market, according to SEC filings. The cost was over $1.6 million dollars, which is not only a lot of money in the U.S., but is a fortune in China. The purchase does strongly give the appearance that the CEO has a lot of faith in the business and the future. I sold put options today, and bought DEER stock. The article may very well be proven correct, but it is not strong enough for me to believe that DEER should have been sold off as much as it was today based on nothing more.
E-Commerce China Dangdang Inc. (DANG), a Chinese online retailer that has experienced rapid revenue growth, recently reported an accounting change that resulted in a 33% decline in fourth-quarter profits.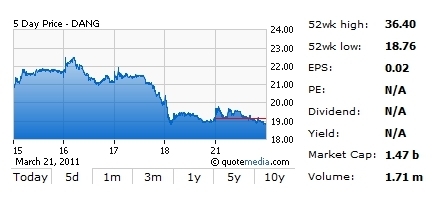 The stock price has suffered as well, dropping from over $36 a share down almost 50% with today's closing price of under $19 a share. I have not read anything that suggests fraud with DANG, but with a forward PE of 95, even an honest earnings miss could cause investors to have serious doubts quickly. An allegation in this environment of fraud could send shares down 20% or more in a single day. DANG investors can protect their investment with the purchase of June $17.50 strike priced put options. Another way, but one that provides less protection, is to do a covered call option strategy. An investor that is not currently in a position with DANG but believes the stock will continue to go down could buy put options or sell naked call options.
Youku.com Inc. (YOKU), a video services provider is the largest of the group here, with about $5 billion market cap.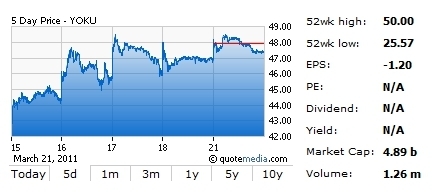 While not the same as Youtube.com, many call this company the YouTube of China. YOKU has largely been bucking the trend compared to smaller Chinese stocks. While not at a 52-week high, this recent IPO is currently trading near its highs since it went public.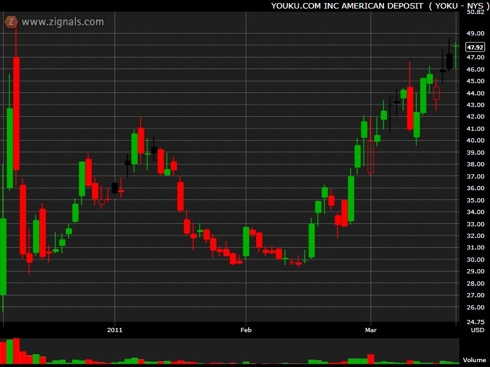 (Click to enlarge)
With a book value of approximately $2.75 per share, a negative PE ratio, and a negative trailing 12 months return on assets, there appears to be considerable headline risk, considering the stock is trading at over $47 a share. It appears that investors are not racing in to any risk of fraud or mismanagement. Even if the odds are small, with any one given large-cap Chinese company, all it would take is one scandal to come out in the news and the whole Chinese sector could take a large hit in valuation.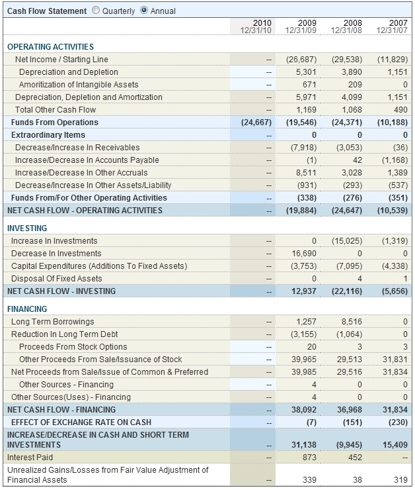 (Click to enlarge)
An investor who wanted to protect their shares in case of a sudden drop in price could purchase June $40 strike price puts for about $3.90 each. If by June we are still seeing more and more Chinese companies imploding from fraud scandals, it may be time to get out. If by then the Chinese stocks have stabilized, the risk may not be any higher than investing in any other overseas company. Another way to trade YOKU is to sell call options if you believe the stock will not continue higher.
Additional disclosure: I am long DEER for technical reasons but may short DEER and others listed in this article by writing call options.