Looking for a cornered market with a strong upside? Look no further than titanium dioxide as prices are starting to jump. Inventories are low, producers cannot supply enough, and a price squeeze is taking place.
What is titanium dioxide and why is demand high?
Titanium Dioxide
Titanium dioxide (Ti02) is a white powder pigment. It has uses in self cleaning on glass and other materials, anti-bacteria properties such as coating surfaces in hospitals, in deodorizing and in cleaning water, to name a few. You will find it in paint, electronics, food, and cosmetics such as moisturizer's and lipsticks with added sunscreen protection. Titanium dioxide has a high refractive index, and is widely used because of its UV blocking capabilities.
It is a very versatile product that can protect, clean, and be used as a pigment among other things. The cosmetic sector is asking for more product: U.S. exports rose by 17% for the first 11 months of 2010, and there simply doesn't seem to be enough to go around. Growth is largely seen driven by China with India also being a major player over the next decade.
Price of Titanium Dioxide
Prices per ton have not increased greatly over the past few years:
2007 - $1,870

2008 - $2,210

2009 - $2,210
Then in 2010 and 2011, the big price increases began. Producers began to announce price hikes to the tune of $150 - $200 per ton in November 2010. An Asian market report by Feliana Widjaja outlined costs, including freight, to be somewhere between $2,800 and $3,000 per tonne. Some expect it to reach $4,800 per metric tonne in 2015.
The market is seen to be strong going into 2011 as producers just can't make enough and inventories are low.
Stocks to Benefit From the Jump?
My top two picks are Kronos Worldwide (NYSE:KRO) and Rockwood Holdings (NYSE:ROC).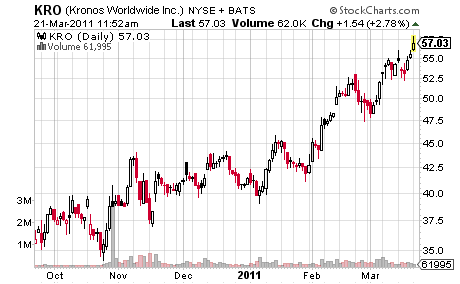 Here is the skinny: Kronos knows that prices are popping and is using the opportunity to let its profit margins grow. Instead of instinctively boosting production to meet demand, the company is first concerned about improving current margins instead of ramping up production and expanding. These will become a liability when prices subside.
Rockwood Holdings also has some exposure to this market, and the company is using boosting profits to pay down debt as it looks forward to improving profit margins as well.
Both stocks have market caps between $3 – 4 billion. Both have fairly valued PEG ratios, but the high one year EPS growth rate should be factored into KRO. That will actually lower the ratio significantly when you consider the short-term parabolic jump in earnings as opposed to the average 5 year growth rate.

Both stocks are exhibiting strong price momentum over the past 9 months. KRO looks to be breaking out above its pricing channel and ROC may not be far behind.
Problems with Valuation
The one difficultly is in forecasting how high prices may go. It seems the analysts are not too sure. Consider the wide ranges for this year: $3.60 EPS - $5.03. The gap for next year is even higher at $3.90 - $8.10. I only see one analyst brave enough for the 2013 year, at $6.38.

This means that while we expect the companies to do very well over the next couple of years as prices jump, we don't know how high it can go. Much depends on sustained demand, increasing prices, the middlemen not jumping to lower-priced alternatives, and expansion once margins are high enough to warrant it.
A Few Other Stocks With Exposure to TiO2
A few other stocks with exposure to this compound are Tronox (NYSEMKT:TRX), Huntsman (NYSE:HUN), and Rio Tinto Group (NYSE:RIO). Or you might go with DOW Chemicals (NYSE:DOW) which is trying to reduce the paint-market dependency on titanium dioxide.
Other big players that have some vested interest in TiO2 that attended the February 2011 convention (in addition to RIO and DOW) were Titanium Resources Group, 3M (NYSE:MMM), Benjamin Moore & Co (which is owned by Berkshire and Hathaway (NYSE:BRK.A), Dupont Titanium (NYSE:DD) and the Sherwin-Williams Company (NYSE:SHW).
As the price of this commodity rockets, producers are sure to profit. But those needing it will have eroded profit margins unless they can pass costs onto customers. Watch for new innovators creating alternatives which may see new and fast-paced markets open up.

Disclosure: I have no positions in any stocks mentioned, and no plans to initiate any positions within the next 72 hours.