The American beer industry has long been known for its deep roots and rich history. From the Midwest boom years to the more recent ubiqitous TV brand building, the industry has long had visibility in most households. Despite all of this, it's ironic that in this current day, the largest American beer company is only 25 years old, founded by a Harvard MBA, and runs like a startup.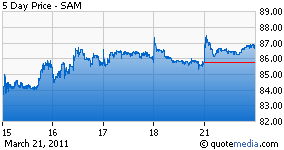 Boston Beer Company's (NYSE:SAM) (aka Sam Adams) roots dates back to an 1860s family recipe used in its most popular Boston Lager. It was founded by Jim Koch in 1984 with the simple goal of bringing quality craft brew to the American public. At the time, microbrews were non-existent, so it was virtually impossible for him to catch the attention of distributors and bar owners; Koch literally brewed the first batches at home and drove bar to bar with samples trying to convince establishments to serve the local beer on tap. Growing first in the Boston area, it gained national prominence by winning the top spot in the Great American Beer Festival just a few years later. The rest is history - it amassed $500M of revenue in 2010.
Despite having less than 1% of the US market, Sam Adams is the largest remaining American brewer. Budweiser sold to Inbev (NYSE:BUD) (Brazil/Belgium), Miller to SAB (OTCPK:SBMRY) (South Africa), Coors (NYSE:TAP) to Molson (Canada). As these players commoditize the industry by getting bigger and bigger, Sam Adams takes the exact opposite approach. It remains very localized, differentiatied, independent, and driven by passion for quality. Annual trips to Germany are made for its premium raw materials; Sam Adams kept production local and acquired the brewery locations to ensure consistency (95% of the beer is brewed in its company-owned breweries in the US). Koch owns 100% of the voting stock and has somehow built a strong foundation in the midst of significant pressure from industry consolidation.
Sam Adams revolutionized the industry by its success. When Koch started, there were no US craft breweries. Now there are roughly 1600, representing almost 10% of the market. They frankly put quality beer on the map - No longer were tastings and premium ingredients reserved for wine aficianados. Koch also supports the industry despite potential negative impacts to his company. It sold 20,000 pounds of hops to competitive craft brewers at cost during a 2008 shortage; it funds new brewers (and other new businesses) through a partnership with a microfinance organization.
It's refreshing to see a successful American startup stay true to its roots despite its rapid growth. At 1% of the market, they have further room to grow. It has a great two-pronged recipe-- they can take share from the mass producers while growing faster than their craft brew competitors. They now have the sophistication, economies of scale, and distribution channels to get their products to market at a much greater clip than the other microbreweries can. By being independent, singularly focused on quality and product innovation, and not distracted by large acquisition integrations, they will be able to adapt quicker to market changes and take share from the big boys.
Sam Adams has built a great business by successfully creating a new concept in the midst of mass commoditization. They have remained strong as an independent among oligarchs, brought craft beer to the masses, kept all production in the US, and built a sustainable model to compete in both the premium and mass segments of the market. Its great to see an american startup thrive as Sam Adams has; more importantly, they've built a business model that will continue to allow it to grow and solidify its roots.
Disclosure: I have no positions in any stocks mentioned, and no plans to initiate any positions within the next 72 hours.