In a recent article, I discussed the top holdings in Morgan Stanley's portfolio. According the latest 13F filings, Morgan Stanley's (NYSE:MS) year-to-date performance was mediocre and below the S&P 500 ((NYSEARCA:SPY)) return.
The investment banks mutual funds have been lagging behind the market since the last decade. The mediocre performance of investment banks portfolio shows that they take hard-earned money and invest in under-performing assets. They also charge management fees and hidden costs such as front-end/back-end loads, plus commissions you never heard of. Some companies charge up to 3% in management expenses. I was checking which funds Morgan Stanley offers and whether there is any fund that is worth to pay for. It was a long search, but I finally noticed one: Morgan Stanley Focus Growth Fund. Managed by Dennis Lynch, the fund was able to offer outperforming returns to the holders. The fund's average annual expense is 1.77 with a turnover rate of 40% in the last year.
According to the latest N-CSR file submitted to I-Metrix Edgar-Online, focus growth fund has outperformed the SPY with a large margin of 50% in 2009. 2010 return was 25%, still beating SPY by 10% point and Russell Growth 1000 ((NYSEARCA:IWF)) index by 9% point. The fund has a diversified portfolio with 97% invested in common equities. There is a little bit more weight towards Internet companies. Here, are the top holdings and their year-to-date performance:
Common Stocks (96.7%)

VALUE ($ million)

P/E

Yield

YTD Return

Profit/Loss

Amazon (NASDAQ:AMZN)

161,37

65,03

-8,60%

-$13,88

Apple (NASDAQ:AAPL)

158,58

18,94

5,19%

$8,23

Google (NASDAQ:GOOG)

119,30

21,92

-2,94%

-$3,51

Las Vegas Sands (NYSE:LVS)

84,77

92,12

-15,80%

-$13,39

Brookfield Asset (NYSE:BAM)

84,23

13,71

1,64%

-4,10%

-$3,45

Ultra Petroleum (UPL)

79,50

15,65

-1,36%

-$1,08

Baidu, Inc. (NASDAQ:BIDU)

71,40

80,52

28,46%

$20,32

Monsanto (NYSE:MON)

65,92

33,65

1,62%

-0,55%

-$0,36

Li & Fung (HKG:0494)

62,92

39,27

-5,50%

-$3,46

Illumina (NASDAQ:ILMN)

60,64

72,47

-0,46%

-$0,28

Teradata (NYSE:TDC)

57,01

28,41

22,18%

$12,64

Edenred (BATS:EDEN)

56,43

44,15

0,50%

7,00%

$3,95

Salesforce.com (NYSE:CRM)

56,07

259,21

-5,74%

-$3,22

Mead Johnson (NYSE:MJN)

56,07

25,95

1,82%

-7,88%

-$4,42

Ebay (NASDAQ:EBAY)

53,52

22,49

9,88%

$5,29

Bovespa (SAO:BVMF3)

52,97

N/A

N/A

N/A

Expeditors Int. (NASDAQ:EXPD)

46,51

30,40

0,83%

-11,48%

-$5,34

Leucadia National (NYSE:LUK)

42,73

4,66

0,70%

21,93%

$9,37

Naspers Ltd. (OTCPK:NPSNY)

42,47

55,68

-14,00%

-$5,95

Philip Morris (NYSE:PM)

41,52

16,06

4,07%

7,55%

$3,13

Starbucks (NASDAQ:SBUX)

41,16

25,77

1,39%

10,34%

$4,26

Anheuser-Busch (NYSE:BUD)

37,69

22,59

0,87%

-1,07%

-$0,40

NetFlix (NASDAQ:NFLX)

31,18

71,91

21,14%

$6,59

Facebook

30,98

N/A

N/A

N/A

Yum! Brands (NYSE:YUM)

30,38

21,44

1,95%

5,02%

$1,53

Tencent (HKG:0700)

26,13

37,42

-12,00%

-$3,14

SGS SA (Reg.)

25,91

N/A

N/A

N/A

Total / Average

1.677,35

46,64

0,81%

$13,44
As we expect from a growth-oriented fund, the average P/E ratio is extremely high. The table above shows that Dennis Lynch is extremely confident in Amazon, Apple, and Google making them among the top 3 holdings. The focus growth fund holds $161.37 of Amazon shares, followed by Apple [$158 million], and Google [$119.30] stocks. Last Vegas Sands, a casino company, is the fourth largest holding in the portfolio. The portfolio allocation graph is as follows: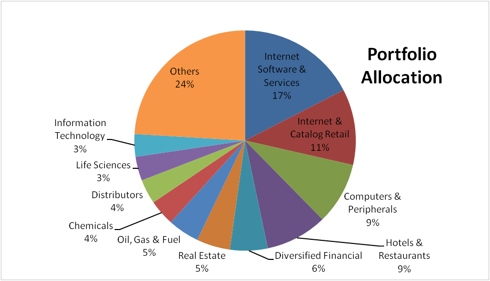 Click to enlarge
(Click to enlarge)
The value-weighted, average, year-to-date performance of the fund is disappointing. The fund was able to bring in only $13.44 million in profits. Fund's return of 0.81% is well below the SPY benchmark, 3.17%. The largest loss came from the top holdings: Amazon and Las Vegas Sands. Each of these stocks lost around $13 million. While, it makes sense to invest in Amazon, in a growth portfolio, it is quite hard to understand the point in having LVS in a growth-theme mutual fund. It sounds more like gambling rather than investment.
The best performers were Baidu and Teradata. Baidu is the fastest growing Internet search company in China. Chinese government is extremely protective about Baidu. Because of the censored and limited access to Google services, Chinese people are more or less limited to Baidu as their primary search engine.
The fund also has investments in international equities and private companies, as well. The fund holds $37 million of Anheuser-Busch shares. Investing in Bovespa Stock Exchange shares were a brilliant decision for the last year. 2010 witnessed the world's largest share sale ever. Petroleo Brasileiro SA raised $70 billion from the Brazilian government and equity investors. We cannot be sure whether Bovespa will experience such massive equity offerings this year. However, Brazil is a rapidly growing country, and soon there will be new companies in the Bovespa Stock Exchange.
Facebook is another company in the list, Dennis Lynch is bullish about. The fund invested $31 in Facebook shares. There are rumors that Facebook will go public in soon future. That will finally end speculations about Facebook's true market value.
Disclosure: I have no positions in any stocks mentioned, and no plans to initiate any positions within the next 72 hours.