Bloomberg has an aggressively-titled article this morning, "All Clear Sounded as Markets Shrug Off Multiple Black Swans." Some key points relative to a bullish outlook:
Interest-rate derivatives, bond sales by the riskiest borrowers and rebounding benchmark stock indexes all show increasing confidence in the economy.
Goldman Sachs Group Inc. (NYSE:GS) forecasts a global expansion of 4.8 percent this year, while JPMorgan (NYSE:JPM) calls for 4.4 percent. The average over the past two decades is 3.4 percent.
The Institute for Supply Management's U.S. factory index for the U.S. rose to 61.4 in February, the highest level since May 2004.
China said in January that industrial production rose 13.5 percent in 2010, while growth in Europe's service and manufacturing industries accelerated to the fastest pace in more than four years last month, led by Germany.
The Federal Reserve is continuing to pump cash into the U.S. financial system by purchasing $600 billion of Treasuries through June to spur jobs and avoid deflation in a strategy called quantitative easing.
AT&T's (NYSE:T) agreement to buy T-Mobile USA from Deutsche Telekom AG (OTCQX:DTEGY) for $39 billion in cash and stock to create America's largest mobile-phone company is another sign of confidence in economic stability.
Markets have consistently rallied amid shocks, called black swan events by Nassim Nicholas Taleb, the New York University professor. Taleb wrote the 2007 bestselling book, The Black Swan.
From a fundamental perspective, experienced investors know the periods shown below were less-than-friendly in terms of stock market returns. Stocks stumbled in July of 1990; bear markets were wrapped around economic weakness in 2001, 2008, and 2009.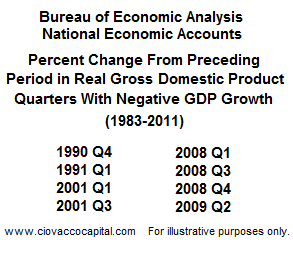 With global growth in 2011 projected to be roughly 35% above the average for the last 20 years, and U.S. markets doing quite well relative to their foreign brethren, the threat of an imminent recession in the United States appears to be quite low. If that is the case, then history tells us the threat of a new bear market kicking off soon also appears to be relatively low.
From a technical perspective, we are seeing changes in recent days that suggest the market is regaining some bullish traction. According to one of the best trading books ever written, Trading for a Living by Dr. Alexander Elder, RSI or the Relative Strength Index can help us spot a possible change in trend a few days in advance:
Classical charting methods work better with the Relative Strength Index (RSI) than with other indicators. Trendlines work well with RSI. RSI often completes patterns a few days in advance of prices. For example, RSI trendlines are usually broken one or two days before price trendlines.
As shown on the chart of the S&P 500 below, RSI broke above the downward sloping blue trendline on Monday, which increases the odds that stocks are finding their footing.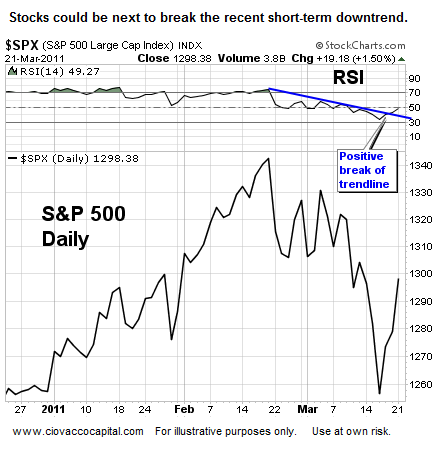 The CCM Bull Market Sustainability Index (BMSI) was created to help us better discern between normal corrective activity in an ongoing bull market and the possible onset of a new bear market. Recent BMSI readings tell us the bulls remain firmly in charge from a longer-term perspective. In the table below, note the favorable risk-reward ratios looking out two-to-twelve months for the S&P 500 Index. The term "risk-reward" concedes that all markets have risk, but the odds appear favorable currently on the long side of the market.
[Click to enlarge]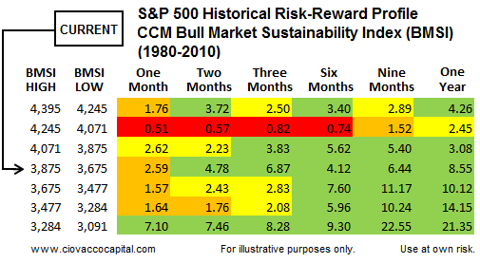 The BMSI (table above) was in the "overbought" red zone in late February and early March, making it difficult to invest new funds due to the unfavorable risk-reward profile for stocks. The recent pullback has cleared that troublesome condition, allowing us to be more open to redeploying some of our cash.
As we have done since last Thursday, we continued to be buyers on Monday adding to our holdings in energy (XLE, IEZ), materials (NYSEARCA:XLB), industrials (NYSEARCA:XLI), mid-caps (NYSEARCA:IWP), and value-oriented stocks (VTV, SCHV). The rationale for our interest in energy, materials, and industrials can be found in our March 20 post on strategy . One of the best times to consider investing cash is when you have an "oversold" market near support. The market recently held near some logical support levels we outlined on March 16 (see pink and green summary table). We also had a rare oversold condition that we covered on March 20.
The CCM 80-20 Correction Index (table below) has also shown improvement over the last three trading sessions. From the 80-20's perspective, the risk-reward profile for stocks is quite favorable looking out three-to-12 months. A comparison of the current market profile (see figures between arrows) to average and median profiles (see bottom of table) highlights what currently appears to be a favorable market in terms of potential bang (upside) for the buck (downside risk).
[Click to enlarge]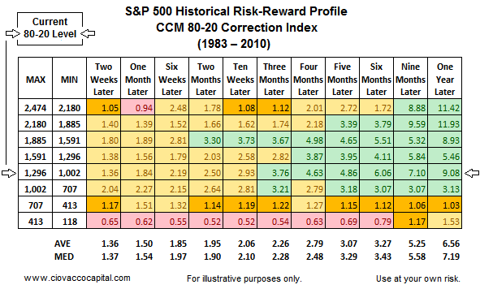 Looking at support and resistance, it is logical to assume if the market has regained its bullish posture, the S&P 500 may go on to surpass the recent high of 1,344. Bull markets by definition make higher highs. We remain in a bull market. Looking out to the balance of 2011, it is not out of the question that the S&P 500 Index moves to possible resistance levels between 1,400 and 1,440.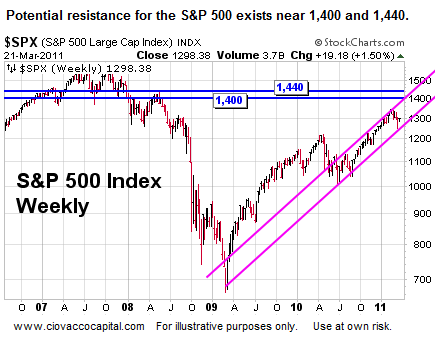 A move to 1,400 represents a gain of 7.85% from the close on 03/21/2011. A move to 1,440 would put smiles on the bulls' faces on the order of 10.93%. Putting a splash of cold water on that favorable outlook, we have yet to complete a turn in the present day confirming a short-term shift from a downtrend to an uptrend in stocks. As of Monday's close, we have seen 61% of the technical developments that history suggests we should see at the end of a pullback, which is why we have kept some powder dry in the short-term. You never know when another black swan may be around the corner.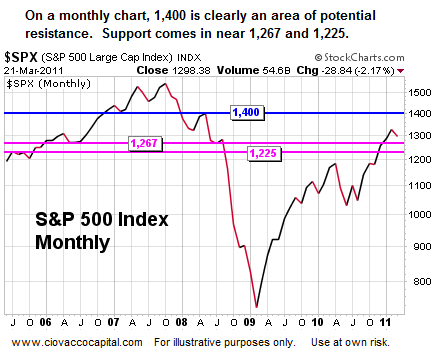 Disclosure: I am long XLE, IEZ, XLB, XLI, VTV, SCHV.
Additional disclosure: Generally, I am long stocks and commodities.