As the premier maker of CMOS imaging sensors for smartphones, iPads and digital still cameras, Omnivision Technologies Inc (NASDAQ:OVTI) may be a key beneficiary of image sensor supply disruptions caused by the 2011 Japan Earthquake and subsequent 3-hour rolling blackouts.

You can't run a fab with rolling blackouts happening. Hence the shutdowns at Sony (NYSE:SNE) and shutdowns at Toshiba (OTCPK:TOSBF). Both are key image sensor competitors for Omnivision.

BACKGROUND: Omnivision's February Earnings & Stock Performance

Recall that shares of OVTI hurled skyward 32% the day after the company's stellar February 25, 2011, earnings report.

With the confident swagger of a true winner, VP Ray Cicneros stated in the OVTI earnings conference call:
"Competition is going to be natural when these markets start expanding. These markets are huge."

"On the other hand, what differentiates our position is our ability to deliver products on time, our technology, and our ability to work with our supply chains. All combined, we feel very, very comfortable in the marketplace in whatever competitive landscape we come across."
Those of us who were long on OVTI listening to the conference call were ecstatic - as if someone was scheduled to light some jet fuel under OVTI's shares at the market's open the next day. Sure enough, it happened as the stock vaulted from $23.85 to $31.43 on 15 million shares: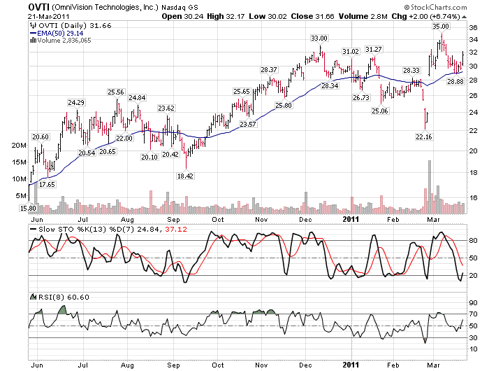 (Click chart to expand)
As you can see from the chart, the stock recovered from a seemingly disingenuous "bash and buy" hit piece by a Baird analyst days before earnings and went on to make a 52-week high at $35.

Since late February when the Nasdaq peaked at 2840, a chain of events slammed the market one after another, bringing OVTI down with it, albeit not as much as the rest of the market:
Egypt instability and regime change
Oil prices spiked, raising fears of global double-dip recession
Turmoil in Libya
Oil prices spiked again
Japan's tragic Earthquake and Tsunami
Japan's Nuclear Plant failures and radiation leaks
As of Monday's close this week at $31.66, OVTI shares are essentially at the same level they were the day after earnings. Yet they trade substantially lower than their recent $35 high.

THESIS: OVTI's Shares Should be Higher rather than Lower after the earthquake

There is reason to believe the earthquake and subsequent shutdowns of Toshiba and Sony plants in Japan substantially change the competitive landscape more in favor of OVTI. (Not to mention AT&T's (NYSE:T) acquisition of T-mobile and the potential for more sensor sales with 2 cameras per smartphone, but that's another article...)

Monday's strong trading (3/21/11) with OVTI up 6.74% was a start, but has only brought OVTI back up to its post-earnings day level.

OVTI's Japanese Image Sensor Competitors Shut Down by Earthquake

The question for investors is:

With the closures of Japanese CMOS imaging sensor plants for OVTI's competitor at both SONY and TOSHIBA in Japan, shouldn't Omnivision stand to benefit from increased sensor demand to compensate for Japanese supply disruptions?

Yes, OVTI's sensors will most likely be in high demand to compensate for supply disruptions from Japanese competitors. And this should mean higher ASP's for Omnivision as pricing pressures mount in a tight supply environment.

OVTI's Image Sensor Fabs are in Taiwan, not Japan.

As OVTI's sensors are mostly made at Taiwan Semiconductor (NYSE:TSM). Taiwan Semi's sensor production capacity was entirely unaffected by Japanese 2011 earthquake.

In fact, Taiwain Semi is planning to expand capacity by 20% this year as stated in its Jan 28, 2011, earnings release.
TSMC plans to spend US$7.8 billion on capacity expansion, setting a new record after the US$5.94 billion it spent last year. The new capital spending will help TSMC increase capacity by 20 percent this year from last year, Chang said.
On the other hand, there has been some concern that Taiwan Semi's long-term expansion plan may be restricted by lower FAB equipment production at Tokyo Electron (OTCPK:TOELF), which is the #2 FAB Equipment supplier [#1 is US Applied Materials (NASDAQ:AMAT)]. Tokyo Electron was damaged by the quake.

VLSI Research CEO G. Dan Hutcheson answers the question "What is the overall impact to the IC industry?" in today's EETimes Article:
''The bottom line is that we believe the effect on semiconductor revenues for this year will be nil. There will be margin pressures, as limited supplies of raw materials drive prices up. But that is also being driven by growth and inflation in Asia.''


CONCLUSION:


OVTI will likely benefit substantially from Toshiba/Sony image sensor earthquake-related supply disruptions.
Less competition, lower image sensor supply, means higher pricing (ASPs) and more revenues for a company that is already riding the explosive smartphone growth wave with Apple (NASDAQ:AAPL) iPhones, iPads, etc. In other words, ASPs should spike. EPS estimates should correspondingly be revised upwards.
OVTI appears to have no supply disruption issues and appears to have ability to ramp production through Taiwan Semi's FABS to meet Japan's shortfall.
OVTI should have been one of the stocks that rose in response to the quake in Japan, but it didn't. Monday, it finally perked up +6.74%, but there should be more upside to come.
Disclaimer:
The author makes no warrant for the accuracy of the content herein other than the links provided to traditional online sources of information for verification purposes. Additionally, investors shall not take any comments stated herein as advice to buy or sell any equities and if investors do so, they acknowledge that they have done their own proper due diligence and proceed at their own risk. Currently holding a long call option position in OVTI.
As always, it's prudent to combine BOTH fundamental analysis with technical analysis to time entries into short or long positions in equities.
Disclosure:
I am long
OVTI
.