Since 2007, Mr. Market has not been kind to investors in Yellow Media, Inc. (YLWPF.PK). As illustrated below, excluding dividends, investors that bought shares back in Q4 2007 are now sitting on losses approaching 65%.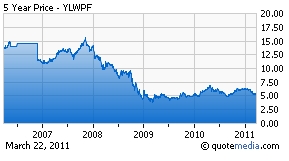 The Shrinking Dividend
For many years, investors in Yellow Media have collected stable monthly distributions due in part to the company's status as a Canadian income trust. However, due to its conversion to a corporate structure, the stock suffered as investors realized a dividend cut was in the works. This was astutely pointed out in an article entitled "Yellow Pages Cuts Distribution - Market Conditions to Blame" posted by The Moneygardener on May 8, 2009.
Dividends were indeed cut in 2009 from $1.17 to $.80. Upon completion of its restructuring and corporate conversion during 2010, the company again cut the dividend to $.65, reflecting a more reasonable going forward dividend policy of 60 – 70% of adjusted earnings. Currently, the stock sports an attractive 11.8% dividend yield, a very tempting payout for income investors.
In order to assess whether Yellow Media is a great buy opportunity or just a wolf in sheep's clothing, waiting to spring yet another painful divided cut, a little "kicking of the tires" is in order.
Background
Founded in 1903, Yellow Media, Inc. is a leading print and internet media company with two national business platforms; Directories and Vertical Media. The print directory business is essentially old school print advertising through the printing and distribution of regional phone directories. I, for one, can honestly say I typically toss most of these in the recycling bin. Such information is easily found online and the directories are too bulky. However, for many involved in business to business advertising, these directories continue to be an important part of print media strategy year in and year out.
The company is the official directory publisher for Bell Canada, TELUS Communications (NYSE:TU) and a number of other incumbent telephone companies that have a leading share in their respective markets, publishing over 340 different directories with a total circulation of approximately 28 million.
Complementing the print business, the company has Canada's leading online local search platforms including YellowPages.ca, Canada411.ca, and CanadaPlus.ca. The directories can be accessed on mobile devices and through mobile applications on BlackBerry, Apple's (NASDAQ:AAPL) iPhone and Google's (NASDAQ:GOOG) Android.
The directory business is a hugely profitable cash cow operation generating approximately $805 million in adjusted EBITDA on revenues of $1.36 billion during 2010. Although EBITDA declined 2% in 2010, this business represents 81% of the company's total revenue and 89.6% of total company EBITDA.
Vertical Media
Through its Trader Corporation subsidiary, the company is also the leading Canadian Vertical Media company with over 140 publications and 20 web sites covering four main product verticals: automotive, real estate, generalist, and employment. Trader is the leading Canadian new and used car destination with its AutoTrader.ca web site. Trader also owns such print brands as The Bargain Finder, Home Renters' Guide, Renters News and Buy & Sell. During 2010, Vertical Media delivered approximately $91 million in EBITDA on revenues of $314 million, growing its business by 27% for the year.
Below is a summary of consolidated results from 2007 - 2010 as well as estimates for 2011:
| | | | | | | | |
| --- | --- | --- | --- | --- | --- | --- | --- |
| | | 12/31/07 | 12/31/08 | 12/31/09 | 12/31/10 | | EST. 2011 |
| | | | | | | | |
| Revenue | | $ 1,624,424 | $ 1,696,713 | $ 1,639,887 | $ 1,679,860 | | $ 1,715,000 |
| | | | | | | | |
| | | | | | | | |
| EBITDA | | $ 871,047 | $ 930,952 | $ 893,438 | $ 898,844 | | $ 911,000 |
| EBITDA% Revenue | | 53.6% | 54.9% | 54.5% | 53.5% | | 53.1% |
| | | | | | | | |
| Long Term Debt (net) | | $ 2,413,732 | $ 2,705,519 | $ 2,309,606 | $ 2,153,000 | | |
| Debt/EBITDA | | 2.77x | 2.91x | 2.59x | 2.40x | | |
*Per Yellow Media Quarterly Reports
For the past 4 years, the company has delivered solid results given the horrible economic environment that most of its customers found themselves in. In 2010, declines in the directory business were essentially offset by growth in vertical media. Also, due to economies of scale, the company enjoys truly fat profit margins, the kind that would make Microsoft (NASDAQ:MSFT) jealous. This has allowed the company to improve its Debt/EBITDA ratio. Yellow Media anticipates modest growth in 2011 as the economic recovery begins to take hold.
The company's debt, however, which totals about $2.9 billion when including convertible and preferred securities, is significant. According to the latest financial statements, there are no pending debt maturities until 2013, when a total of $800 million comes due. From 2014 - 2016, $297,500, $260,000 million and $387,000 million mature, respectively.
Follow the Cash Flow
During the company's latest investor conference call (registration required), the CFO stated free cash flow is estimated to be approximately $600 million in 2011. After accounting for estimated dividend payments to common and preferred shareholders, this would leave approximately $243 million to pay down debt. Given these numbers, the current dividend appears stable. Additionally, assuming no additional growth, the company could conceivably pay off $720 million in debt over the next three years. This, combined with additional borrowing capacity from its credit facility, leaves plenty of breathing room.
To illustrate the benefits of de-leveraging, let's assume the company pays off $200 million each year for the next 5 years. This would bring the debt down to $1.9 billion by 2016. Assuming a reasonable EV/EBITDA multiple of 6.5x, this would imply an enterprise value of approximately $5.9 billion. After subtracting the $1.9 billion debt, total equity value would be approximately $4.0 billion, or $7.75 per share. Add to that an 11.8% annual dividend, and Yellow Media starts to look like a good investment - in fact, the type of investment usually reserved for private LBO deal makers.
There's no question that Yellow Media is in a competitive industry and has risks relating to its declining directory business and heavy debt load. However, because of the company's significant cash flow, low valuation and friendly dividend policy, the shares look like a good long term investment for income investors that can handle some volatility.
Disclosure: I am long YLWPF.PK.