The past weeks have seen the unfolding of events which I have anticipated for some time, namely the beginning of the reorganization of the multi-layered structure forming the "group of Charleroi," headed by Belgian Baron Albert Frère.
Frère started his career at his small family-owned steel-monger, which he expanded until he controlled a large part of the Belgian steel industry. He managed to exit his stake in the steel mills just before the severe and lasting depression that hit the industry in the last quarter of the past century. He invested the money earned in his steel ventures wisely, acquiring stakes in many of Belgium's most prominent companies. The story of his financial adventures could fill many books, and the final result today can be seen in the diagram below, which outlines the current structure of the group.
Frère, along with his family and the French bank BNP Paribas (OTCQX:BNPQY) -- with which he shares a long history -- controls the holding company CNP (Compagnie Nationale à Portefeuille) (OTC:CNAPF). Frère directly owns nearly 21% of CNP, and 47% are shared in a 53/47 joint-venture with BNP, called ERBÉ. CNP has been buying back its own shares for some time, and currently owns about 3.3% of its own stock, leaving less than 29% in the hands of outside shareholders.
A few weeks ago, on March 4, ERBÉ announced a takeover offer for the remaining 29% of CNP stock in free float, for €48.64 per share, a slight discount to the published NAV. ERBÉ will, after the transaction, hold about 79% of CNP. It has been announced that BNP Paribas will progressively divest its 47% stake in ERBÉ for the benefit of Frère & family on the same terms as the going-private transaction. After going private, Albert Frère will have full control of CNP's war chest, which contains over €2bn of cash.
The disappearance of CNP will deprive investors of the opportunity to directly take part in many interesting public and private companies in which CNP held stakes, like the energy trading outfit Transcor, the leading Swiss outdoor advertiser Affichage, the Belgian ice-cream company Ijsboerke and the investment bank Banca Leonardo. Recent developments at Transcor, in particular, were very positive. The litigation with Petrobras (NYSE:PBR) over the stake in the Pasadena Oil Refinery is about to be positively resolved, and Transcor just last month restructured its convertible bonds in European Gas Ltd on very attractive terms, giving it a large stake in the coal bed methane operations of EGL.
CNP is only the first layer of a multi-tower structure. Next to its proprietary investments (which include the examples I gave in the previous paragraph), CNP holds a 50% stake in Parjointco, a 50/50 joint-venture with the Canadian group Power Corporation of Canada (OTCPK:PWCDF), the $12bn investment vehicle of Paul Desmarais, Sr.
In 1981, Desmarais and Albert Frère teamed up in an operation dubbed "Noah's ark" (arche de noé) to rescue the international assets of French bank Paribas from nationalization. François Mitterand had just won the elections and had become the first socialist president of France in 23 years. One of his key election promises was a large wave of nationalisations (21st proposition of the "110 propositions pour la France"), which included the bank Paribas. Frère had done business with Paribas before, especially with its Belgian subsidiary Cobepa. Together with Desmarais and with the consent of Paribas, Frère launched a complicated transaction which would ultimately put a large amount of Paribas' foreign assets out of the reach of the French government, and into the Swiss company Paribas-Genève S.A. – also called Pargesa Holding SA (OTCPK:PRGAF).
Today, Frère (via CNP) and Desmarais (via Power Corp.) control 63% of the voting rights of Pargesa through their joint-venture Parjointco. BNP Paribas still controls 19% of the voting rights, and outside shareholders, while holding about 32% of the capital, control only 18% of the voting rights. (Pargesa has two types of shares, nominal and bearer shares, with different voting rights attached.) In addition, CNP used the depressed prices during the year 2009 to buy a certain amount of Pargesa's convertible bonds in the open market.
Pargesa has only two assets. A 25.6% stake in the French minerals group Imerys S.A. worth €940m, and a 50% stake in Groupe Bruxelles Lambert, GBL (OTCPK:GBLBF) worth more than €5bn.
Pargesa itself serves no real useful purpose anymore (its existence had historical reasons), and it has no real possibilities to conduct new investments. It has been my opinion for some time that the Pargesa layer will ultimately be removed from the control structure. How it will be removed is a different matter. The shareholder pact which binds Frère and Desmarais will expire in a few years, and Frère has secured enough liquidity to potentially buy out Power Corp's stake in Parjointco. On the other hand, BNP Paribas wants to progressively exit its industrial participations, so the 14% stake in Pargesa is probably for sale if Frère or Frère and Desmarais together decide to take over Pargesa completely. In my view, the most likely scenario would be a takeover bid by Parjointco, like it has just happened with CNP (via ERBE).
[Click all to enlarge]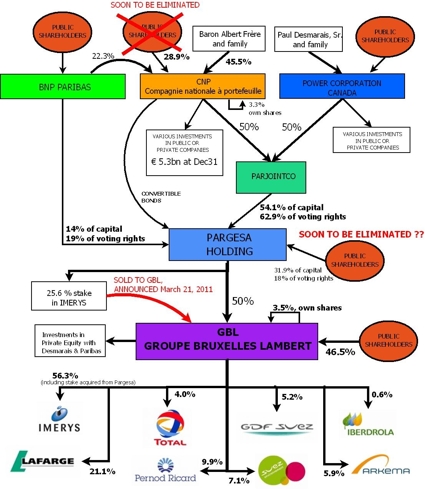 Click to enlarge
Recent events have made this probable scenario, which I thought would be still a few years away, much more credible in the nearer term. Yesterday (March 21), Pargesa announced it had sold its last independent shareholding, the stake in Imerys, to GBL for €1.1bn. Pargesa is thus now only a shell holding company (its only asset is its stake in GBL), which also happens to now have enough money to retire its debt and possibly buy back some extra shares before being taken private. ERBE has, in light of the transaction, increased its takeover price for CNP to €49.01 per share to take into account the increase in book value at Pargesa (the sale of the Imerys stake was made above the market price).
All large industrial assets of the group are now concentrated under GBL's umbrella. The portfolio of Groupe Bruxelles Lambert (OTCPK:GBLBF), with a market cap north of €10bn, is a dream-team of European blue chips:
After buying the Imerys stake from Pargesa, GBL now holds 56.3% or Imerys.

A 4% stake in Total (NYSE:TOT), one of the world's largest oil majors.

A 5.2% stake in GDF Suez (GDFZY.PK), the world's largest utility company after its recent takeover of International Power.

A 0.6% stake in Spanish utility Iberdrola (OTCPK:IBDRY), one of the world's largest utility companies, with large operations in South America (while nominally small, the stake is still worth nearly

€

200m).

A 21.1% stake in Lafarge (OTCPK:LFRGY), the world's largest cement manufacturer by production.
A 10% stake in Pernod Ricard (OTCPK:PDRDF), the world's second-largest publicly traded alcoholic beverage company (after Diageo (NYSE:DEO)).
A 7% stake in Suez Environnement (OTCPK:SZEVY), which was spun out of Suez SA before its merger with Gaz de France to form GDF-Suez, close second to Véolia Environnement (NYSE:VE) in the worldwide environmental services business (waste and water).
A 6% stake in chemical group Arkema (OTCPK:ARKAY), which was spun out of Total SA a few years ago. GBL recently increased its stake to over 5% and is one of the top shareholders along with David Einhorn.

All in all, GBL's net assets are worth about €14bn, and the shares trade about a 25% discount to the company's NAV. The portfolio now comprises many leading international companies, stakes that Frère has acquired by exchanging his majority stakes in leading Belgian companies for minority stakes in multinationals.
To summarize: I think the restructuring of the group, commenced at the top by the takeover offer for CNP, is likely to be accelerated. While my initial estimate was that it would take until 2014 at least for Pargesa to be taken out, I now think it can happen much sooner. After taking CNP private, Frère has access to over €2bn of cash, and probably even more liquidity via bank credit. Some amount will probably be used to cover the costs of the going-private transaction, but some can also be applied to a takeover of Pargesa in conjunction with Power Corp. The acquisition would not be terribly costly, since Pargesa now also sits on a large amount of cash after the sale of its Imerys stake.
Disclosure: I am long shares of CNP, GBL, Suez Environnement, Véolia Environnement and GDF Suez. I am long Call Options on Pargesa SA.