What with Libya's open warfare, Gaddafi's duplicity, Bahrain's crackdown, Yemen's riots and likely civil war, Iran's intrigues, Europe's debt issues, and Japan's front-page dangers and difficulties, investors may be forgiven if they missed a little-noticed news release from Canada's National Energy Board a week or so back titled "National Energy Board Issues Certificate of Public Convenience and Necessity for Mackenzie Valley Pipeline." But this is a key decision that bodes well not only for Canada's natural gas production, but for America's energy independence from Middle East energy, as well.
The National Energy Board (NEB) is the regulator that regulates pipelines, energy development and trade in the Canadian public interest. With this ruling, the NEB effectively approved the building of a 1,200-kilometer (750-mile) long Mackenzie Valley Pipeline, part of the Mackenzie Gas Project. (For comparison, this is about the same distance as New York City to Lexington, KY or Seattle, WA to Sacramento, CA.)
The Mackenzie Valley Pipeline would run from the Beaufort Sea all the way down the Northwest Territories (NWT) and into Alberta. It's designed to carry up to 34.3 million cubic metres (1.2 billion cubic feet) of natural gas per day. The Mackenzie Gas Project also includes three onshore natural gas fields, a pipeline-gathering system to bring the gas from the development fields to a processing plant, and a 457-kilometer (286-mile) pipeline to carry natural gas liquids from Inuvik, NWT to an existing oil pipeline at Norman Wells, NWT.
[Click all to enlarge]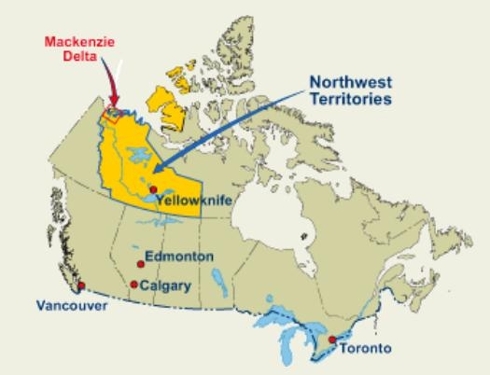 The owners of this project are Imperial Oil (NYSEMKT:IMO), the Mackenzie Valley Aboriginal Pipeline Limited Partnership (an LP established for the benefit of the First Nation peoples in the area), ConocoPhillips (NYSE:COP), Shell Canada (NYSE:RDS.A), and ExxonMobil (NYSE:XOM) (owner of 70% of the shares of Imperial Oil). They will be required to obtain various permits and authorizations from other boards and government agencies before construction can commence, but they've already cleared the most important hurdle.
Why is the Mackenzie Gas Project such a big deal? The Mackenzie Delta, up along the Beaufort Sea, and the areas along the Mackenzie River are already known to contain large reserves of natural gas – and may in fact contain massive amounts. The three major gas fields discovered to date in the Mackenzie Delta by the project owners can produce about 800 million cubic feet of gas per day.
Let's put this in perspective:

(From the Mackenzie Gas Project website)
One million cubic feet of natural gas can heat five homes for a year. The three fields delineated as worthwhile thus far can produce 800 million cubic feet per day. That means that every day they are expected to produce enough to heat 4,000 homes for a year. If they pump for 300 days a year, that's 240 billion cubic feet per year, or roughly a quarter of the amount it would take to heat every gas-heated Canadian home. Heck, the 100%-IMO-owned Taglu Field alone (discovered by IMO 40 years ago – yes, the regulatory process does take time) is estimated to hold 3 trillion cubic feet of gas, enough to heat every gas-heated Canadian home for three years.
And these fields also contain large amounts of natural gas liquids (NGLs) like butane and pentane, which will also be produced with the natural gas to the tune of somewhere between 12,000 and 15,000 barrels per day. These condensates couldn't be better located or come at a better time. The massive oil sands in Canada contain more oil than Saudi Arabia. But unlike Texas sweet crude or even Saudi's slightly more sour (higher sulfur content) oil, the oil sands are more like sludge.
How do you move sludge? You dilute it. And since oil and water don't mix, the best product to dilute a petroleum-based product with is another petroleum-based product. While most everyone else is chasing the latest tout on a new Marcellus play that has a short economic life, I'm quietly buying up NGLs and natural gas that will last a lifetime. And that's what I like best about Imperial Oil. Their properties will be producing for my lifetime, your lifetime, and your kids' lifetime.
My friend Bob Howard, editor of the financial letter Positive Patterns, has produced an exhaustive and brilliant study of Imperial's properties. I'll condense it here, but if you ask, he may provide you with the original and a copy or two of his excellent publication. Here's a brief summary of Bob's analysis:
The Kearl Oil Sands/Athabasca Tar Sands, Alberta: Oil production is projected to be around 110,000 barrels per day beginning in 2013 and ramping up from there. Reserves are estimated at 5 billion barrels of oil. 70% owned by IMO.
Cold Lake/Athabasca Tar Sands, Alberta: Production averaged 139,000 barrels a day last quarter. In this location, IMO owns the rights to 194,000 acres.
Syncrude/Athabasca Tar Sands, Alberta: IMO owns 25% of Syncrude and its share of this project is 65,000 barrels a day. In addition, IMO owns rights to 63,000 acres in the area.
Horn River/NE British Columbia: 338,000 net acres in a 50/50 deal with XOM. As Bob says, this "could be a significant field but NG-shale is fun, quick, big, and then – over – the "drop-off" in almost all NG/fracked/horizontal drills-shale fields, etc. -- seems to be more severe than expected, in almost every case after the first five years the drop off is quite large, and the other thing you must remember is these fields require a lot more maintenance – which is one of the reasons the equipment/makers etc. are acting so wonderful!"
Beaufort Sea: Key leases are offshore, deep and surely severe – but valuable someday. The main driver here is BP, and IMO is in for 25%. Again, directly from Bob: "These properties are huge – the Northwest Territories come to about 507,000 acres, a staggering number in a staggering place where it will be very expensive to do business, but at $150 oil it should be just fine and by then you can expect this to do something for the balance sheet. Remember, not many companies have a 10-million acre land bank in Canada – I can't think of many, can you? A place like this has value for the future and it is money in the bank."
Atlantic-offshore, Orphan Basin: Known as the "Orphan Basin," this includes the offshore areas of Nova Scotia, Newfoundland and Labrador.
Norman Wells: Conventional oil in NWT. Nets about 34,000 barrels and about the same in NG.
Sable Islands: IMO has a 9% share of this shallow water natural gas venture. And it owns some nice rights in this area.
I see Imperial Oil, King of the Wild Frontier, as having as much experience exploring, producing, and shipping from the cold frozen North as the Norwegians do in the North Sea. For all those Chicken Littles who've been saying the world is running out of fossil energy, I say what I've said for the last 40 years when anyone ranted to me about this: You invest in ethanol, hydrogen and solar, I'll invest in what I call Nature's Giant Storage Batteries – oil gas, and coal.
I predict there will be more elephant finds in the frozen north and on the world's continental shelf offshore in the coming decades than anyone today dares to dream. And when it is discovered, I want to own the crème de la crème of who can find it, get to it, get it to the rest of the world, and clean up after themselves. That leads me to IMO.
If you can find another company with this kind of experience, capability, depth and acreage – some 10 million acres of mostly-perpetual leases – tell me. I'll be buying that one, as well. Speaking of which: When should you buy? We bought our most recent batch at 36-37 a couple months back, in late November and early December. It ran to 54 before backing off to 51. If the market pulls back, as I expect it will, panicky traders will sell the good along with the bad. In fact, counter-intuitively, most will sell their best stuff because to sell their worst means they must acknowledge they made a mistake. When they sell the good stuff, make sure you have some cash on hand. (See recent article here about that.) If I see IMO anywhere below 45, I'll be adding to our positions. In the 30s, I'll bet the ranch.
By the way, I occasionally get comments from some who grouse that I'm telling them about a company at 51 rather than at 37. For those tiresome sorts, note that my first article on SA about IMO was written in August of 2009. I've written 10 since, on various subjects – China, Canada writ large, fossil fuels in general, wind, etc. -- that reinforced my opinion on IMO, during which time, through mid-December, it was still available at 37. I'm afraid if this article doesn't whet the interest of those readers, they'll just have to buy it from the rest of us when it hits 100 and is suddenly popular.
Visit IMO's website here.
Disclosure: We, and/or those clients for whom it is appropriate, are long IMO. We look forward to having the opportunity to add to these positions on any decline.
The Fine Print: As Registered Investment Advisors, we see it as our responsibility to advise the following: we do not know your personal financial situation, so the information contained in this communiqué represents the opinions of the staff of Stanford Wealth Management, and should not be construed as personalized investment advice.
Past performance is no guarantee of future results, rather an obvious statement but clearly too often unheeded judging by the number of investors who buy the current #1 mutual fund only to watch it plummet next month.
We encourage you to do your own research on individual issues we recommend for your analysis to see if they might be of value in your own investing. We take our responsibility to proffer intelligent commentary seriously, but it should not be assumed that investing in any securities we are investing in will always be profitable. We do our best to get it right, and we "eat our own cooking," but we could be wrong, hence our full disclosure as to whether we own or are buying the investments we write about.
Disclosure: I am long IMO.