By Chris McKhann
Community Health Systems (NYSE:CYH) has been consolidating after pulling back from a multiyear high, and the options volume is looking for a break higher.
CYH fell 0.39 percent to $38.20 in morning trading. The hospital stock has been in narrow range over the last week after dropping from an intraday peak of $42.50 March 9. That was its highest price in more than three years.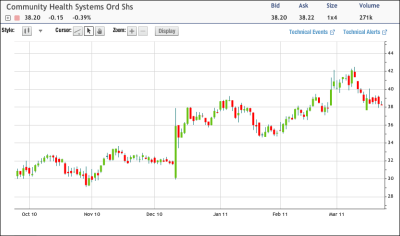 With average volume of 112 contracts a day, this is not a typical name for option traders. More than 4,000 traded today, split evenly between the September 44 calls and 36 puts. The calls were bought for $1.90 and the puts sold for $2.10. Volume was more than 140 times open interest in both strikes.
This risk reversal doesn't appear to match against activity in the underlying shares. That means it's likely an outright bullish bet, with the trader selling the puts to more than offset the cost of the calls. The resulting position is quite bullish, resulting in a $0.20 credit that will be kept if shares are between the two strikes. It can only lose money if CYH drops.
(Chart courtesy of tradeMONSTER)