We are initiating coverage of EpiCept (EPCT) with an Outperform rating. Our price target is $2.50 per share. Our call is based on the strong fundamentals of the Company.

EpiCept is a specialty pharmaceutical company focused on the development and commercialization of pharmaceutical products for cancer treatment and pain management, two large markets with unmet medical needs. The Company's strategy is to focus its development efforts on innovative cancer therapies and topically delivered analgesics targeting peripheral nerve receptors.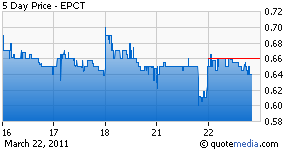 The Company's lead product is Ceplene, which is used concomitantly with low dose interleukin-2 (IL-2) for remission maintenance therapy of acute myeloid leukemia (AML) for adult patients who are in their first complete remission. Ceplene has been approved in the European Union (EU) and Israel. The product has been licensed to Meda AB of Sweden to market and sell in Europe and certain Pacific Rim countries, and to MegaPharm Ltd. to market and sell in Israel. Meda AB has launched Ceplene in UK, Germany and Austria and will continue in other European countries.

In the US, EpiCept plans to conduct a new confirmatory clinical trial to demonstrate Ceplene's activity in conjunction with low-dose IL-2 as remission maintenance therapy for AML patients in first complete remission with overall survival as the primary endpoint. The Company expects to begin the trial in the second half of 2011.

In Canada, EpiCept is seeking data protection for Ceplene. This has been denied by a federal court in Canada. The Company expects to appeal the court's decision and has withdrawn its New Drug Submission until the appeals process is completed. The Company retains the right to re-file the application at any time over the next five years without prejudice.

Ceplene remains the Company's key value driver both in the near term and in the long run. Sales from the compound will make meaningful contribution to the Company's top line growth from 2012 onwards, especially when it's approved in the US in 2015.

Another key value driver for EpiCept is NP-1 for the treatment of peripheral neuropathy, a large, underserved market. Positive results from multiple Phase II trials support pivotal Phase III trials. The Company has been seeking potential partners for this program and a deal could be announced later this year.

In addition to Ceplene and NP-1, EpiCept has two more oncology compounds under clinical development.

One compound is crolibulin, a novel small molecule vascular disruption agent (VDA), and apoptosis inducer for the treatment of patients with solid tumors and lymphomas. In December 2010, the NCI initiated a Phase Ib/II trial for crolibulin to assess safety and efficacy in combination with cisplatin in patients with anaplastic thyroid cancer (ATC). Trial enrollment has commenced and data from the Ib portion of this trial could be available as early as in late 2011.

Another cancer candidate is Azixa, an apoptosis inducer with VDA activity licensed by the Company to Myrexis, Inc. (formerly Myriad Pharmaceuticals, Inc.), as part of an exclusive, worldwide development and commercialization agreement. Azixa is currently in Phase II clinical trials for the treatment of glioblastoma.

EpiCept's shares are undervalued in our view. We see a favorable reward/risk profile for the Company at this point. Therefore, we have an Outperform rating for the Company. Risks associated with our call are weak balance sheet and regulatory uncertainties for its major drug candidates.