They've got quite the festering inflation problem over there in the U.K., the latest report pegging consumer prices at 4.4 percent above where they were a year ago, the highest annual rate since late-2008, and it seems that assurances from the central bank that the condition is just temporary aren't having the desired effect.
The government's other measure of prices – retail price inflation, which includes mortgage interest payments – just notched a 5.5 percent annual increase, the highest its been in 20 years. From the U.K.'s Office for National Statistics comes the following graphic that the British people are probably all too familiar with by now.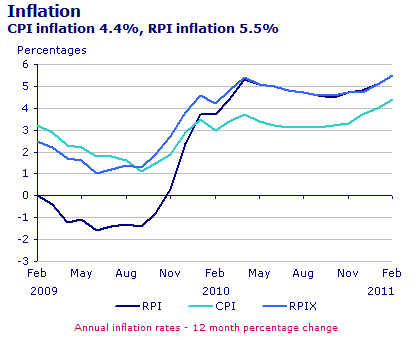 Central bank chief Mervyn King said that inflation-adjusted wages will probably fall again this year as they did in 2010, a feat that is not difficult to achieve at these levels of inflation, and for the first time since the 1920s, real wages are below where they were six years prior.
People are starting to get a little worried and there have been calls for Prime Minister Osborne to include energy subsidies in his upcoming budget so that workers can still afford to go to work. Much of the recent price increases have been due to the Value Added Tax being raised from 17.5 percent to 20 percent two months ago, however, last month, heating fuel costs continued to rise and clothing prices surged 3.6 percent.