The market is a pretty wild place right now. It's a swing-trading dream. The intra-day volatility has popped and dropped according to the VIX index, but it's anyone's guess what tomorrow holds.
Some people are loading up on the high-profile and darling stocks that have pulled back in price. Lots of shares of Apple (AAPL) have exchanged hands between $330 - $340, Netflix (NFLX) dipped down briefly to $190 more than a week ago before exerting its high-growth muscle, and bigger dividend stocks like Coke (KO) had a bounce off the $61.50 range. Other stocks such as Baidu (BIDU) didn't seem as affected, and investors were not rewarded with a pull-back entry.
Other investors are hesitant to jump aboard these stocks wondering if the worst of the Japan incident is not fully known and will not be realized until earnings start coming out. True, some say that it will only affect country-specific stocks or the tech sector. But a bad string of earnings in one area could weigh the whole market down, and perhaps the market isn't as efficient as we think it is, having already factored all of this into current prices. It is to those people that I dedicate these 3 dividend stock picks that have decent market performance. Keep in mind that all three are small caps, although their betas, or market leveraged movements, are less than 1, which should reduce volatility.

The big bonus to these 3 stocks is that their earnings forecasts for the year have recently been raised. The future got a little brighter for these dividend stock picks. (If you like small stocks in defensive sectors, you might also enjoy 2 Cheap and Growing Healthcare Stocks to Buy on a Pullback)

Scanning for Dividend Stocks in an Unsure Market
The scan will include these aspects:
They

must

all

have

received

upward

revisions

in

their

annual

earnings

estimates

The

dividend

yield

should

be

at

least

3

%

There

should

definitely

be

some

free

cash

flow

per

share

(

12

months

)

The

relative

strength

of

the

stock

should

be

greater

than

the

relative

strength

of

the

industry

group

The

beta

is

less

than

1

PNM Resources (NYSE:PNM)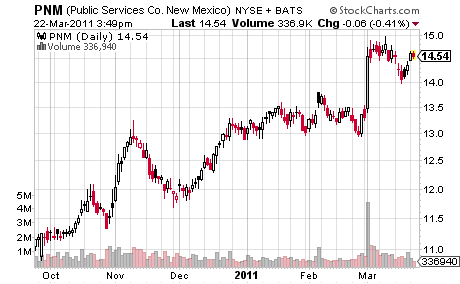 PNM is an energy holding company that services New Mexico and Texas. It currently trades at roughly 82% of its theoretical liquidation or book value. Guidance is up for this year, 2012, and 2013.
True, they are trying to improve their credit to investment-grade, improve the struggling non-regulated portion of their business, and continue to control costs in a competitive market. As they work towards long-term goals that will improve credit rating and return on equity, prices should continue to improve over the long-term while you are fed a dividend of 3.4%.
Keep in mind that PNM only has a market cap of 1.33 billion. To give you a little perspective on how small that is, it ranks as only 20th out 25 US diversified utility companies in major exchanges.
| | | | |
| --- | --- | --- | --- |
| Size Ranking | Ticker | Company | Market Cap (mil) |
| 1 | EXC | Exelon Corp. | 26,739.15 |
| 2 | PCG | PG & E Corp. | 17,336.38 |
| 3 | PEG | Public Service Enterprise Group Inc. | 15,565.79 |
| 14 | NVE | NV Energy, Inc. | 3,447.6 |
| 15 | DPL | DPL Inc. | 3,100.98 |
| 20 | PNM | PNM Resources, Inc. | 1,265.38 |
| 21 | NWE | Northwestern Corp. | 1,052.7 |
| 24 | UTL | Unitil Corp. | 254.22 |
| 25 | HTM | US Geothermal Inc. | 27.84 |
I like the price action, the raised estimates, and the concern over getting into a higher credit rating.
Chesapeake Utilities (NYSE:CPK)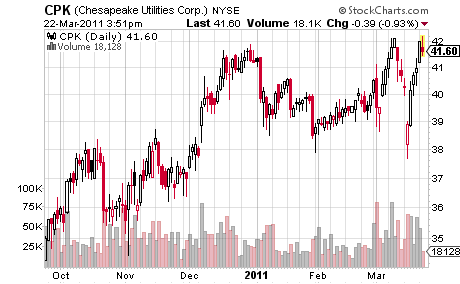 CPK operates in both the regulated and non-regulated markets with natural gas, electricity, and propane. Although the stock was downgraded early in the year to neutral, the earnings estimates were raised by roughly 4.5% for this year and 8.5% for 2012. This is a fairly big jump.The quarters are full of surprises so don't be surprised if that number goes up significantly.
The next 5 years are expected to grow profits an average 12.3%. If you add the dividend yield of 3.3% onto the growth and divide by the PE ratio, you get a PEGY ratio of less than 1. (PEGY is the modified PEG ratio that includes dividend yield, but I am sure you already knew that).
Overall, I find this a good holding with steadily growing earnings and a payout ratio of only 48%. If prices pop above $42 resistance and new support is put in, we might see another decent run for the short-term. There is room in the payout ratio to keep the dividend up if this should happen.
The list below is a sampling of the 28 US gas utilities on major exchanges. As you can see, CPK is at 25 with a very small market cap. While I didn't specifically try to screen for small-cap stocks, those are the ones that came up on my list having fit my scanning criteria.
| | | | |
| --- | --- | --- | --- |
| Size Ranking | Ticker | Company | Market Cap (mil) |
| 1 | SRE | Sempra Energy | 12,538 |
| 2 | EQT | EQT Corporation | 7,131 |
| 15 | SWX | Southwest Gas Corporation | 1,767 |
| 24 | LG | Laclede Group Inc. | 839 |
| 25 | CPK | Chesapeake Utilities Corporation | 400 |
| 28 | EGAS | Gas Natural Inc. | 68 |
(If you like buying defensively, consider these 6 stocks with the rock-solid Graham mentality)

City Holding Company (NASDAQ:CHCO)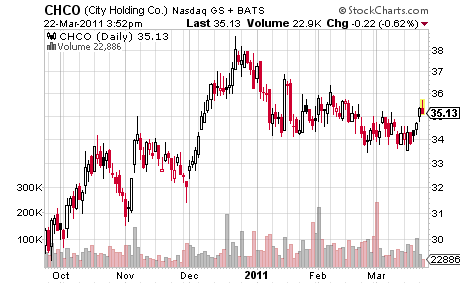 CHCO is a community banking company. This stock has experienced a couple small upward revisions on earnings expected for the quarter, current year, and 2012. This stock had some big price volatility in 2008, but is now range-bound trading since the early part of 2009.
This stock looks fairly valued right now when considering sales trends, dividend growth trends, and earnings. The biggest reason I like this stock is not due to some undervalued component or an incredible growth rate, but due to a recent breakout from a short-term price slide since mid-December, and that prices are still channeling up overall if you look back to early summer of 2010. Short-term (3 months), this is a contrarian stock pick. Longer-term (9 months), this is trend-trading. Very short-term, as in a few days, the stock is trying to pop.
If you like dividend stocks with a yield of 4%, but you also want to time your trades on a chart, this could be the right time for City Holding Company. Keep in mind that although CHCO is a small-cap stock of less than 550 million, it is still in the top 10 out of 96 stocks in the industry group of Mid-Atlantic Banks in the USA. While the Bank of America (BAC) has a market cap of 142 billion, only the top 6 stocks in this category even have a market cap over 1 billion. Although CHCO is small, it is not ridiculously so when compared to its peers.
Should You Trade These Stocks?
Are these stocks suitable for all investors? No. But if you are skittish about the market right now, there are a few reasons why the above stocks might be good picks:
Some

are

poised

to

pop

based

on

momentum

and

price

action

.

Others

have

good

valuations

when

comparing

PE

ratio

to

the

long

-

term

expected

growth

plus

dividend

yield

.

All

three

of

the

companies

have

recently

been

upgraded

as

to

earnings

forecasts

for

at

least

next

year

.
Two of them are in a defensive utility category
Small cap stocks have higher upside potential, even when discounting Beta, according to the massive portfolios used by Fama and French.
Even if the above publicly traded companies are not high-growth stocks, they pay solid dividends and the light just shone a bit brighter at the end of the profit forecasting tunnel.

Disclosure: I have no positions in any stocks mentioned, and no plans to initiate any positions within the next 72 hours.