by Roger Choudhury
Sprint (NYSE:S) served 49.9 million customers at the end of 2010. The company added a net 1.7 million subscribers in 2010, compared to a net loss of 1.1 million in 2009. In its wireless segment, the company generated $28.59 billion in revenues, which was an increase of 2.9%. However, the company has a debt to equity ratio of 1.27, and a current ratio of 1.25.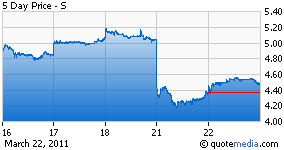 In comparison, AT&T (NYSE:T) and T-Mobile USA would have 129.2 million subscribers once regulatory hurdles are cleared. Breaking the 2 entities down, T-Mobile USA brought 33.7 million more subscribers to the table, but lost 56,000 in 2010. AT&T added 2.8 million subscribers in 2010, for a total of 95.5 million subscribers at the end of 2010. T-Mobile USA generated 16.08 billion euros ($22.84 billion) in revenues, which was an increase of 4%. AT&T made $58.5 billion in revenues in its wireless segment, which was a 9.3% increase.
Sprint is fighting a Goliath. To take it on, it comes armed with $2.8 billion in free cash flows from 2010, which is a part of its $5.17 billion in cash and cash equivalents at the end of 2010. Its market cap stands at $13 billion.
Here are some options that Sprint should consider:
Get a controlling interest in Clearwire (CLWR). Sprint already has a 54% economic interest (owns 531.7 million shares of class B common stock). Class A common shares have a market cap of $1.3 billion, and this firm has an enterprise value near $3 billion. However, Clearwire would only bring an additional 4.4 million subscribers. The incentive to buy is that CLWR's networks covered 114.2 million people in 88 markets, including an estimated 112.0 million people covered by our 4G mobile broadband network in 71 markets.
Clearwire generated $556.8 million in revenues in 2010, which was an increase of 102.8%.
Buy Leap Wireless (LEAP). It markets its brands in the US as "Cricket." At the end of 2010, it had only 5.5 million customers, and also added a net 241,546 customers. The company also brought in $2.48 billion in revenues, which was an increase of 22.1%. The company and its subsidiaries own licenses to cover an aggregate of 184.6 million POPs. The company has an enterprise value of ~$3.4 billion.
Acquire MetroPCS (PCS). This company has over 8.1 million subscribers, and holds licenses for the wireless spectrum, covering a total population of around 142 million people in and around many of the largest metropolitan areas in the US, including Atlanta, Boston, Dallas/Ft. Worth, Detroit, Las Vegas, Los Angeles, Miami, New York, Orlando/Jacksonville, Philadelphia, Sacramento, San Francisco, and Tampa/Sarasota metropolitan areas.
The company introduced the first commercial 4G LTE service in the US in its Las Vegas and Dallas/Fort Worth metropolitan areas in September 2010, and launched the world's first dual mode 4G LTE/CDMA handset. Subsequently in 2010, it launched a 4G LTE service in our Detroit, Los Angeles, Philadelphia, Boston, New York, San Francisco and Sacramento metropolitan areas. It also further expanded 4G LTE services into Atlanta, Jacksonville, Miami and Orlando metropolitan areas in January 2011.
The company grew revenues by 16.9% to $4.06 billion in 2010. Enterprise value is around $7.5 billion.
Buy US Cellular (NYSE:USM), which has 6.1 million customers in 26 states, and owns licenses covering 90.4 million people. The company lost 69,000 customers in 2010. The company also made $4.17 billion in revenues, which was a drop of 0.8%. Enterprise value is around $3.9 billion.
Sprint may also consider buying some assets of American Tower (NYSE:AMT), which leases antenna space on multi-tenant communications sites to wireless service providers and radio and television broadcast companies. This has the potential of reducing some costs, as well as provide another source of revenues.
Another option includes a merger with Verizon (NYSE:VZ). Top management has already dismissed this speculation. Yet, another route is an acquisition by Vodafone (NASDAQ:VOD), who has over 340 million mobile customers worldwide, and a market cap near $151 billion. A more exotic move would be by China Mobile (NYSE:CHL) to take a significant stake. It has a market cap over $180 billion and 584 million customers. Sprint has an enterprise value of around $27.9 billion.
Since Monday, March 21, Sprint shares are down 11.5%.


Disclosure: I have no positions in any stocks mentioned, and no plans to initiate any positions within the next 72 hours.