Several small-cap stocks with market capitalization between $25 million and $2 billion hit new 52-week highs on Tuesday.

(Click charts to expand)
TGC Industries

Onshore seismic data services provider TGC Industries (NASDAQ:TGE) advanced $0.20 or 2.6% to $7.91 as the company stated it would be acquired by peer Dawson Geophysical (NASDAQ:DWSN). The transaction is valued at approximately $8 a share.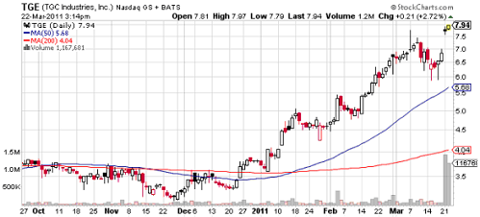 TOR Minerals

Several weeks ago, the maker of specialty mineral and pigment products, TOR Minerals (NASDAQ:TORM), surprised everyone when it reported a $2.3 million net income in 2010. Compared to the $200,000 loss in 2009 one can quickly see why investors are driving the share price higher.
But that is the only good news. Net sales for the year were approximately $31 million versus $24 million in 2009. Revenue grew 28 percent in 2010 year-over-year to $31 million. Fourth quarter revenue grew 36 percent to $8.7 million from the same quarter the year prior.
I will be adding Tor Minerals to my watch list as it has the potential to be a future high flyer if the current trend in its fundamentals continues.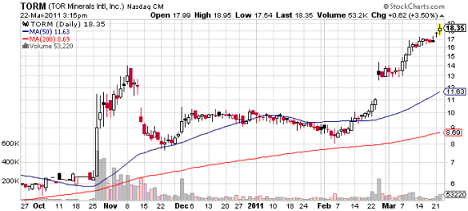 Vista Gold

Buyers stepped in with conviction over the past three trading sessions as volume is well-above average in mid-sized gold producer Vista Gold (NYSEMKT:VGZ). The increase in volume could validate a potential breakout so like TOR Minerals I am adding Vista Gold to my small cap watch list.
Shares of Vista should continue to rise as the price of gold flirts with record highs. The dollar continues to lose value and more and more investors are racing to so-called safe havens.
Vista has two viable projects in Mexico and Australia with proven reserves of 1.3 million and $2million ounces of gold, respectively.
As the price of gold continues to move to historic heights, junior miners with large to mid-size low-grade projects look very attractive to the major gold producers as potential takeover targets. Vista Gold fits that description.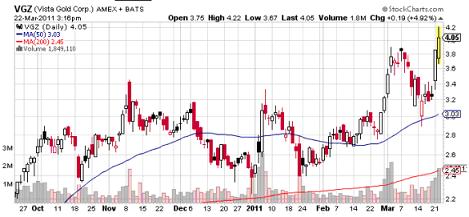 Disclosure: None