The construction industry suffered a massive downturn during the latest recession. Part of this huge industry, housing, remains depressed. Recent numbers from February suggest sales of previously owned homes fell by 9.6 percent - not exactly encouraging numbers for homebuilders that are hoping for lower inventory numbers to help boost demand for new homes.

But despite these fluctuations in the housing market, I remain optimistic that there is money to be made for investors who pick their construction exposure carefully. I'm not just saying this either - I recommended a stock with exposure to housing and construction in September 2010, and subscribers to Small Cap Investor PRO are currently up 56 percent. You can learn more about this stock here.
Opportunities are typically easier to find in a deeply depressed sector - they just don't tend to look like opportunities at the time when you should be a buyer.
While homebuilding could continue to suffer for many years, other aspects of construction are moving ahead, especially in communications and power utility infrastructure.
One well-run construction company turned in three profitable years during the recession. That company is MasTec (NYSE: MTZ), a $1.6 billion company that was founded in 1929. MasTec has operations primarily in the Southeast, but also has a substantial national presence. It builds and maintains electrical transmission lines, wind and solar farms, and other utility and communications infrastructure.
Take a driving vacation across the country and you'll notice that America's infrastructure is crumbling. But despite the budget woes of most local and state governments, municipalities don't appear ready to eliminate the necessary maintenance, and that is good for MasTec.
Utilities are adding power generation capacity. Telecommunication infrastructure is about to undergo a 4G wireless revolution. And it's starting to look like we're going to need all the natural gas that we can drill and deliver.
Check, check, and check - all of these infrastructure upgrades should help MasTec boost revenues and EPS.
Part of MasTec's business includes handling installation for DirecTV (Nasdaq: DTV). Back in 2007 - the company's last unprofitable year - DirecTV accounted for nearly half of revenue. Now, the company's forward-thinking executives have plans to transition away from dependence on this major customer. They now emphasize higher-growth, higher-margin sectors of energy, and renewed focus on wire-line and wireless.
MasTec's stock rose nearly 17 percent in 2010, but it really came alive in the fourth quarter with a 41 percent surge. One reason for the rally was the announcement of an investment in power-transmission contractor EC Source, which is expected to lead to a merger in the first half of 2011.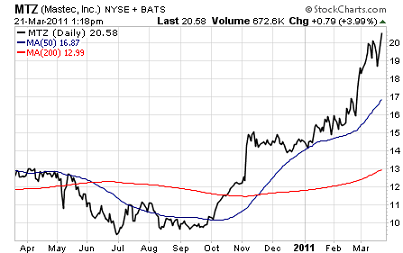 While MasTec continues to report an improvement in its DirecTV business, I like the potential of its wireless infrastructure operations. AT&T (NYSE: T) will soon upgrade to a true 4G network and MasTec has an eight-state exclusive construction contract. It's also working to add business with other wireless carriers ready to deploy 4G or LTE networks.
At the same time oil and natural gas infrastructure is expanding across North America. MasTec has made growing that business, along with its roster of industrial customers, a top priority.
Natural gas is plentiful, and the industry predicts the miles of pipeline construction to jump at least 40 percent over the next two years alone. MasTec will help put this pipe in place.
As we place more value on renewable energy, MasTec is ready and can handle wind, solar and bio-fuels construction too.
In 2010 MasTec surpassed its goal of $2 billion in revenue by generating $2.3 billion - a 42 percent increase over the year before. EBITDA also shot up 57 percent to $241 million from $153 million. Net income rose 28 percent to $90.4 million, and cash flow jumped 76 percent to $218 million.
In addition to a rise in the company's share price, investors were pleased with earnings of $1.05 per diluted share, which MasTec predicts to reach $1.20 to $1.23 in 2011.