InterXion (NYSE:INXN), a a leading European provider of carrier-neutral colocation data centre services, today reported Q4 and full year 2010 results.
The company recently completed its IPO, and started trading on the Nasdaq market on January 28. Q4 represents the first quarter discussed as a listed company.
Revenues for the fourth quarter 2010 were €55.6 million, a 23% increase compared to €45.1 million in the fourth quarter 2009, but a 1.76% only increase on the previous quarter. As you may notice, the Q/Q increase represents a slowdown compared to the recent trend achieved by the company:
[Click all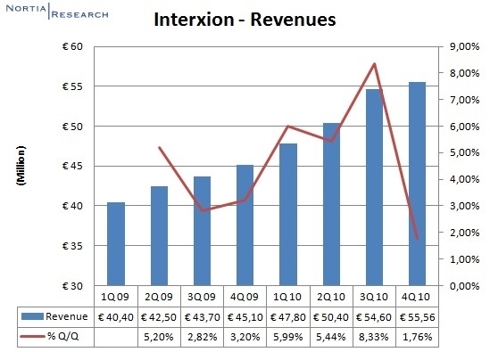 Click to enlarge
Adjusted EBITDA was €21.4 million in Q4, a 26% increase from the prior year quarter, and a 2.88% increase Q/Q: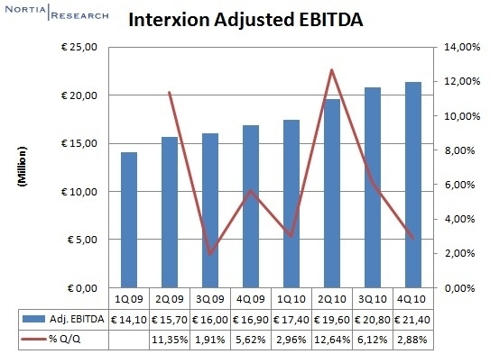 Click to enlarge
Adjusted EBITDA margins were 38.5% in Q4, compared to 37.5% in the same quarter last year. Here is a quick look at adjusted EBITDA margins in the most recent quarters: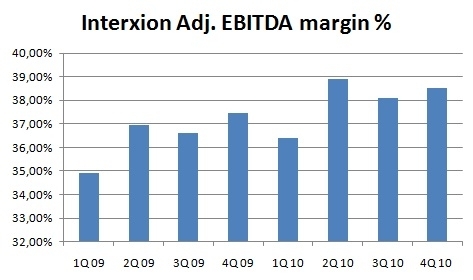 Revenues for the year 2010 increased by 21.37% to €208.4 million, compared to € 171.7 million in 2009. InterXion enjoyed a steady growth in the last few years: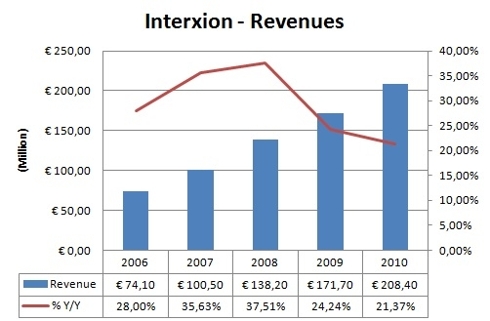 Click to enlarge
Adjusted EBITDA margin for the year increased to 38.0%, as Adjusted EBITDA in 2010 increased by 26% to €79.2 million: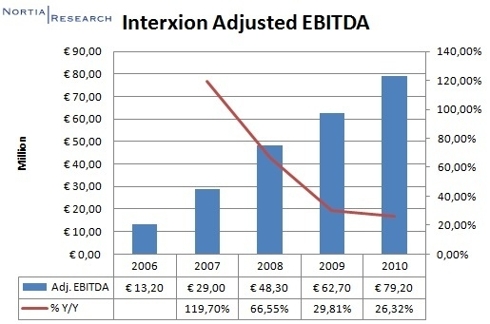 Click to enlarge
The company issued guidance for the full year 2011, and expects revenues to be in the range of €239 million to €245 million (a 16% increase on 2010 at the midpoint), adjusted EBITDA between €91 million and €95 million, and CAPEX of €140 million to €160 million to support its expected growth needs.
Disclosure: I have no positions in any stocks mentioned, but may initiate a long position in INXN over the next 72 hours.