China is often admired as an economic miracle, especially since the government has been able to balance, thus far, a Communist/Socialist political infrastructure while operating a semi-capitalist "free" market. But as a side effect of a global economic slow down, and considering bits of information that filter out of an extremely well controlled society, China's economic power is beginning to be questioned. The often mentioned Chinese "housing bubble" appears in the headlines from time to time, despite a lack of understanding of what exactly is taking place.
In the United States and Europe, citizens understand what happened, and why the housing market came crashing down: Runaway prices, fueled by extremely low rates, and a lack of banking oversight. The fallout from the excesses of the past are still with us, and as Reuters pointed out on March 16, U.S. "Housing starts posted their biggest decline in 27 years in February while building permits dropped to their lowest level on record, suggesting the beleaguered real estate sector has yet to rebound from its deepest slump in modern history." That is in fact an expected development that has many still in denial, and that highlights the damage caused by the housing mania and how there is no quick fix in sight. Today's U.S. New Home Sales registered the lowest point on record, with a drop of 16.9% to 250,000 units, according to Marketwatch.
But as far as China is concerned, and apart from the usual articles about inflation, interest rates, and bank reserve increases, clarity about the underlying factors is not easy to achieve. Bloomberg reported recently that "China ordered banks to set aside more cash for the third time this year, judging that inflation remains a bigger threat to the world's second-largest economy than Japan's earthquake and nuclear crisis," and thus far the two words that keep being mentioned by China's Premier Wen Jiabao are "social instability" — and that is the core of the issue that has the government scrambling on all fronts.
The Financial Times published the article "China's Growth Model 'Unsustainable'" while offering that "Communist party leaders speak openly about the superiority of 'Socialism with Chinese characteristics' as evidenced by the country's apparent resilience in the global financial crisis." I am convinced that they don't believe their own hype, and usually when officials say all is well and under control, like in Portugal, my birthplace, it's time to run for the hills. But in the same article, Yu Yongding, the "former head of the Institute of World Economics and Politics at the Chinese Academy of Social Sciences, a leading state think-tank, as well as a former member of the central bank's monetary policy committee," voiced his harsh opinion of current conditions.
In a scathing indictment of the country's extraordinary growth story, Yu Yongding listed rising social tensions, choking pollution, a lack of public services and an over-reliance on exports and investment, particularly in real estate, as threats to the country's economic future. "China's rapid growth has been achieved at an extremely high cost. Only future generations will know the true price," Mr. Yu wrote in an opinion piece published in the state-controlled China Daily. "[China's] growth pattern has now almost exhausted its potential. So China has reached a crucial juncture: without painful structural adjustments the momentum of its economic growth could suddenly be lost."
And the critical question can be formulated as follows: How do you turn an oil tanker 180 degrees in 3 minutes? You can't, just like we cannot turn the U.S. "housing tanker" in a heartbeat. There are so many facets to China's challenges that the only true statement is that the Politburo painted itself into a political corner with economic paint brushes. If the country's strategy is to develop domestic consumption and rely less on exports, the multitude of barriers complicates the process, one of which is culture.

Everyone knows that Asians are more keen on saving, unlike Americans and even Europeans. And where the American consumer's bad habits drive markets and industry, Asia's lack of spending creates an internal obstacle. Japan knows it all too well, and it's not as if one culture is good and the other is bad, but rather a difference that must be taken into account. The best case scenario for all countries would be for a balance to exist between exports and internal demand. But that is not how the world has evolved since World War II. Furthermore, to stimulate domestic demand the requirement for higher salaries in China must be met. And how does that play with the competitive advantage that the Chinese derive from low labor costs?
Plenty of calls on China's future are made, but the majority, in my opinion, deliver broad reasoning -- some valid, others nonsense -- without some meat. And that's what I crave. Thus I keep looking for reliable information to fill the gaps, and although it isn't easy, a few nuggets appear from time to time, and I gather them until I have enough to write. I will bring my own perspective, which not everyone appreciates. But I am extremely happy with the disdain often dispensed, because it means that I must be doing something right. If everyone agreed with me, then I would know that I was on the wrong track.
Peter Yuan Cai wrote an article for eastasiaforum.org over one year ago that added a few important details to the subject. In the article, he quotes the Chief Economist of the National Bureau of Statistics of China as saying that "The collective effort of four families is required to support a young family's decision to buy a house. Three generations of savings are thus exhausted in buying a single house." Then Mr. Cai added:
Chinese banks are profiteering from this phenomenon by offering inter-generational mortgages to the home buyers. This is a frightening echo of a Japanese financial innovation during the heyday of the Japanese housing bubble, when three generations signed a collective mortgage.
Now there's an eye opener and I'm surprised that this information didn't make it into Goldman Sachs' (GS) numerous white papers about BRICs. I discussed the land supply issue in a previous post, but the ratio of a house price to the average income was not touched, and once again Peter Cai filled in the gap.
According to the same Green Book, the current price of an apartment in China's urban centres costs 8.3 times the average income of a household. This figure is significantly higher for China's farmers: a roof over their heads would require roughly 29 times their annual household income. Researchers at CASS believe that this would make home ownership an implausible dream for 60 per cent of China's urban residents and this figure could reach a stunning 85 per cent once they factor in the massive number of rural migrants who are moving into Chinese cities every year.
So much for the buying power and the upcoming middle class, although the Chinese government still broadcasts a message of absolute economic control. But I'm not quite certain whom the consumers are. And how exactly does that consumption take place when three generations are needed to buy a house? And why increase rates and bank reserves when the simple solution is to require a buyer to qualify for a loan without parents and grand parents? But the inventory of homes must be high, and keeps increasing, because if construction slows down, unemployment ensues, and "social instability" kicks in. The perfect storm within multiple storms, and from a broad perspective China's Consumer Confidence has been in decline for over 10 years – and I'm not sure that it isn't worse than what the official figures state.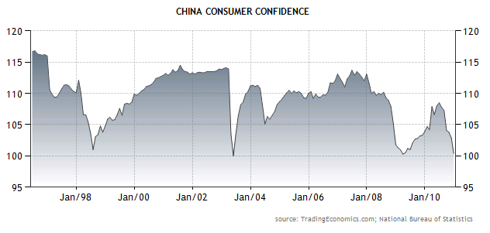 (Click chart to enlarge)
According to the National Bureau of Statistics of China in its communiqué dated March 11, 2011, investment in real estate continues unabated and "In the first two months of 2011, the investment in real estate development was 425.0 billion yuan, a year-on-year growth of 35.2 percent. Of this total, the investment in residential buildings reached 301.4 billion yuan, up by 34.9 percent." Are they kidding me? It's as if Toll Brothers went back to building homes at 2005 levels while inventory sat idle. And this construction activity is taking place as officials in China tell the world that the economy must slow down to control inflation.
But to truly appreciate the "alleged" inflation fight, a breakdown is also included in the same report, and outside of food, which is temporary, and housing, inflation is not a threat, considering that China is still an emerging market.
In February, the consumer price index went up by 4.9 percent year-on-year, which maintained the same level of growth with that in January 2011. The price grew by 4.8 percent in cities and 5.5 percent in rural areas. The food price went up by 11.0 percent while the non-food price increased by 2.3 percent. The prices of consumer goods went up by 5.4 percent and the prices of services grew up by 3.8 percent. Grouped by commodity categories, in the first two months, prices for food went up by 11.0 percent; prices for tobacco, liquor and articles rose by 1.9 percent; price for clothing went up by 0.4 percent; prices for household facilities, articles and maintenance services went up by 1.4 percent; health care and personal articles grew by 3.0 percent; recreation, education, culture articles and services grew by 0.3 percent; housing went up by 6.1 percent; and transportation and communication dropped by 0.3 percent.
On March 17, 2011, Caixin Online reported that "An official from the People's Bank of China, the central bank, said China's consumer price index is expected to peak at 5.5 percent in April, then fall back to around 4 percent by the end of this year." What is wrong with this statement? The official is predicting a peak in about 30 days, which is unheard off unless he knows something that we don't — and he must. If inflation control is that quick in China, maybe they do have a point when referring to the superiority of Socialism.
But the flow of information can be extremely confusing, especially if one doesn't lay all the puzzle pieces on a table and tries to put the picture together, piece by monotonous piece — and I don't pretend to have all of them. Bloomberg published "China's Housing Demand Driven by 'Unreasonable' Speculation" and quoted Qi Ji, Vice Minister of Housing and Urban-Rural Development. "The government's property curbs are targeted principally at those who don't have an immediate need for housing as accommodation," Qi said in a press briefing in Beijing today. "Our basic aim is to direct the limited supply of housing to those who need it the most."
Limited supply? That's not what the National Bureau of Statistics is publishing and considering that entire cities are empty, a fact that is widely known and has been covered by Time magazine among other publications. They must have a different, super secret, supply/demand model.
For now, Caixin Online closes the loop with "Cities Report Slump in Residential Housing Sales" published on March 16, 2011, and the words "limited supply" do not quite apply.
According to the municipal statistics bureau on March 15, residential housing sales in Beijing for the January to February period declined 21.1 percent from the same period last year to 1.32 million square meters. At the same time, residential housing transactions in Shanghai fell 31.3 percent year-on-year to 1.9 million square meters. During the first two months, total housing sales including both residential housing and commercial housing projects in Beijing and Shanghai dropped 18.9 percent and 26.7 percent from last year, respectively.
It's no secret that my nickname for China is "The Evolving Nightmare," and as I continue to keep tabs on the country, increasingly more trouble spots emerge. If I held iShares FTSE/Xinhua China 25 Index Fund (FXI), I wouldn't be walking away. I would be running. And the iShares MSCI Hong Kong Index Fund (EWH) is another investment that would be added to my "do-not-buy" list as well — and the list would be quite long, including sector Chinese ETFs. None is worth holding when the underlying economic foundation is fractured at best. And if investments hinge on the nonsense mantra that China's demand for commodities will save the global marketplace, please be mindful that the country must first save itself.
And I will now recall Mr. Yu Yongding's statement that "Only future generations will know the true price." He's as diplomatic as he can be, and if I must interpret what he was "not" saying, I would state that future Chinese generations will endure the hardships caused by the current "ponzi scheme," and that brings no pleasure in knowing that the Chinese people will pay for the current central planning – or lack of it as the case may be!
However Caixin revealed to us that "HSBC's chief executive said that China will pass the United States as the world's largest economy in four decades" — or in 2050. But just last year, Goldman Sachs's economist Jim O'Neil predicted that the achievement would come in 2027, according to Bloomberg. Or is HSBC's Chief Executive, Stuart Gulliver, giving us a hint that the going will get rough, and more time will be needed to reach the top?
Maybe by then, both HSBC and Goldman Sachs will be owned by Martians and potentially the first economy in the world will be Somalia, especially if pirates stay in business with a wonderful model of virtually no investment and extremely high returns. Maybe I don't have to search anymore because the disease symptoms are in place and Tylenol won't do, because it looks more like incurable influenza than a passing headache.