Lately there has been a lot of negative press and sentiment about the US Muni bond market. Maybe this is a market that has been oversold. Recently I've notice some recovery in the market. This price movement hasn't been an abrupt dead cat bounce but a slow and steady recovery.

To illustrate let's look at the technical movement of the Intermediate Muni Index ETF (NYSEARCA:ITM). Morning Star has this rated as a 3 year 4 star fund on its rating system. There has been a steady recovery since its January lows.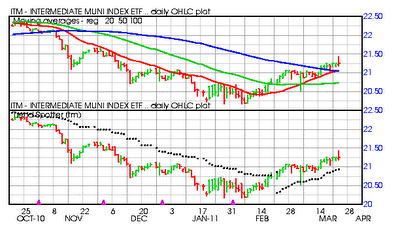 (Click chart to expand)
The Market Vectors Intermediate Municipal Index Fund's investment objective is to replicate as closely as possible, before fees and expenses, the price and yield performance of the Barclays Capital AMT-Free Intermediate Continuous Municipal Index (the "Intermediate Index"). The Fund will normally invest at least 80% of its total assets in fixed income securities that comprise the Intermediate Index. To be included in the Intermediate Index, bonds must be rated Baa3/BBB- or higher by at least two of the following ratings agencies: Moody's, S&P and Fitch. Potential Intermediate Index constituents must have an outstanding par value of at least $7 million and be issued as part of a transaction of at least $75 million. The bonds must be fixed rate, have a dated-date within the last five years and have a nominal maturity of 6 to 17 years.
The Technical indicators show upward price momentum:
Trend Spotter (tm) buy signals
10 new highs and up 1.67% in the last month
Relative strength Index 68.12% and rising
Trades around 21.25 with 50 day moving average of 20.72

Disclosure: I have no positions in any stocks mentioned, and no plans to initiate any positions within the next 72 hours.