Even though "the streak" of beating the S&P 500 for 15 consecutive years ended in 2005, Bill Miller still commands the respect and attention of investors all over the world. Although Miller had some rough years during the financial crisis, ever since the S&P 500 bottomed in March 2009, his Legg Mason Value Trust Fund (LMVTX) has outperformed the S&P 500. Since March 9, 2009, Miller's fund is up 115% through yesterday, while the S&P 500 is up 91.2%.
[Click all to enlarge]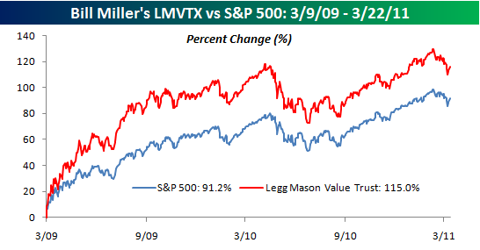 Click to enlargeOver the last year, however, Miller's performance has hit a bit of a rough spot, with his fund underperforming the S&P 500 by a wide margin (3.8% vs. 11.5%).
One potential cause of the recent underperformance in Miller's fund has to do with his overweight position in Financials as of 12/31/10 (27.6%). While Financials outperformed the overall market in the early months of the bull market, their performance over the last year lagged considerably.
Adding to that, Miller also has more than a quarter of his fund in Technology, a sector that has been hit especially hard in the last month. Miller also doesn't appear to be a big believer in the Energy and Commodities sector bull market. He has only a 6.8% weighting in Energy, which is less than his 7.0% weight in Utilities, and his position in the Materials sector is 0.0%.
Miller also has an interesting group of top 10 holdings. While many large-cap fund managers are no more than closet indexers, only four of Miller's largest holdings are among the 10 largest stocks in the S&P 500. Miller's largest holding is actually a 6.8% weight in AES, which is a Venezuelan utility stock.
Finally, although Miller is overweight Technology, one top-performing technology stock that is notably absent from his list of holdings is Apple Computer (NASDAQ:AAPL).