The tsunami that hit Japan last Friday - including the damage done to a nuclear facility - is dominating markets this week. I pray that the worst is past and wish the Japanese people a speedy recovery.
All of the stock market's 2011 gains have been wiped out. What took 34 trading days to build have been erased in 17:

Many will attribute the market selloff entirely to the natural disaster in Japan. But the correction began before the tsunami hit. Last Thursday, the S&P dropped 25 points (1.89%) to 1295 - almost 50 points below its February 18th closing high. The catastrophe in Japan has accelerated things, but the market was already overextended and beginning to break down (see Get Ready For A Nasty Correction, February 15, 2011 and Beware The Ides Of March, March 1, 2011).
In addition to worries about Japan's nuclear facility, two major analyst downgrades played a role in Wednesday's selloff. JPM Securities analyst Alex Guana downgraded Apple (AAPL) from Buy to Hold based on a deceleration in the data he tracks. Apple lost more than $15 (4.5%) on strong volume Wednesday. Bernstein analyst Tony Sacconaghi downgraded IBM (IBM) from Buy to Hold saying that the stock is "approaching fair value". IBM lost $6 (3.8%) also on strong volume.
Both of these stocks are market leaders and have an outsized impact on their respective indexes. With a market cap over $300 billion, Apple leads the market-cap weighted Nasdaq. At $153, IBM leads the price-weighted Dow. In fact, IBM accounted for 45 of the Dow's 242 point drop Wednesday (19% of the total).
Charts of both stocks show topping formations and about 10% downside before any real support at their 200 DMAs. A chart of the S&P 500 looks similar with room to run down to its 200 DMA rising towards 1200.
Click to enlarge: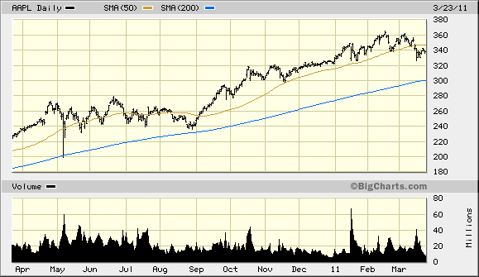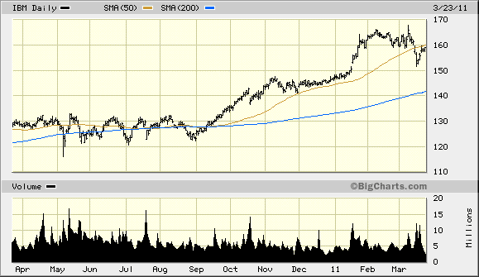 Disclosure: None