by David Berman
Buying and selling an exchange-traded fund that tracks a closed market probably isn't a good idea. But that didn't stop a lot of investors from trading the Market Vectors Egypt Index ETF (EGPT) during the many weeks that Egypt's stock exchange was closed.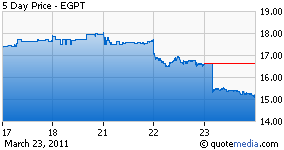 Egypt's exchange opened for business on Wednesday, and its benchmark EGX30 index promptly fell 8.9 per cent in its first move since Jan. 27, when the bourse shut its doors during the country's political crisis.
The ETF made a similar move on Wednesday, and was down 8.1 per cent in mid-afternoon trading. But what's remarkable is that the ETF traded all the time that the Egyptian index was closed, with investors more or less guessing what stocks were worth.
And there were a lot of trades: ETF unit volumes spiked well above their average (usually sleepy) levels in late January and throughout February and March, peaking above 1.5 million on one particular day in February.
Investors who had been betting on an Egyptian rebound are hurting now, though. The ETF has fallen to the lowest level of its year-long existence, while the index is sitting at a two-year low.
Disclosure: None