Titan Pharmaceuticals (NASDAQ:TTNP) recently announced obscurely in a press release that it would have a 10K release on Friday, March 25th. This release will not only address the company's financials, but it will also address additional current developments. Apart from the company's financials, investors will be keying in on the status of Titan's most advanced product, the subdermal implant Probuphine. Probuphine's active ingredient is buprenorphine, which has already been approved by the FDA via sublingual (under the tongue) applications as well as via a transdermal patch to combat opioid addiction. Probuphine, however, administers buprenorphine via a slow-release implant normally placed in the patient's upper arm.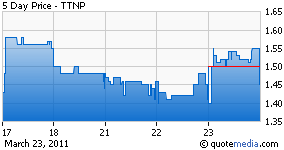 Probuphine has already completed one phase III trial for use in treating patients with opioid addiction. In July of 2008, the company reported statistically significant results of Probuphine over a placebo in illegal opioid use for the primary and key secondary endpoints in that phase III trial. On March 30th of 2010, they also announced a second phase III trial termed a "confirmatory trial" comparing 100 patients receiving Probuphine, 100 patients receiving Suboxone (the widely used and approved sublingual formulation of buprenorphine) and 50 patients receiving a placebo. Data analysis will not only be used to confirm the initial phase III trial, but also to demonstrate non-inferiority relative to Suboxone.
Probuphine's buprenorphine route of entry via a subdermal implant will offer physicians and drug treatment centers a more easily controlled means of the drug administration. Although used as a treatment for opioid addiction due to its ability to bind at targeted receptor sites and lessen the desired affects the abuser hopes the illicit drugs would have, buprenorphine itself can also be abused if large amounts of the drug were taken at one time. The subdermal implant reduces the chance of the drug being abused as it is designed to slowly release the drug over a period of up to six months. The patient has essentially no means to physically speed up the drug release to have their "high". With the FDA's apparent new focus on reducing abuse of similar drugs, Probuphine will likely impress the FDA with a likely safer alternative to an already approved drug.
This phase III confirmatory trial is scheduled to complete sometime in the 2Q 2011 with hints being released of mid to the end of the quarter with about a month of data analysis afterward. With $900 million in sales of buprenorphine in 2009 in the United States alone, the approval of Probuphine would be a significant event in the company's life. A large percentage of the buprenorphine pie would give Titan Pharmaceuticals solid revenue with increasing potential for partnerships or buyout. Positive data would likely mean regulatory submission to the FDA in 2011 in the form of a 505(b)(2) which is basically a submission for a drug with an active ingredient already approved. In this case the administeration will be via the subdermal implant route rather than the dermal patch or sublingual route. Probuphine's slow release mechanism for administration of buprenorphine is a Titan patented process termed "ProNeura". Not only would the approval of Probuphine give the obvious "shot in the arm" to their finances, but the approval would also serve to validate the ProNeura technology further opening up the company's potential with their own pipeline of drugs to come down the line.
Additionally, licensing of the technology to other drug companies could very well be in the future. Revenues of this type are highly sought after in the biotech world because it reduces the risks, exposure and expenses the company would have associated with their own trials and products while still providing payments from licensees via different types of milestones from trial data, approvals and sales milestones.
As of market close on Wednesday, March 23rd the market cap for Titan Pharmaceuticals was about $89 million with the stock trading at $1.50 on a bullish chart. The company is already on firmer financial ground with recent news behind it. They had a partnered drug with Novartis (NYSE:NVS), Fanapt, approved in May of 2009 for schizophrenia for which they receive royalties of 8% on annual net sales up to $200 million and 10% of annual net sales above $200 million for the life of the patents. Titan incurs no ongoing expenses associated with this royalty. Their most recent payment was for the 4Q of 2010 alone of $409,000. On September of 2010 they announced a $3 million loan and additional shares to Oxford Financial Corporation to finance operations. However, this loan will be paid off via a $20 million loan it announced on March 16th from Deerfield Management with better terms of 8.5% annually along with Titan's agreement to issue six year warrants to purchase six million shares of common stock at an exercise price of $1.57 per share.
With the company's much improved financial status, Probuphine's final phase III trial to wrap up in mid to late 2Q with roughly a month of data analysis ahead of it and a 10K coming out on March 25, there will likely be an increased interest in Titan Pharmaceuticals in the coming days ahead. Currently trading on OTCBB, an upgrade to NASDAQ or AMEX could certainly be on the horizon with the approval of Probuphine and the improved financials that would come along with it. With an approved and partnered drug in its pipeline along with the associated milestone payments and the favorable financing with Deerfield Management, investors should begin to take a serious look at Titan Pharmaceuticals and its possible place in their watch lists and portfolios.


Disclosure: I am long TTNP.