Investors should remember that excitement and expenses are their enemies. And if they insist on trying to time their participation in equities, they should try to be fearful when others are greedy and greedy when others are fearful.
Those are the illustrious words of Warren Buffett. It is hard to argue with Mr. Buffett's success, so when he talks it is usually to the benefit of those who wish to listen. Fear is never lacking in the market, but the hardest part is in finding the stocks that have been down due to investor panic. I agree wholeheartedly with Mr. Buffett and I also agree with the notion that "the market is always right". With both of these thoughts in mind, there has to be a happy medium. You don't want to catch a falling knife, but there could be some short opportunities on the way to its landing.
One of these stocks emerged yesterday in Online Resources Corporation (NASDAQ:ORCC). The company provides outsource and Web-and phone-based financial technology services to financial institution, biller, card issuer, and creditor clients. They also offer an integrated suite of Web-based account presentation, payment, relationship management, and professional services. These services have not performed well enough as a self-sustained issue to warrant the recent spike in its shares.
Once thought to be shopping itself to potential suitors, they have opted instead to remain wholly owned and are trying to return the company towards profitability. In the current market, it is tough to expect tons of growth for the year, but if investors are looking at placing some long term bets, ORCC should be ignored at all costs.
Management has laid out some aggressive plans to spearhead the company towards profitability, but with competition from larger firms such as Fidelity National Information Services, Fiserv and Jack Henry & Associates, it will be tough for the company to stay afloat.
Newly instituted CEO Joseph Cowan has injected the once dormant company with new life and as a result ORCC has been on a tremendous rise and has had a significant turnaround. This has not gone unnoticed. The once modest list of potential suitors have fizzled as a result of the company's rising share price. Many have opted to pull out of a potential deal mostly because the stock price has gotten too expensive.
The fear and your opportunity
The stock price did not remain too expensive for too long. Last Wednesday (3/16), the company's market value eroded by almost 1/3. This came in the wake of the company having announced the day before (3/15) that it had decided against any potential merger or buyout, and "is not actively pursuing alternatives to the company's long-term strategic growth plan".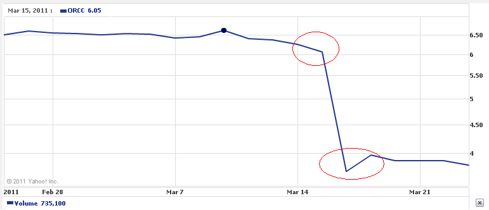 This news was not welcomed by investors nor did it help that the company also provided less than favorable guidance. The stock price then closed at $3.71 after reaching an intra-day high of $6.25 prior to the announcement.
I don't think the worst is over just yet as strength of competition from the likes of Fiserv (NASDAQ:FISV), S1 Corporation (NASDAQ:SONE), and Accenture (NYSE:ACN) will thwart its recovery efforts. One has to expect that the future is not so bright. With the performance of financial institutions improving, and their growing IT budgets, ORCC will likely fall short of reaching even their lowered projections.
"Competition from large core processors and payments companies is intensifying and OCCR's execution in the market has historically been sub-par," Mayank Tandon of Signal Hill said. Their putrid 2011 forecast of flat revenue growth doesn't help matters, with analysts expecting customer losses to be a major issue. OCCR may be an even more challenging turnaround than previously expected," said Robert Napoli of Piper Jaffray, who has an "underweight" rating on the company.
Fundamentally, the company trades at about 24.5 times its forward earnings, compared with a median of 15.2 for the broader sector. The Chantilly, Virginia-based company's shares received a boost over the last year, rising over 50 percent amid speculation that the company may be bought. "With a deal off the table, we are stepping to the sidelines," Janney's Thomas McCrohan said. He lowered his fair value for the company's stock to $4 a share from $8 a share on Wednesday.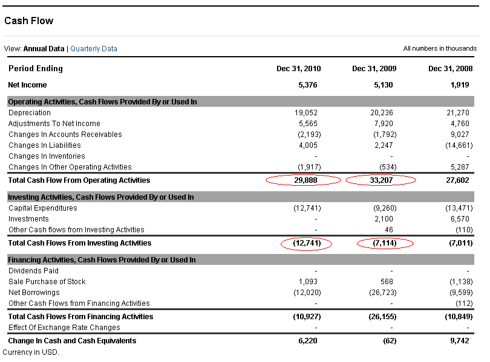 I have had conversations with potential investors regarding the prospects of ORCC, none of which involved anything positive in terms of its future. To be perfectly honest, it is tough for me to think of a better short play at the moment. We can look back to their mis-timed acquisition of Princeton eCom. I am of the opinion that it was this event that fundamentally destroyed the company. At the time, ORCC was a prime target for several of its competitors, but due to its overpaying for Princeton, it became unattractive to potential suitors.
To be fair, ORCC has shown some "decent" growth since then as it has been able to generate cash flow (capex) from operations. But capital expenditures are substantially smaller than their depreciation so it seems they are wisely limiting investment vs. prior years. With some decent projections of stable free cash flow (cash flow from operations less capex) of around $25M annually and a reasonable multiple range or discount rate, one can safely assume an enterprise valuation range between $150M and $250M. Backing off the debt to Bank of America and the preferred stock, even at these levels, the stock remains highly overvalued.
Another point of concern is trying to understand how the company is going to have sufficient liquid resources to meet its debt obligations. Although it has some large repayments on the debt upcoming, it should be able to meet those. However, I believe the preferred stock value (115% redemption value + 8% accrued cumulative dividends) will be close to $130M in July 2013 when the holders have the right to redeem.
ORCC will need to either generate enough cash to redeem the preferred stock - something that I think is very unlikely - they would need to raise additional debt or equity to redeem the preferred stock (difficult task), or a combination of these. I am betting that they may not be successful with any option.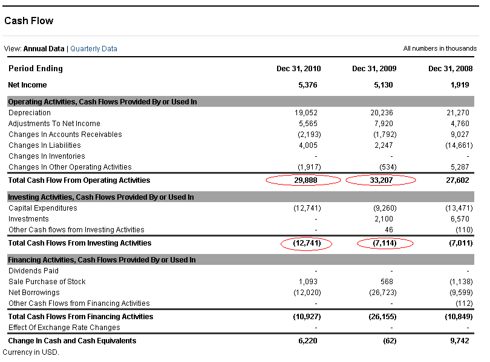 Based on the trends shown in their cash flow and income statements, I am not betting that they will be able to survive with being bought out.
The stock is currently down to $3.81 for last Friday's (3/18) close of $3.88. I still see this stock being down at least another $1.50 by the end of the year. You should sell at this level and/or consider establishing a short position.
Disclosure: I have no positions in any stocks mentioned, and no plans to initiate any positions within the next 72 hours.