In February, Clinical Data (NASDAQ:CLDA) won a surprising approval for its flagship product, viibryd, the first antidepressant approved by the FDA in over 15 years, leading to Forest Labs (NYSE:FRX) sweeping in to buy the company for $1.2 billion. Forest's price reflects its interest in viibryd's claim that it is safer and triggers fewer sexual side effects than other SSRI drugs now on the market. The drug is being touted as the "first and only" antidepressant to combine an SSRI and a serotonin 1a receptor partial agonist in one molecule.
This left many biotech bargain hunters looking for the next blockbuster buyout, which may lead to Optimer Pharmaceuticals (NASDAQ:OPTR). Much like Clinical Data's recently approved viibryd, Optimer's flagship product, fidaxomicin, has a higher safety profile, along with many other added benefits which could make it the first Clostridium defficile infection (CDI) treatment in more than 25 years.
Currently, the infection only has two pharmacological options as treatments: Metronidazole and oral vancomycin, both of which lack the ability to reduce recurrences, while improving global cure rates. This is where fidaxomicin comes in: It not only has a higher cure rate, but boasts a statistically significant reduction in recurrences and a substantially higher global cure rate. You may view the company CMO, Sherwood Gorbach, discussing its advantages in a video here.
Fidaxomicin vs. Vancocin
Similarly high cure rates: The clinical cure rates between fidaxomicin and vancomycin were similar, with slightly better results from fidaxomicin.
Statistically significant in reducing recurrences: Fidaxomicin significantly reduced the risk of recurrence among CDI patients.
Substantial Improvement in global cure rates: Compared to the current treatment, fidaxomicin demonstrated a statistically significant higher global cure rate, defined as curing the patient at the end of treatment without recurrence.
The following table outlines top-line data from two Phase 3 clinical trials of fidaxomicin that together enrolled 1,164 patients in the U.S., Canada and Europe. Fidaxomicin was well tolerated in both studies with no adverse side-effects (see here) and excellent safety data. Information courtesy of Optimer's fact sheet.
[Click all to enlarge]

Reduction in CDI recurrence is highly important and advantageous, as studies suggest that each case of CDI recurrence results in $10,000-34,000 in additional cost to healthcare, and that treatment with fidaxomicin would lower that burden by $2,000-6,000 per patient. Polls also showed that 32% of doctors would make fidaxomicin their first-line therapy for CDI, while 52% would make it their second-line choice.
According to renowned Wall Street analyst Hilary Kramer, Optimer is poised for double digit gains in 2011. She goes on to note:
The big pharmaceutical companies are in desperate need for new blockbusters, this is because many are losing them to expiration of IP protection and other generic treatments, thus we are going to see big pharma wanting a company like Optimer. Currently it is trading at around approximately around $12, and it could be acquired at around $17 to $19 dollars a share. There is opportunities for billions of dollars of sales around the world for the drug to fight this disease.
Another added benefit is that Optimer has IP protection until 2026, and relative to its current $554M market cap is highly undervalued when considering it is tapping into a $7B target CDI market which has increased exponentially in recent years in both North America and Europe, with little-to-no competition.
According to a recent Barron's article:
An FDA Advisory Committee meeting is scheduled to review Optimer's fidaxomicin on April 5. A Prescription Drug User Fee Act (PDUFA) date has been set for May 30. Based on a successful Phase III program in C. difficile infection establishing consistent superiority to vancomycin with respect to recurrence of infection and global cure, we believe the compound is likely to receive a favorable vote, followed by approval in May. Management is planning to launch the drug in August. With an enterprise value of $270 million, we believe the stock is significantly undervalued. We estimate world-wide peak sales of up to $500 million to $1.5 billion.
The company also announced on 7/29/10 the MAA filing for approval in Europe with an expected positive decision in the third quarter of 2011.
Optimer is also expected to make an announcement regarding Pruvel, its broad spectrum pro-drug antibiotic which had excellent phase III results. On 11/10/10, in an SEC 8-K filing, it indicated higher incidence of a mild skin rash from the drug interaction study with antacids; it is currently evaluating the cause of this rash. Expectations are that in mid-2011 this situation will be resolved on the clinical hold and the NDA filing will commence, adding another catalyst to boost share price.
Additionally, Optimer maintains a healthy balance sheet, which has roughly $192M cash on hand, no major debt financing, along with a recently-signed $224M deal for partnership with additional double-digit royalties in Europe. Deals prior to PDUFA are a rarity, and many analysts view this as a positive development for the FDA outcome, thus leading to many analysts raising their price per share forecasts to well beyond $17 near-term.
Analyst Recommendations
2/7 – Jefferies maintains buy, price target of $17.00.
2/7 – Ladenburg Thalmann maintains buy, price target raised to $14.00 (from $13.00).
2/7 – Needham & Co. maintains buy, price target of $19.00.
2/7 – Canaccord Genuity maintains buy, price target of $18.00.
2/7 – Oppenheimer & Co. maintains outperform, price target of $14.00.
2/3 – ThinkEquity maintains buy, price target of $18.00.
2/3 – JMP Securities maintains market outperform, price target of $16.00.
1/13 – Robert W. Baird maintains outperform, price target of $14.00.
Furthermore, Optimer ranks among the top 30 most undervalued small-cap stocks by analyst target price, with a market cap of $554M. Price at time of writing was $12 vs. a target price of $15.33 (discount of 22.77%).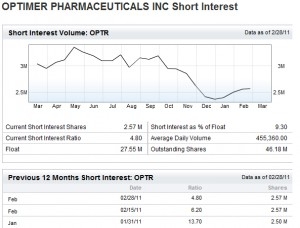 From data compiled by Daily Finance, we notice that the short interest is hovering around 9.3%, with a float of only $27.55M, thus leaving it highly susceptible to a massive short squeeze rally once positive catalysts begin rolling in.
The company also made the top 13 biotech stocks snapped up by insiders list, according to Kapitall Investments. Insiders purchased an average of 242,795 shares per year over the last two years.
Heavy Call Options Activity
Optimer has experienced a very low put-to-call options activity, signalling that institutions and bigger funds are leaning heavily towards positive developments coming forth in the near-term. For the April/15/11 expiration, $10 and $12.50 call options had nearly 4x the open interest when compared to all put options, with the $12.50 strike hitting a volume of 700 on the day. Moving on to the June/17/11 expiration, the $12.50 and $15 strike call options had nearly 5.5x the amount of open interest relative to all of the put options available. All information courtesy of Yahoo Finance.
Point & Figure Chart Price Projection
Ironically, the P&F chart projects a $17 price target for Optimer, which is in line with analyst's target of the stock post PDUFA, as well as the rumored buyout. Point & Figure charts consist of columns of X's and O's that represent filtered price movements over time.
Disclosure: Long OPTR.