Technology has changed the way we shop, with Amazon (NASDAQ:AMZN) the pure play leader in the movement from brick and mortar shopping to sit, click, and ship. Internet shopping offers consumers lower prices, customer reviews to help locate the best products, speedy transactions, all from the comfort of their living rooms.
The aging baby boom generation has readily embraced online shopping, and can be expected to move more of their future consumption dollars toward the web and away from the malls as they continue to age. The echo boom children of the baby boomers are all technology all the way, and one wonders if future generations of children will ever leave the home if current trends persist.
Internet shopping for companies like Amazon is a lower cost, higher margin proposition, and Amazon has invested heavily in building both its infrastructure and its reputation. If Coca-Cola (NYSE:KO), Pepsi (NYSE:PEP), and Gillette won the marketing wars of the last century, Amazon is best positioned to be the name on everyone's lips when it comes to online shopping, making it a marketing winner of the current century.
Amazon does have some big name competition - Wal-Mart (NYSE:WMT) in basic retail, Apple (NASDAQ:AAPL) in ebooks, etc - though the switch from brick and mortar shopping to the Internet is in its infancy, and thus a growing pie should keep all the main players well fed. While Wal-Mart should see significant growth of the online side of its business, that growth should do little to help lift its overall earnings from the mediocre category, versus the superior top and bottom line growth Amazon enjoys.
Amazon's bottom line is not hampered by the low margin sides of its business, with every increase in sales resulting in meaningful gains in earning. The more competing iPad e-readers sold, the more books Amazon will sell via its Kindle iPad app.. It is amazing how much money selling 99c digital songs and $10 dollar digital books can amount to, and Amazon is a leader in both.
Proof in the Pudding:
If a company has superior products to its competitors, and is positioned front and center in a favorable big picture trend, then it should show up as increasing sales and earnings in the here and now. If not, one should question the overall premise regarding such products and such hopes for the future.
Amazon is on track to grow its earnings 25% this year over last on sales growth of 31.4%, making it one of the fastest growing companies in the NASDAQ 100 index. Next year, earnings are expected to grow 40% on an increase in sales of 26.6%. With a forward P/E in the 40-50 range the stock is currently not cheap, though there is a reason a Ferrari costs more than a Ford (NYSE:F). If it is speed you are looking for - in stock price velocity or a car - then it is the quality of the vehicle that dictates the speed, rather than the price it costs to put it on the road. As the saying goes, you get what you pay for.
Amazon stock is valued at much higher levels than its rivals based on conventional measures such as price to earnings, price to operating and free cash flows. Its net income after taxes as a percentage of revenues is also only a modest 3.26% for the past 5 years, but when valued as a cutting edge business leading the stampede away from the old way of shopping into the new, Amazon's current valuation seems a reasonable price to pay given its future profit potential.
Return on investment is the best gauge of value - how much was earned after taxes on the money that was invested to run the business? Amazon has earned 17.1% per year on investment over the past five years, while growing annual sales 32.14%, with annual earnings per share growth of 26.44%. All very impressive, and those who look only at price to earnings ratios to find value are missing the big picture.
We expect Amazon to continue to outperform the broader stock market during rally phases going forward, though we recommend holding cash during the bear corrective phases.
Amazon is a member of our AlphaKing Q/10 strategy, and currently is in sell mode via our AlphaKing trend following signal, as shown at top of the chart below. That portion of the portfolio will remain in cash till the next buy signal for AMZN ahead of its next major rally.
click to enlarge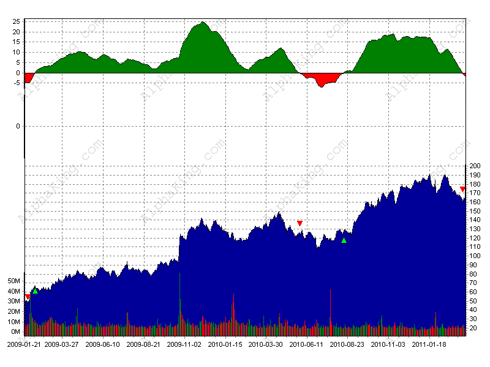 Click to enlarge
AMZN traded via the AK Trading signal as shown in the chart above (cash on sell signals) and turned $1,000 invested in 2000 to $5,923 by March 2011. There were 12 trades during those 11+ years, with 50% delivering a profit. The average gain on the winners was 69%, versus an average loss of 15% on the failed signals.
All 10 stocks currently held in our Q/10 portfolio (see below) traded using the AK Trading signal turned $1,000 into $10,521 between 2000 and March, 2011. There were 107 trades for the 10 stocks during those 11+ years, with 56.2% delivering a profit. The average gain on the winners was 86%, versus an average loss of 12% on the failed signals.
Our current Q/10 portfolio and trading stance is:
AMZN (SELL-CASH)
BIDU (BUY-HOLD)
CELG (SELL-CASH)
DTV (BUY-HOLD)
NFLX (BUY-HOLD)
NVDA (BUY-HOLD)
ADSK (BUY-HOLD)
ILMN (BUY-HOLD)
PCLN (BUY-HOLD)
WYNN (BUY-HOLD)
All stocks are held until the stock's trend following indicator triggers a sell signal, and then cash is held until the next buy signal.
Disclosure: I have no positions in any stocks mentioned, and no plans to initiate any positions within the next 72 hours.